Euan Walker 'struggled to stand up' before strong winds halt Challenge Tour Grand Final
Euan Walker made a hole-in-one at the 17th at the picturesque Club de Golf Alcanada near Port D'Alcudia in last year's Rolex Challenge Tour Grand Final but merely hitting the green on this occasion felt equally satisfying. "It's actually difficult to stand up on the 17th tee and I'm not exaggerating," said the Ayrshireman.
He wasn't, as this correspondent can testify after watching Walker's group, which also included Englishman Ashley Chesters and Oliver Farr from Wales, clearly having a lot less fun trying to hit a golf shot as wind gusts of up to 45mph blew across the course from Alcudia Bay than the kite surfers skimming at high speed across the sea close by.
"I watched Oli and Ashley hit their shots and the balls moved 60 yards in the air and I thought 'how am I going to get this on the green?'" admitted Walker, whose ace there had come in the third round 12 months ago, of seeing his playing partners both miss the putting surface well to the right in the first circuit this time around.
Describing the 5-iron he hit to successfully find the heart of the green, he added: "It was actually left of the greenside bunker as it started to come down and it seemed as though it went round the left-hand bunker and onto the green. In the circumstances, I probably gained more shots on that hole today than when I had a hole in one."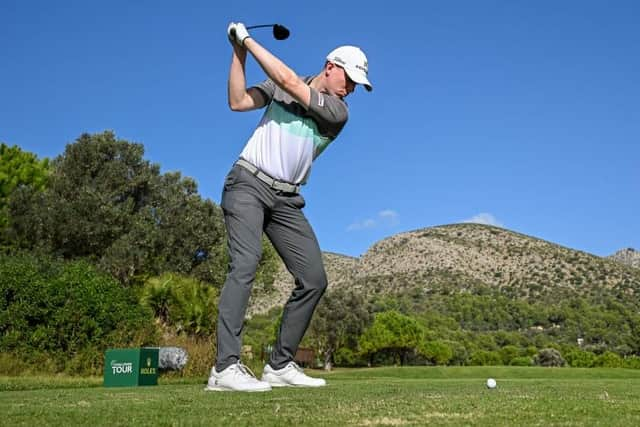 That he was smiling as he said that was testament to his temperament because the 28-year-old, who is bidding to make amends for the disappointment of narrowly missing out on securing a step up to the DP World Tour 12 months ago, then dropped a shot at the closing hole after being caught out by it playing straight down wind and, minutes after he'd signed for a one-over-par 73, the hooter sounded as play was stopped for the day. "Ideal when I've just finished," he said in a sarcastic tone.
Englishman Marco Penge had set the clubhouse target in the game ahead as he opened with a 69 that included six birdies, as well as a double-bogey 7, with just three others - Zimbabwe's Benjamin Follett-Smith, Tom Vaillant from France and Irishman Conor Purcell - sitting in red figures ahead of a planned 8am restart on Friday morning.
On a day when play started with the wind blowing at 15mph before gradually strengthening, Walker, who'd talked earlier in the week about how he felt he couldn't have "prepared better" for second-tier circuit's season-ending event, had rightly felt pleased about his overall performance, even though that 5 to finish had stung.
After being watched by Spanish legend Angel Gallardo as he teed off, two sweetly-struck blows set up a tap-in opening birdie before moving to two under after five. "My mindset was great early on and that was the perfect start," said Walker, who, after either pulling a trolley or carrying his own clubs during the regular phase of the season, has Stephen Devlin, a British Airways pilot, on his bag this week.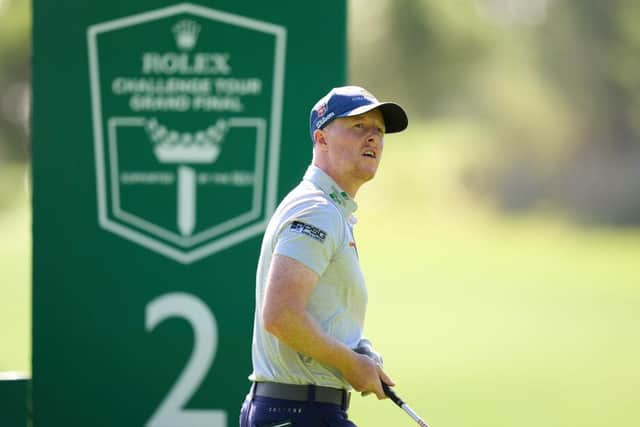 As a group of excited local schoolchildren turned up to take in some of the action, the Scot missed the green with his approach at the long seventh and was unable to get up and down to save par. "To be honest, it was probably even unplayable at that point as I hit a really nice shot," he mused of a punched 7-iron. "I started it right of the green, exactly where I was aiming, and it's moved a long way right to left. It's difficult to play for that kind of wind."
On what is reckoned to be the more scoreable back nine on the Robert Trent jnr-designed layout, Walker then mixed birdies at the 13th and 15th with bogeys at the 14th and 16th before signing off with a dropped shot when he had a birdie in his sights after looking to have a straightforward pitch for his second only for the wind to catch it and send it into a dip on the right of the green.
"Overall, I played really well today," he declared. "It was unplayable before the last three holes, but it just affected me on the last three holes because of how difficult they are. Sixteen is really long into the wind and 18 was ridiculous, to be honest. That's really frustrating because before that I was going really well and I was handling the conditions excellently."
Though it's probably unlikely that he'd misbehave when his parents, Rhona and Eric, are watching on, Walker plays his golf on an even keel. "Yeah, I think it is important," he said of always seeming as though he's calm. "I could have lost it round about the turn quite easily. But I was very patient and kept hitting good shots. A couple of times I made bogeys but got right back into it by making birdies."
Walker, who started the week in the 20th and final card position, is down to 22nd sitting in the projected rankings due to Penge, Follett-Smith, Vaillant and Purcell all making early headway, but, especially with no cut, this week is a marathon and not a sprint. "I'll have a look and see where I stand, but I've just got to concentrate on what I can do," insisted the Scot.
Craig Howie, who needs to either win or finish second to jump from 42nd in the rankings into a card spot, sits five-over with four holes to play after struggling with the pace of the greens as they were left a bit slower due to the winds being forecast. "I actually played quite nicely," said the Peebles player. "I hit the ball great, but I am having an absolute shocker on the greens. It's difficult with the wind gusting as that makes it hard to be stable and, yeah, I really struggled on the greens."
Comments
 0 comments
Want to join the conversation? Please or to comment on this article.