Euan Walker has DP World Tour card in sights after turning career around
Coming up just short 12 months ago in the Rolex Challenge Tour Grand Final in Mallorca didn't hurt Euan Walker as much as it might have. Not when he'd been feeling earlier in the 2022 season that he was banging his head against a brick wall and was actually starting to have serious doubts about his career.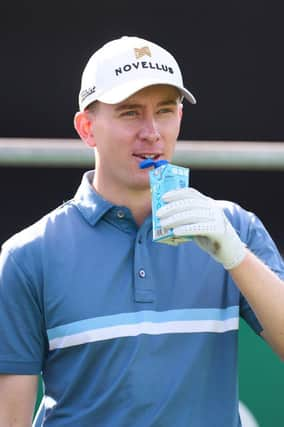 "To be honest, not that long really," said the 28-year-old Ayrshireman, speaking to The Scotsman at Club de Golf Alcanada in Port d'Alcúdia in Mallorca, in reply to being asked how long it had taken him to get over the disappointment of ending up 23rd in last year's season-long battle on the second-tier circuit for 20 DP World Tour cards.
"Because, halfway through the 2022 season, I probably thought I wasn't going to play golf for much longer. I hadn't played that well since Covid and I had started the 2022 season poorly. I think I had only made three of 13 cuts and it was quite demoralising to keep coming out to tournaments and not even being anywhere near to making the cut. It's not something I wanted to continue, even though I had worked really hard and put as much effort in as possible.
"So, finding some form and putting in a few really good performances (including a breakthrough win in the British Challenge at St Mellion towards the end of the season), kind of rejuvenated me. Although it was disappointing to come really close, I actually felt more upbeat about how it finished for me last year."
Rather than roll the dice again in the final stage of the DP World Tour Qualifying School in Spain almost straight afterwards, the former Walker Cup player decided to keep his focus solely on the Challenge Tour once more in 2023 and, back at the same venue as last year for the season finale, which is supported by The R&A and is set to be played in strong winds from Thursday onwards, he is knocking at the main tour door again.
One spot higher than last year at the same stage, Walker sits 20th in the Road to Mallorca Rankings and, flying the Saltire on this occasion with 42nd-placed Craig Howie, the former African Amateur champion is relishing the challenge rather than worrying if ghosts might return and haunt him again in an event that also carries a £440,000 prize fund. "Yeah, feeling good," said Walker, who has Stephen Devlin, a British Airways pilot, on his bag but is content just having his mum and dad, Rhona and Eric, providing support from outside the ropes. "I'm happy to be back and I'm feeling quite good about my game.
"I've been consistently good this year. I've been much better this year than I was last year. As a whole, my statistics are better. I've driven the ball much better. My short game has been better than it has ever been and so far I've putted better than I've ever putted on average. My approach play probably hasn't been better, but that's been the strength of my game in the past. Also, my scoring average is down nearly a full shot on last year."
His only DP World Tour appearance this year was in the Hero Indian Open back in February. "It was a conscious decision," he said of that. "I knew my best chance of finishing in the top 20 was if I concentrated fully on the Challenge Tour and the one event I played was a sort of dual ranking event where the points counted on the Challenge Tour and that was one of the reasons I played in it.
"It was more about trying to consolidate how I played in the second half of last season because I knew if I performed like that over the course of a season then I should be able to finish in the top 20. And I more of less have performed that way across this season. Obviously I'm missing a win, which counts for a lot. Even having a second-place finish (in the Euram Bank Open in Austria) hasn't quite put me in a position where I was guaranteed to finish in the top 20."
After Bob MacIntyre, Grant Forrest, Ewen Ferguson, David Law, Connor Syme and Calum Hill had all stepped up to the DP World Tour as Challenge Tour graduates, last year was the first time for a while that the list of successful players didn't include a Scot and Walker is determined that won't happen again.
"I've prepared as best as I can for this week," he said, smiling. "My game is in the best shape I could have got it in. All the preparation I've done, I couldn't have done better. I've taken the right amount of time to relax; I've taken the right amount of time to work hard on my game. However I play this week is going to be the best I can do because I'm going to be in the best mental position to hit every shot and that's all I can do. I've just got to enjoy it."
Spaniard Manuel Elvira leads the race to be No 1 ahead of Frenchman Ugo Coussaud, while others currently in card-winning positions include double DP World Tour winners Andrea Pavan and Matteo Manassero, as well as South African Brandon Stone, who closed with a sensational 60 as he won the 2018 Scottish Open at Gullane.
"The standard has been really good this year," observed Walker, who enjoyed the added thrill of having a hole-in-one at the 17th in the third round. "I think a lot of people were playing on the DP World Tour on Covid exemptions even until the end 2022. But, after that, a lot of people lost their status and many of them and committed to playing a full season on the Challenge Tour and I think that has made it more competitive."
Comments
 0 comments
Want to join the conversation? Please or to comment on this article.