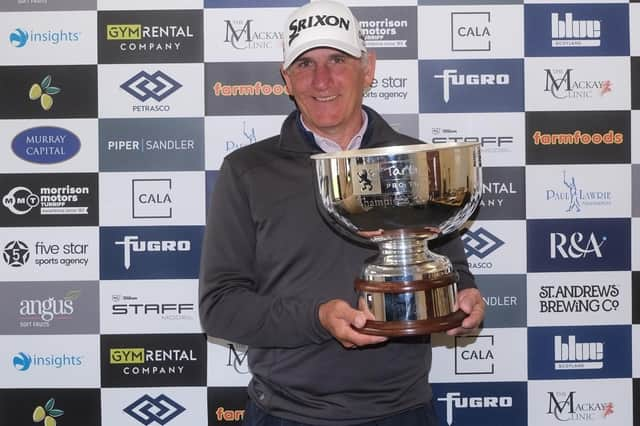 The 54-year-old, who landed a maiden triumph on the Legends Tour in Austria almost exactly a year ago and defends that title next week, shot scores of 66-67 at the Angus venue for a nine-under total in an event presented by Gym Rental Co.
He won by two shots from Danny Kay and Kieran Cantley after they signed off with matching 65s, with Calum Fyfe carding the same score to finish a shot further back and Jack McDonald signing for a 63 to finish fourth on five-under alongside Neil Fenwick (67).
"After shooting five-under yesterday, I had a few shots to play with and I was looking at the scores on the way round," said McIntosh, who became the oldest Scottish Amateur champion in 2018 after taking up the game again after a 15-year hiatus.
"My target today was to get to four-under, which meant that someone was going to have to shoot a mental score to catch me. It went according to plan, which doesn't happen very often."
McIntosh picked up a cheque for £3,650 as he joined Craig Lee as the second winner of the new season on Paul Lawrie's circuit.
"To be honest, when I went and played some amateur stuff and had some success by winning 72-hole events, the experience you get from that is invaluable," he added.
"It doesn't matter what tournament you play in. I know some people will say this, that or the next thing, but I was as nervous trying to win this tournament, going through all the same emotions, as I was when I won on the Legends Tour in Austria last year.
"It's great but, in fairness, Montrose, which is a great course and an old school links course, at 6,600 yards plays into my hands and gives me a chance against the younger players
"If it's 7,100 or 7,200, lads are making cheap birdies at the par 5s whereas I can't get up in two. Playing a course like this gave me the opportunity to compete and it's great to win."