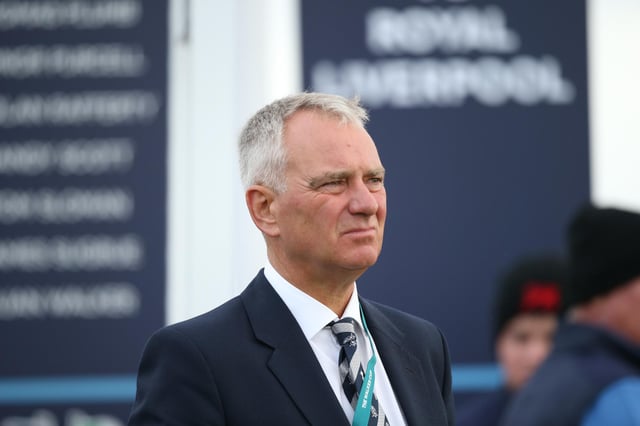 Duncan Weir pictured at the Walker Cup at Royal Liverpool in September 2019. Picture: Jan Kruger/R&A/R&A via Getty Images.
He was its first Director of Golf Development, helping the St Andrews-based organisation grow the game around the world on the back of the Open Championship.
The Fifer retired last year, with his many memories including the day the Claret Jug went missing during the final round of the world's oldest major.
Duncan Weir out on the course at Royal Portrush, where the Open Championship returned in 2019.
DW: I started because both my parents were golfers and we lived quite near the course in Burntisland, where I started 50 years ago as a junior and it was probably something like 50p per year at that time. We had quite a thriving junior section at that time and I got really keen, progressing to Fife teams and other things.
How did it feel to get your name on the Scottish Boys' trophy at West Kilbride in 1979?
DW: That was tremendous. I had played in it the previous year at Dunbar and I think '79 was the first year it had ever been played not at North Berwick or Dunbar. I enjoyed that week very much and it helped set me up going to the States and play in a couple of junior tournaments the following summer and, from that, I got a scholarship in the US, which was a fantastic experience.
Did you head into that week as one of the favourites?
Duncan Weir makes a speech at the 2018 Junior Open at St Andrews, with 2017 Open champion Jordan Spieth standing in the background. Picture: R&A
DW: Oh, I don't know about one of the favourites, but I had been in the Scotland squads. We went for winter coaching at Inverclyde Sports Centre at Largs and I had also been in the Scottish Schools' team the previous year. I probably went into that event with hope rather than expectation, but in these week-long match-play events you can develop a rhythm of playing the golf course the same way every day. I remember it being pretty tough weather and, in the final against Sandy Morrison from North Berwick, I was one up after 18 holes and got there 5&3 in the end, which was fantastic.
When you went to college in the US was it almost groundbreaking at that time?
DW: Not groundbreaking but fairly unusual. I think I am right in saying that the first Scot to go to the States on any kind of scholarship was actually David Wilkie, the swimmer. That would probably have been the early 70s and it certainly wasn't as common back then as it is today. The chance came about from playing in those two junior events. I did reasonably well in the second one and I got into dialogue with some of the coaches who were there recruiting and I started at William & Mary in Williamsburg, Virginia, and spent four years there. That was a great experience and I graduated in 1984. Funnily enough, I was in touch with the golf coach there last week on a Zoom call for alumni and parents. They have a very good programme and I made friends for life through that. If I had my time again, I wouldn't change anything.
What was the goal career-wise when you went there?
Duncan Weir, a former Scottish Boys' champion, is still close to scratch and is aiming to enjoy as much golf as possible in retirement.
DW: I was so young that I'm not sure I had one back then. I just went there with the aim of working hard to get a degree and hopefully see my golf improve. What I found was that one really fed off the other. If you were doing well on the golf course you tended to do better in the classroom and vice versa.
You started with the R&A in 1985. How did that come about?
DW: By then, I was looking to work in golf and I did what lots of young people do. I fired off a CV to all the major golfing organisations and those included the Royal & Ancient. Fortunately, I got an opportunity offered by Sir Michael Bonallack to go and work at the Amateur Championship, which I had played in the previous three years, at Royal Dornoch and Golspie in 1985 and also the Open Championship at Royal St George's, where Sandy Lyle won, that same year. That was a summer trial, I suppose, and, at the end of that, I was offered a full-time position. I started off working on the Rules of Golf with the late John Glover before I then moved on to working on the Open Championship and the amateur championships pretty much full time right through until 1999-2000.
Back when you started, the R&A was a very different organisation size-wise to what it is now?
In his time as the R&A's director of golf development, Duncan Weir joined LET player Jo Mundy, Alex Armas, Executive Director of the Ladies European Tour, R&A chief executive Peter Dawson and LET players Karen Lunn and Samantha Head for the presentation of a R&A Working for Golf flag to the Ladies Euopean Tour at The Buckinghamshire Golf Club in 2010. Picture: Richard Heathcote/Getty Images.
DW: Very much so. I can't recall exactly how many staff there were at that time, but I would have thought on the admin side it would have been less than 20. Having said that, at that time we didn't run all the girls' and women's events because it was before the merger with the LGU. There was no Latin America Amateur Championship, there was no Asia-Pacific Amateur Championship amongst others. We weren't heavily involved in the development side of things, either, back then. The R&A group of companies hadn't been formed.
Any stories that stick in your mind from those early years?
DW: I've got lots of good memories. When I compare the Open Championships when I started to the event now, it's a much bigger, smoother operation than it was back then. There was a lot of panicking and crisis moments going on behind the scenes (laughing), but we always got there in the end. I can remember the Open at Royal Troon in 1989, thankfully there was a play-off involving Greg Norman, Mark Calcavecchia and Wayne Grady because, after 72 holes we couldn't find the Claret Jug (chuckling heartily). We had a small team, everyone gelled and we had great fun. It's probably more rehearsed and polished these days, but we got there in the end. I also have a lot of good memories from the amateur side, having been fortunate to have been team manager for a lot of events. Great Britain & Ireland had gone through a pretty fallow period and we managed to win the Walker Cup, not regularly but a few times. I have fond memories of the 1989 event at Peachtree, the 1995 match at Royal Porthcawl and, of course, the 1999 event at Nairn, where I was very involved with the team. That also coincided with GB&I successes in the St Andrews Trophy and the Eisenhower Trophy.
You then moved into a Director of Golf Development role. How exciting was that?
DW: That was a great opportunity. For me, at that time it was a promotion as it was a new position. I suppose it reflected the fact the R&A had managed The Open well enough to have a sufficient amount of money to start re-investing properly in golf. Sir Michael was in the process of retiring and then Peter Dawson came in. In 2000, I was doing a bit of the old role and a bit of the new one. The goal was to try and support golf in as many countries as we reasonably could and something we were able to do using money generated by The Open. We couldn't do it without The Open but, then again, we felt that if we didn't do it The Open could possibly suffer. We started off with broad targets of spending half the money domestically within Great Britain & Ireland and the other half overseas. It allowed us to connect with many small and emerging golf playing golf nations. In 2000, we were supporting golf in fewer than 20 countries and by 2010 we had reached and helped almost 150.
How pleasing has it been to see players from some of those countries gradually making a mark on the game?
Duncan Weir on starter duty at the 2019 Walker Cup at Royal Liverpool. Picture: R&A
DW: That was one of the things that gave me the biggest sense of job satisfaction. Whether it was seeing them in the boys' championship or, latterly, the girls' championship and then, a few short years later, you switch on Sky Sports and see them playing in Solheim Cups, Ryder Cups, contending in majors and winning tour events. Joaquin Niemann would be a very good example of that. I remember the first time I went to Chile and meeting a lady who drove us around through Santiago. She said she was the only lady among her friends who played golf and she would be asked what golf was when she went to the hairdressers. She said that, with the arrival on the scene of Joaquin Niemann, she walks into the same hairdressers 10 years later and there are magazines around with him on the cover. Those are the kind of things that hit home. These players coming through are not just from established golfing nations. They are regularly from Asian countries or nations in South and Central America. I would like to think the R&A though its development programme and the Junior Open, which is run biennially, has played a big part in that level of progress.
Some of the smaller countries might never produce a champion, but how satisfying was it to help get the game started in those places?DW: Poland, a big country but not a big golf playing country, would be a good example with young Adrian Meronk. I remember them finishing in the top 10 in the World Amateur Team Championships one year. I also remember Adrian, who I know quite well, getting to the semi-finals of the Amateur Championship at Royal Porthcawl when Scott Gregory won it. Nothing against the other semi-finalists, including Robert MacIntyre, but I was kind of rooting for Adrian because I thought if he did win it would possibly make him the first Polish golfer to play in the Open Championship and the Masters. Those are the kind of breakthrough moments you look for. You take enjoyment from seeing these countries move up the ladder and the Junior Open has been good for that because it is open to boys and girls worldwide. The next Junior Open will be played at Monifieth in July 2022 in the days immediately before the 15th Open in St Andrews. We provided coaching, equipment and, in some cases, partial funding for the building of public playing facilities, but relationships needed to be two-way. For example, our support was dependent on such nations sending refrees to St Andrews to attend our Rules Schools and on their best players entering R&A championships. It was about using the R&A's weight and reputation to spread the word.
Plans were recently unveiled for the new R&A community golf facility at Lethamhill in Glasgow. What do you make of that initiative?
DW: That particular project has been progressed since my retirement and is very interesting. Martin Slumbers deserves credit for driving the R&A forward strategically and introducing and following a plan geared to ensure that golf is thriving in 50 years' time. It is interesting to see how much golf is being played in Scotland at the moment. I know that we are currently limited to playing in groups of two, but there are a lot of good things going on around participation and I hope that golf can harness some of the people who have been attracted into the game in the last 12 months and that golf club membership can flourish as a result. The new World Handicap System has also been launched during the pandemic and will surely help to increase both participation and the amount of competitive golf we play - all positive in my view.
How did it feel to bring down the curtain on your career with the R&A?
DW: I retired at what should have been The Open last year and that was always my intention. I didn't waver from that. I finished on what would have been cut day at Royal St George's last July. It really felt like a hollow week. I felt so sad for my colleagues who had worked so hard on an Open that didn't take place last year and I feel for them now trying to pull it all together for this July. I have no doubt there has been a lot of scenario planning, but, all being well, it will go ahead in some shape or form. I thought the effort put in by the R&A to stage the AIG Women's Open at Royal Troon last year was excellent and it was also great to see Euan Mordaunt and his team manage to deliver both the men's Amateur Championship at Royal Birkdale and Women's Amateur Championship at West Lancs. It was sad that there was no Open last year, but the R&A still managed to come up with a support programme for golf. We invested £7 million, which was distributed through our national affiliates, both here in Great Britain & Ireland and around the world to help support golf at a tough time.
You were awarded a special recognition honour by the Confederation of Professional Golfers in 2019. How did that feel?
DW: That was nice, but, while it may have been presented to me, it was for the R&A and for all the good work the R&A has done, particularly in trying to raise teaching standards where there are often very small and not highly-structured PGAs and therefore little education available for young professionals. It was really for the R&A and its commitment to the cause, if you like.
What does golf hold for you in retirement?
DW: Well, and I am a real anorak on this, I had played 11 rounds so far this year before last Friday, which is not bad. I'm still a member at Burntisland and also at Lundin. The R&A very kindly gave me membership of the club on retirement and that is something I hugely value and appreciate, so I have been playing a bit at St Andrews. And I am a relatively new member at Muirfield, so I've got plenty of playing options (laughing). My handicap is 1.2 and, while it wouldn't matter if it was a Wednesday medal at Burntisland or the Scottish Senior Amateur, I want to play what I would describe as decent golf.
It sounds as though you've been a lucky man to have had a career in golf and also helped others to progress in the game along the way?
DW: Very. When I reflect on it, it's been a busy and rewarding life. Having been retired for a few months now, I actually realise how fortunate I have been. I sat down on a plane once and worked out that I have visited more than 80 countries and played golf in over 70. I've met some great people, been involved in some memorable championships and I still get a kick when I watch Sky Sports - the most recent instance being the WGC in Florida, where Collin Morikawa won in such style. I met Collin several times in his amateur days and was always very impressed with him, both on and off the course.
Do you think elite amateur golf is still important in preparing players for life in the professional ranks?
DW: Yes, not just important but essential. Take a Scottish example, the 2016 Scotland team for the Eisenhower Trophy in Mexico. The line up was Robert MacIntyre, Connor Syme and Grant Forrest and all three have progressed in tour golf since then, having received their grounding by competing and travelling as leading amateurs. I could cite many examples of players, men and women, whose performances I will always follow with interest in the knowledge that the R&A helped them along the way.
A message from the Editor:
Get a year of unlimited access to all of The Scotsman's sport coverage without the need for a full subscription. Expert analysis, exclusive interviews, live blogs, and 70 per cent fewer ads on Scotsman.com - all for less than £1 a week. Subscribe to us today https://www.scotsman.com/subscriptions/sports
Duncan Weir shows off the Confederation of Professionals Golfers' recognition award he received in 2019