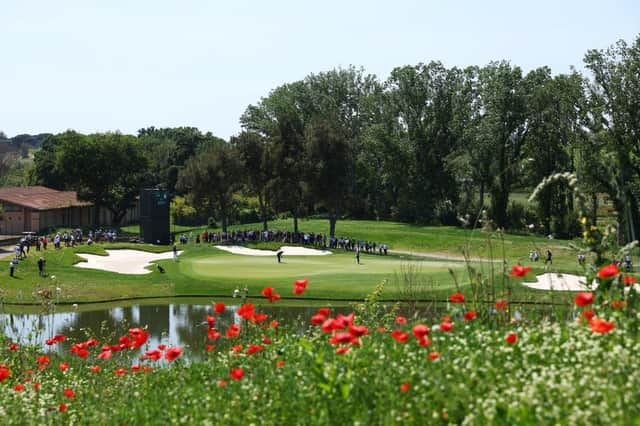 As was the case at Le Golf National in France when the home side stormed to a thumping victory in 2018, Marco Simone Golf Club in Italy might not suit the visitors and, remember, the US hasn't won on foreign soil in the biennial contest since 1993. In six matches since then, they've tasted defeat at Valderrama, The Belfry, The K Club, Celtic Manor, Gleneagles and Le Golf National, meaning home advantage simply can't be dismissed, even if the Americans will be heading for Rome in September with very few players bearing scars from past encounters on this side of the Atlantic.
In comparison to Le Golf National in particular, Marco Simone is still a relatively new test for European players, but, in two stagings of the DS Automobiles Open there in the space of eight months, it's become abundantly clear that it's a bloody tough track. The winning total last September, when Bob MacIntyre landed the title in a play-off was 14 under, and it was one less in relation to par as Adrian Meronk emerged victorious on Sunday. By no means is that taking it apart. Over the course of the four days last week, just about every player in the field had spells when their patience was tested, either by finding thick rough off the fairways or trying to master undulating greens that were both firm and fast.
"The course condition was excellent and the greens were pretty slick," observed Richie Ramsay, an experienced DP World Tour campaigner. "You've got to hit fairways, which will maybe help the Europeans in the Ryder Cup because I think that's something we are better at. You need a bit of course management round here, particularly if the greens are firm and fast as you need to understand where the slopes come off, so that is going to be important. The wind also seems to move around here in different directions in the low points on the course then obviously up on the high points on 11 and 12. It does help if you know it. It will be a tough test and it won't be that far off the model of Le Golf National set-up wise, which I think will favour the Europeans."
As for how Luke Donald's team is shaping up, a couple of names that were probably in pencil at the start of the year are now beginning to look as though they could soon be added to those already written down in pen. You don't have to be a genius to work out that as many as six or seven spots in the Englishman's 12-man team are stick-ons in the shape of Jon Rahm, Rory McIlroy, Matthew Fitzpatrick, Vitktor Hovland, Tyrrell Hatton, Tommy Fleetwood and Shane Lowry. I also reckon Justin Rose, a winner on the PGA Tour this season, will be back in Ryder Cup action this year after missing that sore defeat last time around, which, of course, would leave just four spots up for grabs.
There's still a long way to go – the qualifying battle concludes on 3 September after the Omega European Masters in Switzerland – but, right now, Meronk and Dane Nicolai Hojgaard both have strong cases for debut appearances. In winning at the weekend, Meronk landed his third DP World Tour title triumph in the space of just ten months and the 29-year-old Pole just gets better and better as he blazes a trail for his homeland in the game. He holed the winning putt in the Hero Cup, which was introduced to try and help potential rookies to get some proper preparation for a Ryder Cup, and, having addressed it himself through sheer hard work, it seems as though worries about his short game no longer carry much weight.
It seems certain, surely, that one of the Hojgaard twins will be blooded in the Italian capital on the strength of their meteoric rise over the last couple of years. Rasmus initially looked the best bet, but my money would now be on Nicolai. After replacing his injured brother, he had the best stats among the 20 players involved in that Hero Cup and, to the delight of Donald no doubt, the 22-year-old backed that up with a top-five finish, which included a 65 on the final day, in the Italian Open.
With three majors still to come and other big events like the Genesis Scottish Open as well, it's all still to play for, of course, and the likes of Seamus Power, Bob MacIntyre, Victor Perez, Alex Noren, Jorge Campillo, Adrian Otaegui and Yannick Paul have all given themselves platforms to build on over the next four months through their current positions in either the European list or World list.
Yes, the Americans will start as favourites in September, but, as was the case in the majority of those matches over the past 30 years, Europe will be happy to be the underdogs and don't underestimate how big a factor Marco Simone itself might prove over those three enthralling days.
Current European standings
4th Matthew Fitzpatrick *
*denotes players in automatic spots