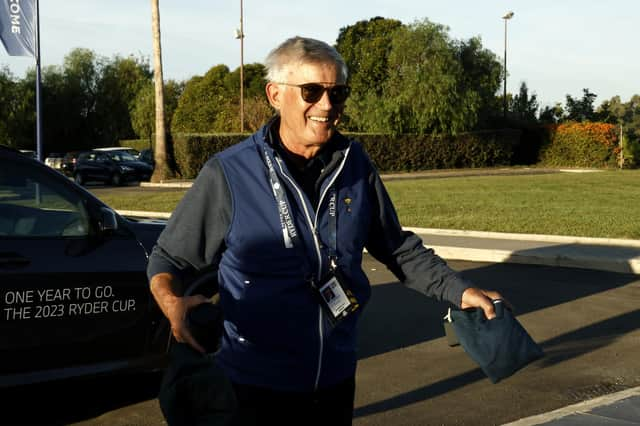 David Williams is optimistic about the future of golf despite some turbulent times.
Close to nine years after being appointed as long-time incumbent Neil Coles's successor, his tenure as European Tour group chairman is coming to an end and, though being on that first tee at the development circuit's season finale is something he's done in the past, it was a sort of 'goodbye' as far as the Challenge Tour was concerned.
"I learned when I joined the board that the Challenge Tour is a very important part of the whole European Tour group set up," Williams, who will hand over the reins to Eric Nicoli, the current vice-chairman, in January, told The Scotsman after seeing the final groups tee off on the Balearic Island. "Many of our board members and actually a lot of our top players have come off the Challenge Tour and I just think it is a developmental tour that has helped golf more generally as well as over many years now."
For the second year in a row, the top five players in the Road to Mallorca Rankings will receive financial support through the John Jacobs Bursary Award as they excitedly move on with a DP World Tour card in their hand. All 20 of the graduates, meanwhile, will benefit from the newly-announced Earnings Assurance Programme, which will see players receive guaranteed minimum earnings of $150,000 if they compete in 15 or more events on the 2023 schedule.
Jordan Smith of England reacts after putting on the 18th green during Day Four of the Portugal Masters at Dom Pedro Victoria Golf Course on October 30, 2022 in Quarteira, Portugal. (Photo by Warren Little/Getty Images)
"Look, it is tough," declared Williams. "One of the interesting things about the Challenge Tour is that the vast majority of the guys on it, I wouldn't say they are struggling, but they are having to really play for their livelihoods, and we thought it we could do something that recognised John Jacobs but also helped them, it would make a lot of sense, so the top five get this bursary and it will make a huge difference for them.
"As for the EAP, I fundamentally think it is a great boost for the players and I think it's a great time to be heading out there (on the DP World Tour). And, from talking to the guys here in Mallorca, they know it's a good time to be heading out there. They recognise what we are doing and they recognise we are doing it for them. They are excited about it and you can tell they are excited about it."
An extremely polite, personable and polished individual, Williams held senior roles at Whitbread Group and Diageo, before turning to Private Equity and numerous non-executive director and chairman roles ahead of taking the top seat at the Wentworth-based organisation. During his tenure, the Rolex Series has been established, a partnership has been struck with DP World, with the circuit bearing that company's name set to carry record prize-money of $144.2 million in 2023, and, of course, a Strategic Alliance is now in place with the PGA Tour.
Williams bristles at the mere suggestion that the latter has been a case of the European Tour group selling out to the US-based circuit. "You know, we had a choice," he said, referring to talks having taken place with a marketing agent representing Golf Saudi, as confirmed by Pelley earlier this year, as options on the table were mulled over by the board, which has both Paul Lawrie and Martin Gilbert sitting on it. "We took a very hard economic look at an alternative and the phrase that we use is that we decided that we wanted to be on 'the right side of history'.
"The relationship with the PGA Tour has turned out to be a very positive one and a very strong one and there's no sense of it being a case of the PGA Tour taking us over. The PGA Tour has global ambitions and we have an ability to operate globally, which actually they may not have to the same extent as we operate as a world tour.
"As a result, I think it is two great organisations coming together. There are things we can bring and things they can bring. Clearly, they bring a lot of financial muscle and that helps with the world we live in today. I am absolutely in no doubts about it - they are great partners. It's built on personal relationships; it's built on a business case. We had a choice. We went left while others went right, and I'm glad that we went left."
It is being claimed that the Earnings Assurance Programme has effectively been triggered by the arrival of LIV Golf on the scene. Backed by the Saudis, Greg Norman's breakaway circuit has seen pots of money thrown at players, though joining that has led to the likes of Dustin Johnson, Brooks Koepka and Bryson DeChambeau being banned from playing on the PGA Tour while a court case is pending over action taken by the DP World Tour.
"In any business, you are constantly responding to different situations," said Williams of the introduction of the Earnings Assurance Programme, with Challenge Tour and Qualifying School graduates being able to get $20,000 straight away to fund early-season travel, which will involve long-haul flights to South Africa and Australia. "You know, for many years I worked in the restaurant industry. I built the Pizza Hut brand in Europe and the Middle East and we were always competing with McDonalds. They were always doing something new and that meant we were always having to do something new. Frankly, what I would describe as honest competition is good. If that helps us develop our tour, then so be it.
"Look, we are in turbulent times. But I am very confident that, as I said earlier, that we want to be on the right side of history and I am very confident that the game is not just about money. I was at the Portugal Masters last week and the emotion Jordan Smith showed when he won was extraordinary, as will be the case after the last round here in Mallorca as players either win or miss out on a card.
Williams is particularly proud of the governance that has been put in place during his chairmanship, which has also coincided with the European Tour group being industry leaders in innovation through events such as GolfSixes, ISPS Handa World Invitational for both men and women and the Scandinavian Mixed, which saw Swede Linn Grant create history this year as she became the first woman to win a DP World Tour event. It has also driven inclusion through the development of the G4D Tour.
"I've been very lucky," he admitted of his stint. "I've done lots of different chairmanships, directorships and CEO roles, all the rest of it. I've probably enjoyed this one as much as any that I've done. I've enjoyed it as much for the sport, but I've enjoyed it for the people and I've enjoyed it for what we've accomplished. I think we have a great management team, led by Keith, who is just outstanding. We have also changed our board and we've brought on skills we need in the business world we live in combined with the golfers who keep us, if you would, honest on the golf side. It's a great combination."