Burns, who is attending the Hero Dubai Desert Classic to work with fellow Scot Calum Hill, hasn't been at an event in person on the circuit since last May after seeing his world turned upside down.
"It feels good. It feels really good, actually," he told The Scotsman of being back on a range surrounded by players, fellow coaches, trainers, managers and DP World Tour staff. "There's been a lot happening - not very much of it good and an awful lot of it bad.
"I had been struggling for a while with shortness of breath. I had bad Covid the year before and finished up in hospital. I was one level down from the high dependency and I think there were two guys in my ward who didn't make it who were a lot younger than me, so that was a scary experience.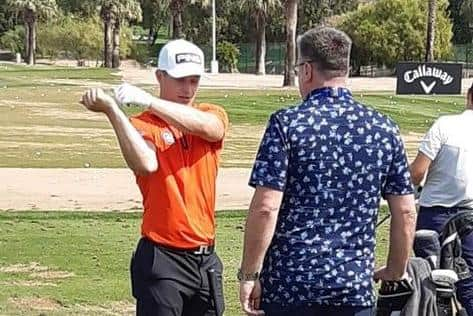 "The doctors thought it was an asthma flare up, so I was told to use an inhaler, but I got a chest x-ray a year past September and it showed that the reason for the breathlessness was that because the lung was getting squashed by the diaphragm.
"Basically, there was a tumour the size of a tennis ball attached to the kidney, which was squeezing on the diaphragm, which, in turn, was squeezing on the lung, hence the shortness of breath.
"So I was told I had no choices. The kidney had to come out and the tumour as well asap. I was supposed to have that done at the beginning of November, but it got delayed because there was probably someone in a worse position than me as the surgeon was called away to an emergency.
"I then got it done in late November. The recovery period was tough as I was on morphine for a couple of months, but two weeks ago I saw the surgeon for my follow up and he told me that I was cancer clear.
"His exact words, and I will never forget them, were, 'if I was worried about you, I'd see you in three months. If I was concerned, I'd see you in six months, but I'm going to see you in 12 months'. I said to him 'that will do for me'."
Burns also worked with Bob MacIntyre until last summer and the pair shared a big hug when they bumped into each other in the build up to this week's $9 million Rolex Series event.
"I was a wee bit emotional on Tuesday, I have to say. I was a bit nervous. Excited but nervous as well," said Burns. "But the welcome I've received this week has been brilliant and it's been from lots of people," said Burns.
"The scar I've got looks like something from Jaws. The surgeon said, 'I want you to live a normal life, but you've only got one kidney left, so you better take care of it'. It's just common-sense really."