Dale Reid, the LET legend that 'tossed a coin' over decision to turn professional
Reid will be remembered for her tremendous career on the course and being a fine person off it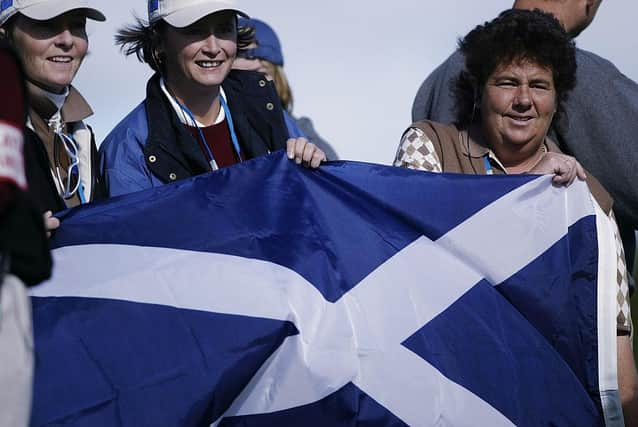 Wow! That really is the only word that seems adequate to describe the initial reaction when you actually recall exactly what Dale Reid achieved in golf. The well-known Scot passed away last week at the age of 64 after suffering from cancer and the tributes were both warm and heartfelt.
"Reidy was one of the best…in so many ways!" wrote Australian Karrie Webb, a seven-time major champion and former world No 1, in a post on social media, where Canadian Lori Kane, a two-time LPGA Tour winner, added: "Dale was a true competitor."
Though Reid's later years were spent in Australia - she was living in Townsville on the north-eastern coast of Queensland when she died - her roots were in Scotland and, in particular, Ladybank. Her parents, Jack and Peggie Reid, were both members of the Fife club and, according to Bob Drummond, a former captain and author of a book on its history, Reid was just four years old when she began playing golf with her beloved dad with a cut-down hickory shaft that had an improvised grip made of electrical tape.
As her game quickly developed, Reid became involved with Fife Juniors, which resulted in David Webster, who was the professional at Lundin Golf Club at the time, becoming her first coach. At club level, she was a dominant force, winning the Ladybank ladies' championship seven years in a row from 1973, and, on the back of a successful amateur career, Reid was approached in 1979 to see if she wanted to join the new Ladies' European Tour as it was set up by the Women's Professional Golfers' Association and now run, of course, by the LET.
Unlike these days, it wasn't a no-brainer. Reid wasn't sure that she was good enough and, believe it or not, her decision was made by the toss of a coin. Thankfully, it came down heads and she did, indeed, turn professional because she duly went on to enjoy an extraordinary career in the paid ranks and did Scotland proud in the process.
She won 21 titles on the LET, including a home success in the 1987 Ladies' Scottish Open at Cawder, and 23 in total. She won the Order of Merit in both 1984 and 1987 and holds the record for the most top-ten finishes with 135, which were racked up between 1979 and 2005. The first of her Order of Merit triumphs was tinged with sadness as it came on the same day she received the news of her dad's sudden death back in Ladybank.
He'd have been hugely proud of what she achieved in the Solheim Cup, both as a player and captain. Reid joined Pam Wright in flying the Saltire in the inaugural event at Lake Nona in 1990 and, though ending up on the losing team on that occasion, the pair were also involved when Mickey Walker's European side then pulled off a memorable win at Dalmahoy two years later. Reid played in the 1994 and 1996 matches as well before being handed the honour of captaining the home team in the 2000 match at Loch Lomond.
In what was deemed to be a controversial call at the time, Reid overlooked her compatriot, Catriona Matthew, for one of her captain's picks, though one did go to another Scot, Janice Moodie, but, to the delight of the home crowd, Europe stopped the rot, having lost the previous three encounters, as they claimed the trophy for just the second time.
For her services to women's golf, Reid was awarded an OBE the following year while, to her at least, it was equally humbling when she was given the Freedom of Ladybank in the mid-1990s. "At the age of 13, the club allowed Dale to play in the adult competitions, and I, along with my friend and fellow future captain Lindsay Logan, invited Dale to join us for her first excursion into competitive play off the gents' medal tees," recalled club historian Drummond.
'We both knew that Dale, a slip of a girl at that time, would be very nervous playing the long course with two low handicap gents, so we agreed that we would be very encouraging and sympathetic to her, soothing her and allaying her nerves. This did not last long when we found her out-driving us by some 40 yards, and then out-playing us into the greens! It was obvious that early day that Ladybank had an exceptional talent in its hands."
Reid, a pocket rocket at just 5ft 4in, was helped greatly in her early professional years by the legendary Crieff professional, John Stark. His namesake, John R Stark, is a Ladybank member. "Dale is not only a Scottish icon but also a British and European icon who deserves belated recognition for a splendid golfing life," he said. "I also knew Dale very well but reading this week that she still holds the record of most ten-top finishes took my breath away as that is sensational consistency over an entire career."
During her worldwide travels, Reid had the pleasure of playing with Mickey Rooney, the American actor and film producer, as well as meeting Bob Hope, James Garner and Sam Snead, who gave her a treasured signed photograph of him winning the Masters. A favourite mentor was Henry Cotton, who, revealed Drummond in his book, tried his best to bulk the Scot up by feeding her Kit-Kats."
Ladybank's loss is also being felt in Australia, where Reid moved after working in a care home in Cupar for a short spell as her playing career wound down. "The passing of Dale is such sad news," wrote Karen Harding, host of Tee for Two golf podcast, in a social media post. "We'll remember her win in the 1990 Victorian Open at Commonwealth GC and great play in so many other events. A tremendous career and a fine person."
Comments
 0 comments
Want to join the conversation? Please or to comment on this article.