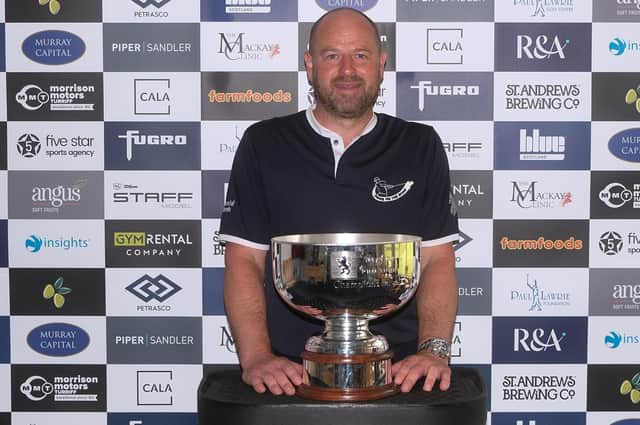 The pair headed out in the third round in the season-opener on Paul Lawrie's circuit sharing the lead on nine-under-par, but O'Hara quickly found himself three shots ahead after he opened birdie-par against Lee's bogey-bogey.
On a day when Craig Ross carded a fantastic bogey-free ten-under-par 62 to catapult himself into the top ten, it had become very tight indeed at the top of the leaderboard as O'Hara and Lee both turned in 36, one under.
But, while the likes of Joe Bryce, Graeme Robertson, John McDonald and Daniel Kay all kept pushing hard, O'Hara and Lee both found another gear as they came home in 31.
O'Hara, who made the cut in the AT&T Pebble Beach Pro-Am on the PGA Tour earlier in the year, birdied the tenth, 12th, 16th and 18th as he finished on 14-under-par.
But that was matched by Lee as picked up shots at the 12th, 13th, 15th and 16th before the 45-year-old then clinched victory by holing from around 13 feet for a birdie at the third extra hole.
"It was down the hill, so a good one to hole," said Lee, who picked up a cheque for £4,320 for his triumph in an event presented by The MacKay Clinic.
"I obviously didn't get off to a great start as I bogeyed the first and second. As the first is an easy par 5, I probably gave away at least two shots on those first two holes.
"I kind of thought that 14 or 15-under would be the mark and I didn't think I'd get to that, to be honest, but I holed a few putts on the way back in to get it back and thought to myself 'here we go, I've got a chance again'."
Though this was the first one on the Tartan Pro Tour and also Lee's breakthrough win on the circuit, it's not the first time in recent years that Lee and O'Hara have fought out a title battle.
"You know what you are up against with a competitor like Paul," said the winner. "He gives you nothing, so you've got to play some good golf. And that's when you get into one of those ding-dong battles. When you hit a good shot, they do likewise and the two of you sort of have a snowball effect."
This victory came hot on the heels of Lee also winning the PGA Play-Offs in Cyprus, where his success secured four starts on the DP World Tour this season, beginning with next month's Betfred British Masters at The Belfry.
"It's a better start to the season than I could have expected, to be honest, and I just hope that I've not peaked too early," he said, laughing.
"That's six rounds of golf in eight days and I am delighted that the body has held up to that and the prep I've been doing behind the scenes is definitely working. The win is a massive confidence booster but to also know I am on the right track to prepare my body to play golf is just as pleasing. There's hope for the rest of the season.
"But I'm going home to put all my belongings into boxes to get ready to move house. That will keep me busy over the weekend then I've got a Tartan Tour 36-holer at Stirling next week."
Bryce and Robertson shared third spot on 13-under after finishing with matching 67s, with host club player McDonald signing off with a 66 to finish a shot further back alongside Kay (68).
The next event on the Tartan Pro Tour is the Montrose Links Masters on 10-12 May.