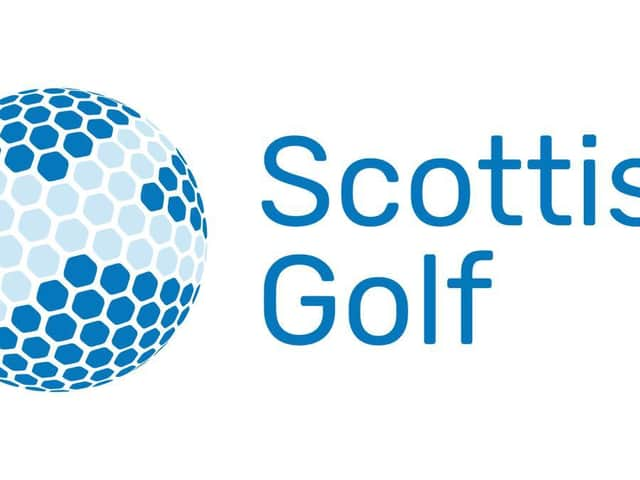 Scottish Golf has issued advice to member clubs, including a welcome boost about a government grant being offered due to the coronavirus pandemic. Picture: Scottish Golf
The grant which is part of measures aimed at helping leisure businesses such as golf clubs, is being offered to clubs with a rateable value of less than £51,000.
That means it is a welcome boost for the majority of the 550-odd clubs in the home of golf at a time when fears are being expressed about whether or not some of them "might not exist" beyond the current mass shutdown of courses.
However, it has been described as "false hope" for other clubs, with the vast majority in Edinburgh, for example, set to miss out on the much-needed cash injection due to their rateable value exceeding the cut-off mark.
The Scotsman understands that clubs like Duddingston, Prestonfield, Royal Burgess, Craigmillar Park, Liberton and Murrayfield will all miss out on the grant, as will Hilton Park, one of the biggest clubs in the Glasgow area.
According to figures on the Scottish Assesors Association website, though, clubs such as Glencorse, Aberdour, Williamwood and Fortrose & Rosemarkie will be in line for a £25,000 cash injection.
"I looked at all of this in detail yesterday and sent our application away by email, so we may be one of the more fortunate/lucky clubs given that we fall into the rateable value requirements for £25,000 of grant aid," said Mike McDonald, the club secretary at Fortrose & Rosemarkie. "We do, however, appreciate this is not fair to everyone as they may not fall into the values set by the Scottish Government.
"This will be welcome news for many clubs who are facing financial hardship at present, not to mention the challenges most clubs will face in the future as a result of Covid-19 and course closures."
Brora, one of Scottish golf's hidden gems, fears it might struggle to exist beyond the current closure period, sending out a warning to members to that effect earlier in the week.
Elsewhere, a number of clubs have put staff on furloughed leave, with 80 per cent of salaries up to £2,500 per month being paid by the government through the HMRC.
"None of us have ever seen anything like this, it is utterly unprecedented," said Scottish Golf CEO Andrew McKinlay in an interview with BBC Good Morning Scotland. "Every industry will be affected and the golf industry is no different from that.
"We are working closely with a number of partners across the industry really to monitor, evaluate and understand the impact of it . But it is too early to know at the moment, things are changing so quickly and we are basically doing our best to try and understand and help.
"At the moment, we are working more on the amateur side because that's what we are responsible for, and I think everyone is searching for answers because it is so unprecedented and we are just doing whatever we can to help our clubs and to help others."
In the past fortnight, two key members of Scottish Golf's management team, development director Ross Duncan and head of operations Louise Burke, had both left the governing body. It also emerged at the same time that a team of regional development officers, who worked closely with clubs around the country, had been scrapped.
"Before Covid-19 came along, it was widely reported that we were in the process of a restucture," added McKinlay. "We are now looking at the Government-job retention scheme to minimalise any future impact it could have on our business. I think most business are doing that and it is the prudent thing to do."
Some golfers are unhappy about the one piece of exercise being permitted during the pandemic not including a game at their local club. "It's not just about the players," said McKinlay on that debate. It's about the people that work at the clubs, too, so we need to protect everyone in golf.
"We have taken the government advice, and it has been made very clear that golf is not to be played. The quicker people adhere to those instructions, hopefully the sooner we will get back out at the other end and enjoy playing a round of golf soon, which we all fundamentally want here."