Connor Graham: 'He'd take your eye out of your head for a pound' says coach of Walker Cup history-maker
Fintan Bonner, who instantly felt Connor Graham possessed "something special" when he first clapped eyes on him as a nine-year-old at a coaching session in St Andrews, is confident the young Scot is equipped to make Walker Cup history this weekend.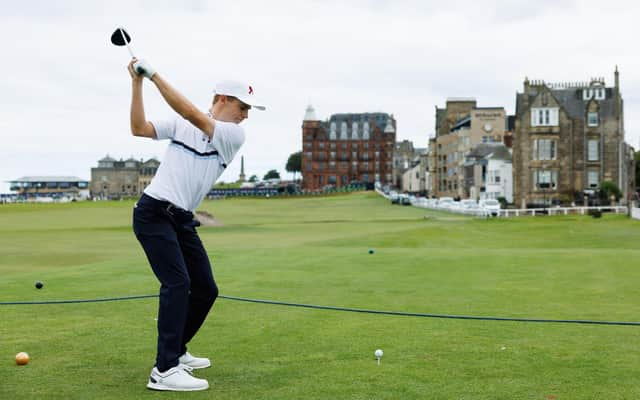 Bonner, one of the senior instructors at the St Andrews Links Golf Academy, works with both Connor and his big brother, Gregor, and the Irishman is understandably proud to see the talented Blairgowrie duo make golfing history in the same week. In Gregor's case, it was becoming the first amateur to win on the Tartan Pro Tour, a feeder circuit for the Challenge Tour, at his home club on Tuesday while 16-year-old Connor's appearance in the 49th edition will see him become the youngest-ever Walker Cup player.
"It's incredible. In fact, you just couldn't write it," said Bonner, speaking to The Scotsman, of his journey with Graham having started in St Andrews and now arriving at this point, with the match against the Americans on Saturday and Sunday celebrating its first staging on the Old Course 100 years ago. He was probably nine when he first came here as part of a Scottish Golf development programme. I actually think he was let in as a favour because Gregor was in and I think their dad, Stuart, said to Scottish Golf that Connor was also pretty nifty at that time. I could see there was something special about him straight away, just the noise he makes when he hits a golf ball while attention to detail at that young age was remarkable. Yeah, he definitely stood out."
Aided by Bonner's technical input, Graham won the 2022 R&A Junior Open at Monifieth Links, where he finished five shots ahead of the highly-rated Thai player, TK Chantananuwat. That helped secure a spot in the initial GB&I squad for the biennial contest and an equally-impressive winning effort in this year's Scottish Men's Open at Meldrum House contributed to Graham earning his dream opportunity this weekend along with Nairn's Calum Scott.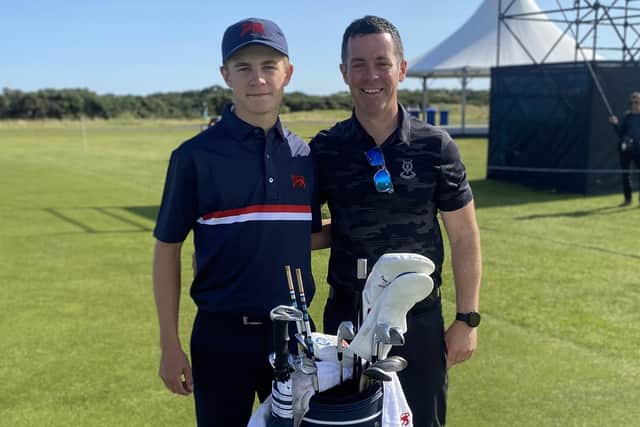 "He gained 14 shots on the field from his approach play in that event," said Bonner, who is in his tenth year at the superb St Andrews facility and, due to a combination of how well it is equipped and his pupils, reckons he's one of the luckiest people in the game. "That was incredible for someone so young, but, at the same time, it's something we talk about all the time in practice. We talk about Tiger [Woods] in 2000, when, from between 150-220 yards, he was gaining three-and-a-half strokes on the field. At Meldrum House, Connor achieved that, too."
So, what exactly will Graham bring to a team that is being captained by Forfar man Stuart Wilson? "His feistiness, I guess, as he's one of the most competitive guys I've ever met," declared Bonner. An expression you hear in Ireland a lot is 'he'd take your eye out of your head for a pound' and he definitely has that about him. His biggest talent is probably that he's able to take on information and, even this week, it's been great seeing him go from the controlled environment and put it straight on to the golf course. I think that's a massive talent that a lot of golfers find the hardest thing to do. But he definitely excels in that."
There has been the odd occasion, apparently, when Graham has, shall we say, overheated on the golf course. "I think it's his competitiveness," said Bonner, smiling of that. "We've worked on it with a little post-shot routine. His hero is Tiger Woods and, as he did, he's giving himself 30 seconds to reflect on the shot, get the anger out of his system by taking a gulp of water and slowing down the breathing and keeping the eyes over the level of the flag and forgetting about it and moving on to the next shot. That's something we've worked quite a lot on in preparation for this event. He's still quite young, but I think he's handled the pressure in these big events pretty well so far."
Though home advantage on a course where most of them have gained valuable experience from playing in the Links Trophy is definitely something that can't be discounted, Graham, Scott and the other eight GB&I players will probably need their A games to come out on top against a star-studded US side led by world No 1 Gordon Sargent. "I think someone mentioned yesterday that the average world ranking of the Americans is maybe eight dnd we are 60 or something like that," noted County Meath man Bonner. "But, if the wind blows here, it is different experience. There are lots of hidden bunkers off the tees and fingers crossed we can get the job done."
Comments
 0 comments
Want to join the conversation? Please or to comment on this article.