Challenge Tour Grand Final is mother of mental battles in windy Mallorca
They might need to hand out recommendations for psychiatrists along with the 20 coveted cards for the DP World Tour at the denouement of the latest edition of the Rolex Challenge Tour Grand Final supported by The R&A. The 30th and last event of the season always takes place under a health warning due to the stress it brings, but this week has been the mother of mental battles.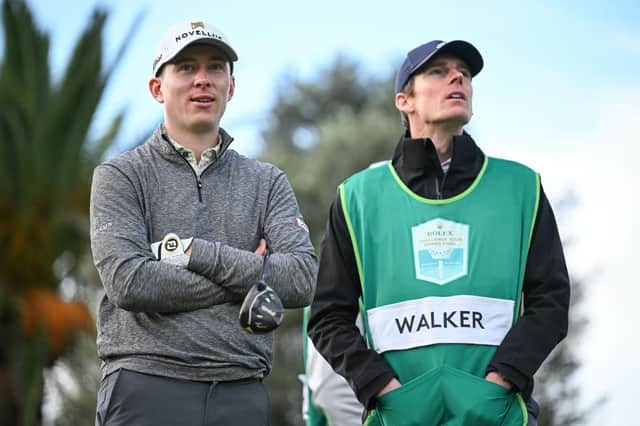 It's been windy from the off at the picturesque Club de Golf Alcanada near Port D'Alcudia in Mallorca, with players battling gusts up to 45mph on Thursday before having to grind it out again in blasts of more than 30mph in the penultimate round in the second-tier circuit's season-ending £440,000 event.
"It's as bad as it was on Thursday, to be honest, and the last few holes were ridiculous" declared Craig Howie after completing his day's work. Concurring, compatriot Euan Walker reported: "It's horrendous out there, absolutely horrendous. It looked as though it was flat calm when we arrived at the course this morning, but, by the time we got to the 11th tee, it was at least 20mph and it just got stronger from there."
Helped by the fact it's just a 45-player field, it's heading into Sunday on schedule and the week is shaping up to be a good one for a number of players who started the event sitting outside a card-winning position, which will fall at 21st in the Road to Mallorca Rankings on this occasion due to Alex Fitzpatrick, Matthew's younger brother, having already retained his DP World Tour playing rights for 2024 through the Race to Dubai.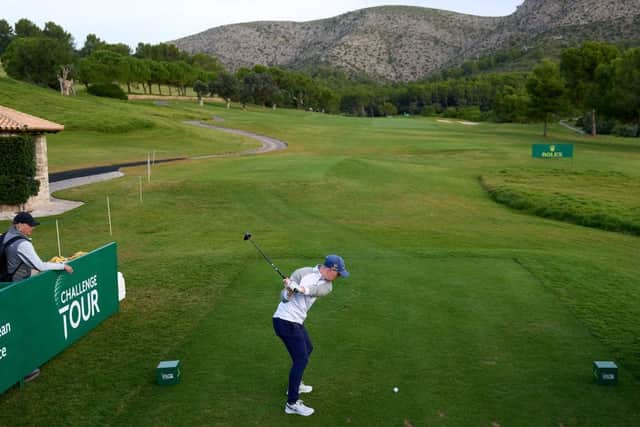 Englishman Marco Penge, who was 24th when the gun was fired, is now up to first on the strength of holding the lead on seven-under-par after 54 holes. Frenchman Tom Vaillant, who sits one behind, has also jumped into a card-winning spot, as have his compatriot Frederic Lacroix and English duo Brandon Robinson Thompson on the strength of their lofty positions on the leaderboard.
Barrow wouldn't have made it to this stage if he hadn't won the Farmfoods Scottish Challenge supported by The R&A at Newmachar in August. "Before Newmachar I was nowhere near it," said the left-hander. "I was 80th in the rankings so, if someone had said I'd have a chance of getting my DP World Tour card tomorrow before that, I would probably have laughed at them."
Howie would probably laughed at someone if they'd suggested after an opening 78 that his name would be up on the leaderboard heading into the final 18 holes of the campaign. But the Peebles player is indeed up there, having backed up a polished 69 in Friday's second circuit with an equally-impressive 70 to sit jooint-sixth on one over. He was on course to be bogey-free for the second round running before running up a double-bogey 6 at the tough par-4 16th.
"It was almost perfect as I barely missed a shot and you have to when it's windy like this," said the 29-year-old. "I hit so many great shots. Just one poor hole, making a right mess of 16. There was a big gust as I hit it and I heeled it up into the wind and you'd be lucky if it went 230 or something close to that. I had over 240 yards to the flag and it's basically a par 5 from there. I almost got away with a 5, which would have been a bit of a steal. Other than that hole, it's pretty much exactly how you'd want to play."
Howie started the week in 42nd position in the standings and needs a top-two finish to regain his DP World Tour card and avoid a trip to next week's Qualifying School final on the Spanish mainland. "Teeing off this morning, I still thought it was highly unlikely I'd have any chance to not only win the golf tournament but finish top two or three and push for my card," he admitted. "But, through 15 holes, I'd given myself a great chance and I still have probably.
"I've got absolutely nothing to lose. It's nice to have my game back. I'm hitting some great iron shots, including flighting my ball down, and it's been a while since that's been the case. I hope it's windy tomorrow because I'm kind of excelling in the wind and playing all the right shots and I'm feeling comfortable. If I can do that again tomorrow, it would be a nice way to finish the season out here."
For the second year running, Walker is facing a dose of disappointment once his final putt of the season has been holed. The Ayrshireman narrowly missed out on a card 12 months ago and, unless he can come up with something special on the last day, is set to do so again. Sitting 20th coming into the event, he's now 25th in the projected standings.
"I don't have a mindset as it doesn't really matter any more," said Walker after signing for a third-round 75 to sit in a tie for 31st on eight-over-par. "I just have to try and play the best I can. Just try and enjoy it. I think the weather might be a bit better tomorrow, so hopefully I'll have a chance of shooting under par."
Another player currently set to see a season's work undone at the death is Welshman Stuart Manley, who was 14th in the standings when he started out on Thursday but, after dropping to last in the field following an untimely 79, is now 22nd on the projected list.
"Especially in the wind, it takes a lot more out of you," said Bairstow of the mental test so far. "This course is a long walk as well and, playing it in the wind, you certainly sleep well at night."
Comments
 0 comments
Want to join the conversation? Please or to comment on this article.