Challenge Tour Grand FInal: Craig Howie has 'stress-free' round as Euan Walker endures pain in Spain
Contrasting fortunes for Scots in wind-lashed Mallorca – but pressure is off going into weekend
Craig Howie said his second round – a polished three-under-par 69 in a testing wind – in the Rolex Challenge Tour Grand Final supported by The R&A had been "stress-free", but it was a different story for compatriot Euan Walker. "At times today, I thought 'wow, this is up there with one of the least enjoyable rounds I've ever played in my life'," declared the Ayrshireman.
Walker was talking at Club De Golf Alcanada near Port D'Alcudia in Mallorca as he reflected on a disappointing four-over-par 76, which dropped him from being tied for seventh after the opening circuit was completed on Friday morning to joint-26th at the halfway stage in the £440,000 season-ending event on the DP World Tour's feeder circuit. The 28-year-old started the week sitting in the 20th and final card-winning position in the Road to Mallorca Rankings, but is now down to 24th in the projected standings. It's threatening to be a case of deja vu after he narrowly missed out on being among the graduates at the same venue 12 months ago, but, with 36 holes still to go and more tough conditions to come, it can still be Walker's week on this occasion.
"Look, I think I have certainly blown myself out of contention today, but that might actually help in a way as I can be more relaxed over the weekend," said the former African Amateur champion. "I've got absolutely nothing to lose, so you just have to go out and try and play well, so that might be a positive. I just need to come back and try my best tomorrow."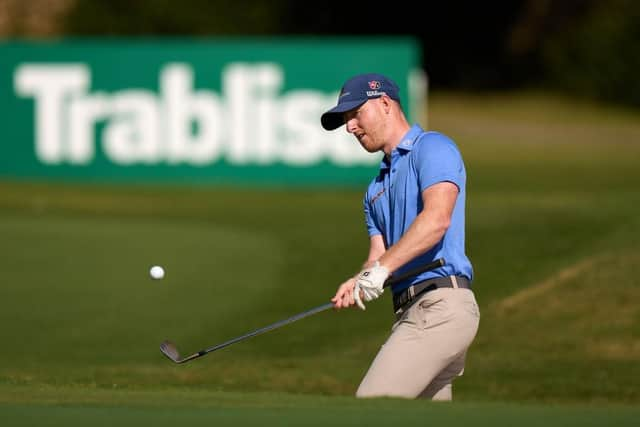 Among the players who hadn't finished their opening rounds on Thursday before play was halted due to high winds, Howie eventually signed for a six-over-par 78 that was a ragged affair in terms of how his scorecard looked. But he'd been encouraged by how he'd actually hit the ball and, despite not having a profitable time on the greens for the second circuit running, he was chuffed to bits about then being bogey-free after heading back out again.
"Yeah, it was good," said the 29-year-old as he reflected on an effort that contained birdies at the 16th, fifth and seventh after starting at the tenth. "It is mega-tricky out there at the best of times. But, with a decent wind, it's easy to slip up, which I guess I found out yesterday. But today (in the second round) it was almost perfect from tee to green. I really didn't hole any putts. I putted terribly again. I hit it so well that I was never really in too much bother. I maybe only missed one of two greens and, when I did, I was very close to the hole. So never really looked like making a bogey. It was stress-free, which was really pleasing considering how stressful the weather has been."
Howie, who started the week sitting 42nd in the standing, needs to either win or finish second to jump into a card-winning position and regain his seat at the top table after securing a step from this event along with Ewen Ferguson two years ago. Sitting ten shots off the lead, which is being shared by England's Marco Penge and Tom Vaillant of France, it's still a tall order, but the Stirling University graduate has a spring back in his step heading into the weekend.
"I feel a lot better about my long game," admitted Howie, who has his dad, Rab, caddying for him. "Coming into this week my long game was iffy. That was the main struggle I'd had in recent weeks, but I've played quite nicely in the wind. I've flighted my shots down and shaped shots when I've needed to, so I am a lot more comfortable going into the weekend about my overall game than I was in China or the week before in France. Yeah, I'm feeling some positives and I'm pleased to see there's signs of life in my game again."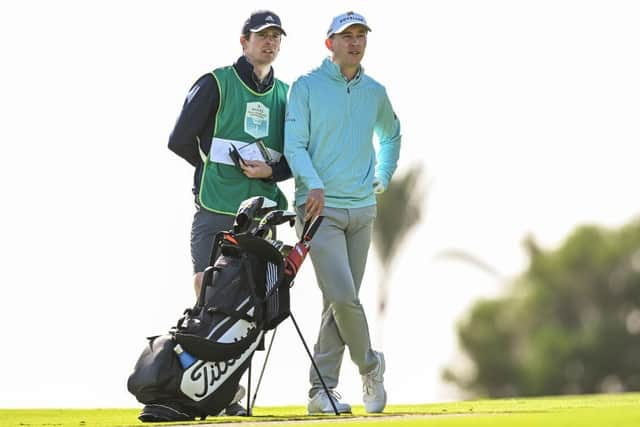 He's hoping his putter will heat up in the final 36 holes. "I holed one on the fifth today and that was the first one over six feet maybe," said Howie, who is among a posse of players in the field using a claw grip. "I holed maybe a 20-footer, but it felt like a monster. Yesterday was a really difficult day on the greens and, though it felt a bit better today, the ball still wasn't going in. They've slowed up the greens so much since the practice rounds and I've adjusted terribly. My speed has been off, but today it felt stable. It was a little less gusty, so I felt a bit more comfortable and hopefully I can get the ball going in the hole over the weekend."
Walker had been going along nicely until three-putting the fifth to drop a shot then follow a double-bogey 7 at the seventh with three successive bogeys. "It got slightly better at the end," he said of repairing some of that damage by setting up a birdie at the tough par-4 16h with a brilliant 5-iron from 185 yards, but it was a struggle," he admitted.
Frenchman Freddie Lacroix reeled off six birdies on the spin eighth and made eight in total as he shot a 65 to sit as the closest challengers to Penge and Vaillant on four-under. Bothwell man Neil Crate is on Lacroix's bag, the pair working together for the first time when the 28-year-old finished fifth in the Porsche European Open in Hamburg in June. "He's used to the wind," said Lacroix, smiling. "No, he's really cool on the course. He calms me down when I get a bit upset. He has a cool head and that's a good thing when I get emotional on the course."
Comments
 0 comments
Want to join the conversation? Please or to comment on this article.