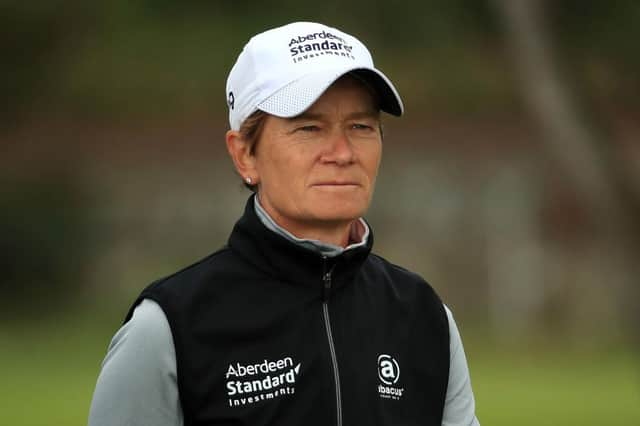 Catriona Matthew pictured during the AIG Women's Open at Royal Troon in August. Picture: Andrew Redington/R&A/R&A via Getty Images
On the one occasion she jumped on a plane, the 2009 Women's British Open champion tested positive for the virus and was confined to a hotel room in Dubai when she was hoping to be teeing up in the Omega Moonlight Classic.
In an exclusive interview with The Scotsman, Matthew looks back on this year and also ahead to 2021, when she will captain Europe for a second time in the Solheim Cup after a dramatic win at Gleneagles last time out.
It's been a strange old year, one that no-one could ever have envisaged. How have you found it?
CM: It's definitely been strange. For me, I probably wouldn't have been playing quite as much this year anyway, so it's not had as big an effect than, say, 10 years ago, when I was playing 20-25 weeks per year. But it's still been very strange and, even the odd tournament I have played in is different as well due to all the regulations and protocols in place. But hopefully this time next year we will all have put this in the past.
To have tournaments at all in the circumstances was a result and people seemed to have pulled out all the stops, for example, to get the Aberdeen Standard Investments Scottish Open and AIG Women's Open back-to-back?CM: To get professional golf and professional sport back on TV was fantastic because I think lots of people enjoy watching that, especially this year when there is so little else anyone can actually do. It's been a welcome distraction for people to be able to watch sport on TV and to have the two events in Scotland represented a great job all round by the Scottish Government, VisitScotland, the R&A, IMG and, of course, the LPGA and LET. I think with golf involving people having to travel from so many countries has obviously made it harder, but it was great to see so many events being played.
Unfortunately, your own season was brought to a premature end due to a Covid test being positive ahead of a planned appearance in Dubai. How frustrating was that?
CM: Very, especially as I didn't have any of the symptoms and it turned out to be a false positive. I never had the virus and that made it all the more frustrating. It was definitely a stressful few days, but the whole thing was handled very well indeed by the LET, the organisers of the Omega Dubai Moonlight Classic and the Dubai health authority.
The year threw up some nice stories, but do you think the one that stood out in both men's and women's golf was perhaps the AIG Women's Open as Sophia Popov won at Royal Troon?
CM: It was just the second event back in Europe and the first ladies' major of the season and for Sophia to win after losing her LPGA card and be struggling in her career was one of those feel good stories and it's great that she's gone on to play well since then to show that it's not just been a flash in the pan.
How many young girl golfers around the world do you think will have been inspired by Sophia's achievement?
CM: Hopefully quite a few. In a strange sort of way, one of the benefits to come out of this year is that the women's game has perhaps had a bit more TV time than normal and, though I don't know the actual figures, I am sure they must have been good for the AIG Women's Open due to how it panned out in the end.
Golf in general seems to have benefitted, with lots of clubs in Scotland enjoying a membership boost.
CM: Yes, and it's even hard to get tee times here at North Berwick. But it's been great to see some of the lesser-known courses getting new members and some of them will probably be new to the game, which is brilliant for the sport.
What was your personal highlight of 2020?
CM: Receiving honorary membership of The Royal & Ancient Golf Club of St Andrews at the same time as three former men's Open champions, Ernie Els, Padraig Harrington and Nick Price. That was obviously a great honour for myself to be included amongst all the other highly-decorated honorary members, while I also received a nice surprise recently when PING sent me an inscribed gold putter and headcover, which are really cool. Also playing at Royal Troon again in the AIG British Open, which was a real treat as I had forgotten how good a course it was and it was presented in spectacular condition. I have also enjoyed my time on the LPGA/LET board, which runs another two years.
As we head into 2021, I suppose the Solheim Cup and Europe's trophy defence at Inverness Golf Club in Ohio in September will be looming on the horizon?
CM: It is indeed and we are all looking forward to that, definitely, as the 2019 match at Gleneagles was hugely enjoyable for myself, my vice captains and, of course, the players.
What did you learn from that match in the build up that can help put you in good stead for the week itself?
CM: I think it's more during the week that you learn things. How quickly things can change, for instance, and how quickly you have to make a decision. In the run up, there's a lot of conversations that go on and that will be the case again with myself, Laura (Davies), Kathryn (Imrie) and Suzann (Pettersen). The strange thing has been not being able to get out there and actually see the players out in the States, which has been a bit of a drawback, but Kathyrn was at the US Women's Open last week to do that.
Emily Pedersen was one of your team-mates for the 2017 match in Des Moines and is back in contention for next year after finishing the LET campaign this season with three straight wins. What have you made of her performances?
CM: She's had an amazing last couple of months. She played really well in the Aberdeen Standard Investments Ladies Scottish Open at The Renaissance Club, where she had a really good chance to win. She then won four events after that and five in total if you include the team tournament in Saudi Arabia.
How impressive is it that she's back on top form after going through some real struggles?
MD: Yeah, it was tough to watch what she went through after Des Moines. You see it a lot in golf with people working hard but never quite managing to get back to where you were. However, all that hard work is paying off for Emily and I am delighted to see her back to her best.
Was she ever in the equation for Gleneagles?
CM: No, she was well off the boil at that time. She really did have a tough time. She lost her card in the States then struggled when she came back to Europe as well. But it's always good to see a player, especially someone as young as Emily, turn things around.
The Solheim Cup and Ryder Cup are being held in the same month in 2021. What would it mean to you to go over there as a captain and defend the trophy before sitting back and hoping Padraig Harrington can do likewise in the Ryder Cup?CM: I think it would be great. It would be a big boost for the men, hopefully, if we can go out and hold on to the trophy.
The R&A are really trying to push women's golf, having launched the Women's Golf Charter in 2018 and now rolling out a campaign called #FOREeveryone. Do you think that can make a difference in the bid to attract more women and girls into the game?CM: Absolutely. The R&A are doing a huge amount when it comes to women's golf and I think that's because they see it as the growing market in the game. They are putting a lot of money into trying to promote women's and girls' golf and I think that is fantastic. You only need to look at the countries in Asia to see that women's golf is booming and to try and make that happen here as well is something that has to be welcomed and encouraged by everyone.
It's okay talking about something like this but you need actions to back it up and, led by chief executive Martin Slumbers, it seems as though that is the case with the R&A?
CM: Yes, the R&A is a huge organisation and it gives huge kudos to have them backing and promoting something like this.
You are trying to do your own bit to help up-and-coming Scottish girls in a mentoring role alongside fellow major winner Paul Lawrie for Scottish Golf.
CM: We are just trying to help the youngsters coming through the ranks improve. I'm looking forward to trying to pass on some of the experience of being 25 years out on tour.
And now Martin Gilbert is also set to provide his considerable boardroom experience after being nominated as the new chair of Scottish Golf.
CM: I think that will be great. Martin has obviously been a huge supporter of Scottish golf, both professional and amateur golf, over the years and to have him as chairman would be great. He's got lots of contacts and, if you were going to pick someone for the role, he'd be the man.
In addition to your Solheim Cup role, how do you see 2021 panning out for you?
CM: I'm aiming to play a bit in Europe and I will also be hoping to get over to the States to play in a couple of events there and tie in a visit to Inverness Golf Club. Hopefully by April or May, things might be getting back to a bit of normality and travel will be a bit easier again.
In the meantime, I take it you still plan to put in the miles on the Peloton bike that has become part of our life this year?
CM: Yip, I'm still going hard at that and still enjoying it. I've probably improved by two-thirds in terms of numbers since I started, which I am pretty pleased about.
A message from the Editor:Thank you for reading this article. We're more reliant on your support than ever as the shift in consumer habits brought about by coronavirus impacts our advertisers.
If you haven't already, please consider supporting our trusted, fact-checked journalism by taking out a digital subscription.