Calum Scott aiming to make Walker Cup a family affair with own footsteps
Keeping tabs on their golfing sons must be exhausting for Alexander and Annabel Scott. Sandy, their oldest boy, has made a promising start to his professional career with some strong performances on the PGA Tour Latinoamerica, one of the PGA Tour's feeder circuits, while sibling Calum is equally talented when it comes to the Royal & Ancient game.
The 19-year-old, who followed in his big brother's footsteps by heading to Texas Tech to play on the ultra-competitive US college circuit, has just broken back into the top 50 in the World Amateur Golf Ranking, having jumped 15 spots after finishing third in the St Andrews Links Trophy last weekend.
That eye-catching effort in an event won by Irishman Alex Maguire boosted Scott's hopes of returning to St Andrews later in the year to play in a Walker Cup on the Old Course. The Nairn member had already been included in an initial Great Britain & Ireland squad for the biennial clash against the Americans along with Blairgowrie's Connor Graham and captain Stuart Wilson and his selectors were keeping a close eye on the St Andrews action.
"I didn't really know what to expect going into it as it was my first event back, having just arrived home a few days before it started," Scott, a very pleasant young man, told Scotland on Sunday. "We had a Walker Cup session in the practice rounds and it was then straight into it. I was very happy with the result and there was some good stuff in there."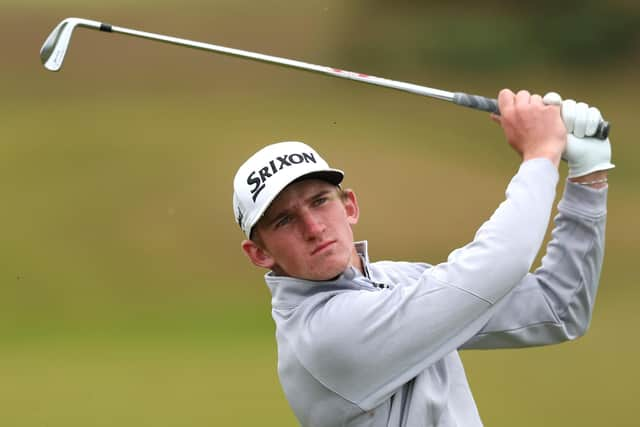 His previous outing had been on a desert course, representing Texas Tech in the NCAA Division 1 Championship in Arizona. "It's always difficult to adapt when you have been playing golf for six months in hot conditions, not much wind, big slopey greens then come back to playing links courses where it's normally a bit cooler and the wind blows a bit more," he added. "There's lots of different things to think about, but it obviously helps that I played links golf growing up and my home course is a links course, which means I know how to play in the wind. But it does take some adapting, definitely."
Along with the other squad members, Scott was fitted for clothing and did various media activities as part of that Walker Cup session. "Having that added a little bit of extra pressure, but I think that's also what they are trying to do because, when it comes to crunch time in the Walker Cup, there is going to be a whole lot more pressure than we are used to and they'll want to know how we can handle that," he said. "On the other side of things, it's tough for a player having that in the back of their mind. But I did well to block it out and it was business as usual."
Sandy played in the 2019 Walker Cup at Royal Liverpool, where the home team led 7-5 after the opening day before losing by five points. "I was there watching and it definitely made me want to play in one day," said Scott jnr. "That's one of the best events you can play in as a British golfer. It's sort of the pinnacle of your amateur career as a GB&I golfer and seeing Sandy play in it, with all the crowds and a great atmosphere definitely made me aspire to play in it as well one day. It would be amazing."
In his time at Texas Tech, Sandy racked up a long list of awards and accomplishments, including twice making the prestigious Haskins Award Watch List. "I had big shoes to fill when I decided to follow him out there," admitted Calum. "He had a great amateur career and a very good last two years in college golf. He was up there as one of the best amateurs in the world and competed in the US Open, as well as the US Amateur and Amateur Championship. He definitely made a name for himself in the Texas Tech golf world and Texas Tech Athletics.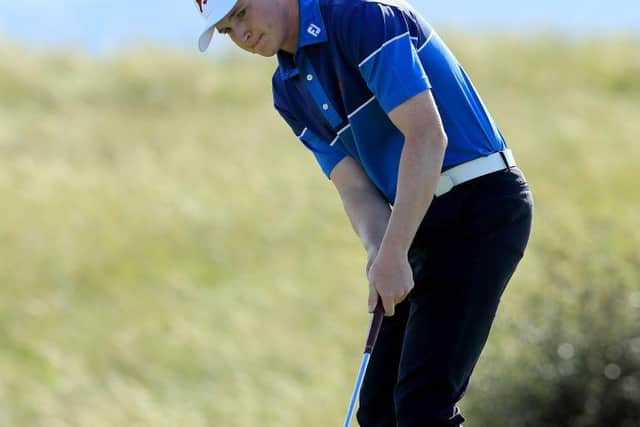 "I'm now trying to create my own footsteps, though he is a great player to use as a role model. Having someone who had been there for so many years giving me advice gave me a head start whereas some other freshmen were maybe struggling to settle in. He did a great job of making me fit in and feel welcome. It definitely helped having him there my first year."
As, for two years, was having Ludvig Aberg, the Swede who was world No 1 before he recently turned professional, finishing in the top 25 in his first appearance in the paid ranks in the recent RBC Canadian Open. "He's a great role model for us at Texas Tech," said Scott. "He's a great guy and also an unbelievable golfer. He does everything in a professional manner. He's someone you kind of aspire to be and always learn from. He's always open to answering questions, which is great. He's very humble and one of those guys you take notes when he's practising. You always learn from someone of that calibre."
As a freshman, Scott made an immediate impact, appearing in all 12 events that the 'Red Raiders' played in and recorded six top-20 finishes. Eye-catching efforts in his sophomore season included a runner-up finish in the Inverness Collegiate and a top 15 in the Big 12 Men's Championship.
"Yeah absolutely," he replied to being asked if his game had improved through playing college golf. "I think the rankings would show that and hopefully the statistics, too. The strength of fields I am playing in are a lot better over in America and there are probably better opportunities over there than in Europe. In terms of scoring average and finishing off events, I am definitely seeing a lot of improvement. I definitely feel I have matured as a player, too, which is a big thing.
"The team aspect also makes it more enjoyable. You also have your individual goals that you are focusing on, but having a team aspect is really enjoyable. It also just makes you think about other people. Golf is quite a lonely sport at times, so it is nice to have a team around you. It kind of prepares you for something like the Walker Cup, where you have that team aspect and you are all trying to play for each other and cheer each other on."
It's individual assignments for the time being for the Paul Lawrie Foundation Ambassador, starting with next week's R&A Amateur Championship, which is being held at Hillside and Southport & Ainsdale. Two years ago over his home course, Scott made it to the quarter-finals in the amateur game's blue riband event. "That was really enjoyable," he said. "The field wasn't as strong (due to international players being unable to travel because of the Covid-19 pandemic), so I knew I had a better chance at that time. To have the home crowd there was fun and really enjoyable. It's definitely something I will remember for the rest of my life. It's one of those moments that don't come around very often.
"After shooting the best score on the first day in those hurricane winds, it definitely settled me in a lot nicer than I would have expected and the week went very well. Getting to the quarters was great and, though I'd liked to have done even better, I gave it my all and I hope I did my club proud."
It's fair to say that both Scott brothers are doing a great job in that respect.
Comments
 0 comments
Want to join the conversation? Please or to comment on this article.