Calum Hill's smile says it all as Scot shines in Abu Dhabi on his DP World Tour return
Luke Donald may have had most to smile about on the opening day of the Abu Dhabi HSBC Championship as Europe's captain upstaged his Ryder Cup hopefuls at Yas Links, but Calum Hill was certainly a close contender.
Late in the day, long after Donald had grabbed the lead in the $9 million Rolex Series event with an eight-under-par 64, Hill was positively beaming as he opened with a 68 and his feeling of satisfaction was perfectly understandable.
After landing his breakthrough win on the DP World Tour in the Cazoo Classic in August 2021, the 28-year-old only teed up three times in the whole of last season due to an insect bite leading to a nerve problem.
He's still not fully over that, but, at long last, Hill feels confident he is fit enough to be back in the trenches and an effort containing six birdies was just the boost he was looking for at the start of the new campaign.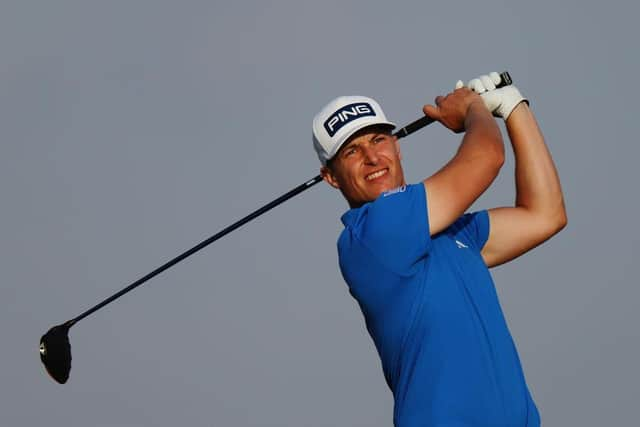 "It was good," he said of his afternoon's work. "I putted really nicely then the rest was good enough to put a good score in." It might have been even better if his group had avoided finding themselves on the clock on their back nine.
"It's been a while since I've been in that position, so the rhythm changed and I didn't manage that as well as I would have liked and I made two bogeys in a row," added the Scot, "but then I holed a 15-footer at the last after being in the fairway bunker on the left."
Hill, a three-time winner on the Challenge Tour before graduating to the main tour, has effectively retained the same category from last season, even though it is listed as a medical exemption.
"It's still a bit niggly," he said of his nerve issue, "but it's much better than it was, so I'm just hoping that, even if I get the aches and pains, I'll have recovered the next morning and hopefully over time we'll get to a stage where it is normal again. I am working with the right people and doing the right things and I'm told it will all be normal eventually."
Helped by spending some time in America since his last outing in Portugal in October, his game seems spick and spam. "The competitive juices had been gone as it's been such a long time, essentially a year and a half, and a lack of competition can be tough and I noticed that around about Portugal," he said. "I was swinging it really nice, hitting it nice but my scoring was terrible because of the lack of golf I'd played.
"I did a lot over the winter and stayed in America, which meant I was able to play a lot of golf and the scoring side of things started to get a little better. It's a nice surprise, but it felt comfortable out there."
Hill's effort matched Connor Syme's score in the morning, with Scott Jamieson also standing on four-under with three holes to complete after darkness halted play.
Donald, a former world No 1 but now down in 541st position, birdied his final four holes to lead by a shot from Italian Guido Migliozzi, one of the star performers in last week's Hero Cup in the UAE, and Australian Jason Scrivener.
Comments
 0 comments
Want to join the conversation? Please or to comment on this article.