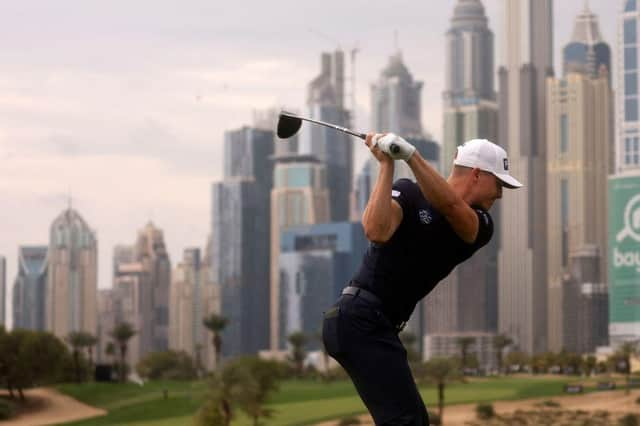 The 28-year-old had jumped to a career-best 97th after winning the Cazoo Classic in August 2021, but he is currently 410th as a result of only being able to play three events last year.
That was down to an insect bite leading to a nerve problem, but, in just his second start since believing he can be competitive again on the DP World Tour, Hill had good reason to feel pleased with himself.
In an event disrupted by flooding over the first two days, Hill had opened the $9 million Hero Dubai Desert Classic with a two-under-par 70 on Friday afternoon.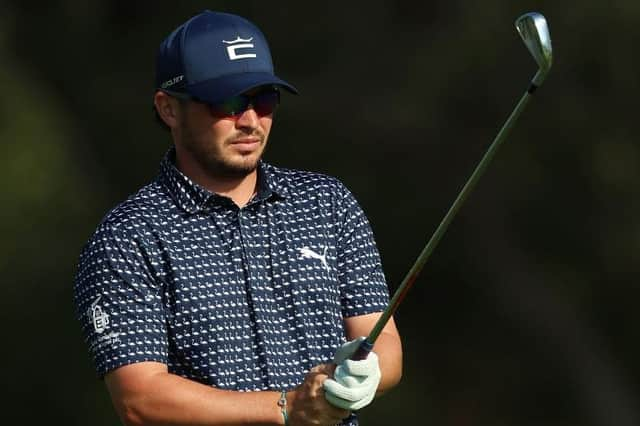 After a quick turnaround, he found himself back out for the second round but had only completed two holes when play on the Majlis Course at Emirates Golf Club was suspended due to darkness.
Returning early on Saturday morning, Hill reeled off five birdies in the remaining holes to card a bogey-free 67, which left him handily-placed on seven-under – just three shots off the lead – at the halfway stage in the Rolex Series event.
"I played really nice yesterday but was compounding my errors," said the Crook of Devon-based player of mixing six birdies with two double-bogey 6s in his opening effort. "I'm still struggling to figure out how not to make another mistake whenever it goes in trouble, so yesterday was a shame with a couple of high numbers.
"The driver was a little bit better today and that meant I didn't get in trouble at all. It was steady. I've been striking my irons as good as I probably have, very consistent and not far off line. If you get it in play round here and then attack with your irons, it makes a difference and that's what led to me having a few birdies and being in a decent spot."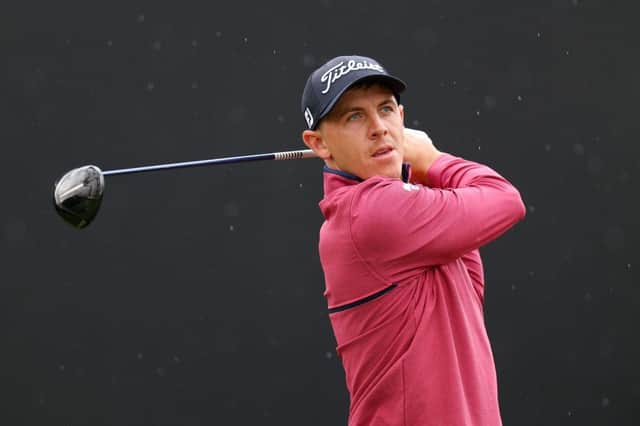 Hill had opened with a 68 in last week's Abu Dhabi HSBC Championship but then missed the cut by a shot after adding a 75. That wasn't the only reason he's pleased to be through to the final two rounds in this event.
"I've never played in this event before. In 2020 and 2021, I was either second or third reserve and it never moved," he said. "So to play it for the first time is good fun. I think I've got it a bit softer than it usually is, so it's a slightly different experience, but I am enjoying it."
His coach, David Burns, is attending his first event on the circuit since last May after a cancer scare. "He's just got rid of one thing and he's got a bad back now and it was quite funny seeing him walking round the course stretching," laughed Hill. "But it's good to have him back out here as he has definitely helped my game in the last week."
Ewen Ferguson finished birdie-birdie to sit alongside Bob MacIntyre, who birdied three on the trot from the second but parred every other hole, on five-under.
"That was a good way to finish," said Ferguson, smiling. "I got a bit nervous at the end but managed to hit a few good shots coming in. To be honest, I don't think I would have made the cut around a long, hard course like this at the start of last year before I won. I always found this course quite intimidating."
Grant Forrest, who tied for tenth in Abu Dhabi, was sitting outside the cut line before picking up three shots in five holes on the tougher front nine. He was equally pleased with a par save at the last with an up and down from 70 yards.
"Today turned into a real grind," said the 30-year-old. "I'm happy to get through and hopefully I can have a strong final two rounds. These two events are so big for our season that, if you do get a good start, it can make all the difference."
Helped by four birdies in a 69, David Law also progressed on four-under, with Marc Warren and Scott Jamieson making it through as well as the cut fell at two-under. Warren finished birdie-birdie, but faced a sweat before finding out that it had been job done for the second week in a row.
Two-time winner Stephen Gallacher, who was playing through an invitation after losing his card at the end of last season, was the odd man out among a nine-strong Scottish contingent after he finished on six-over.