Brooks Koepka caddie incident: Paul McGinley 'staggered' over controversial call at Masters with Ricky Elliott
Ryder Cup-winning captain Paul McGinley reckons Augusta National should have taken action over an incident involving Brooks Koepka's caddie in the first round of the 87th Masters.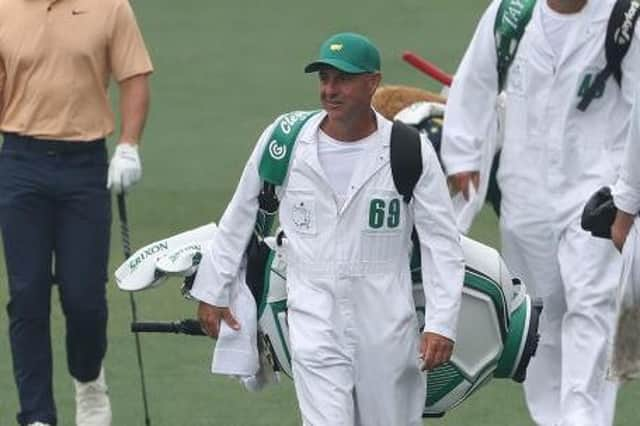 Northern Irishman Ricky Elliott, who helped Koepka win four majors in a short period of time, appeared to mouth "five" twice in the direction of Gary Woodland's caddie Thomas Little after Koepka hit his approach at the par-5 15th. But, after the tournament committee looked into it and talked to all those involved at the end of the round, they decided that Rule 10-2a had not been violated.
A statement issued to the media read: "Following the completion of Brooks Koepka's round, the Committee questioned his caddie and others in the group about a possible incident on No. 15," James B. Hyler, Jr, Chairman of Competition Committees, said in a statement. All involved were adamant that no advice was given or requested. Consequently, the Committee determined that there was no breach of the Rules."
The incident has gone viral and, speaking on the Golf Channel, McGinley said he had been staggered that no action had been taken. "It's very obvious," he said. "It's staggering that they've denied it because the evidence is there. This is common practice on tour. Whether you like it or not, it happens in every professional tournament around the world. This is not considered a serious breach among the players. As long as I've been on tour, this is what it is."
The Irishman, who led Europe to victory in the 2014 Ryder Cup at Gleneagles, added: "If the authorities want to stamp this out and really come down on this and make an example of it and obviously they haven't. They've chosen not to do that and it looked very clearly the evidence was against them. But, you know, if that's the case, I think a lot of players in the field, if they are putting their hand on hearts, there would be a lot of penalties out there today with what went on and other groups as well. We just happened to see it on camera."
Former US Open champion Woodland, who signed for a 68, would have incurred a two-shot penalty but had either he or his caddie asked for the club. "I don't think there's a player in the field hand on heart who could say that they or their caddie at some stage hasn't either taken the hand off the club so the other player could see it or something," said McGinley. "Whether you like it or not, I mean, I'm a stickler for the rules, and we're all sticklers for the rules. But it's just not seen as a serious breach."
Craig Connelly, one of the most experienced caddies in the game, said on Twitter that the so-called incident was an 'absolute non-starter' in his mind. "Happens every single day, multiple times a round," said the Scot, who works for two-time major winner Martin Kaymer. "And, if there's a caddie on here who says they've never done it, then they're talking s****!"
Comments
 0 comments
Want to join the conversation? Please or to comment on this article.