Bob MacIntyre's sights set on 'stealing whole thing' with big weekend in Dubai
Bob MacIntyre has his sights on "stealing the whole thing" in the DP World Tour Championship by not only landing the biggest win of his career but also claiming the prime PGA Tour card up for grabs in this season's Race to Dubai.
After finishing his second round 2-3 to pick up three shots and come home in 30 on the Earth Course at Jumeirah Golf Estates, Dane Nicolai Hojgaard holds a two-shot lead on 11-under-par in the DP World Tour's season-ending $10.5 million Rolex Series event.
Two other members of Europe's victorious Ryder Cup team in Rome at the end of October, Tommy Fleetwood and Viktor Hovland, are lurking ominously in a group on nine-under after matching 66s, with defending champion Jon Rahm signing for the same score to sit three shots further back.
MacIntyre, yet another of the players who helped Luke Donald's side win back the Ryder Cup in the Italian capital, is also in the mix at the halfway stage after adding a 68 to his opening 69 to be tied for ninth on seven-under-par.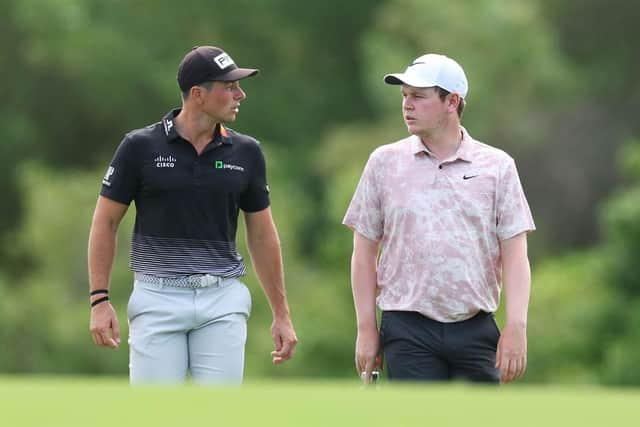 On the back of another strong season, which, of course, included finishing second to Rory McIlroy after his birdie-birdie finish in the Genesis Scottish Open at The Renaissance Club, the Oban man has put himself in a strong finish to secure one of the ten PGA Tour cards that will be handed out after Sunday's final round of the 2023 DP World Tour campaign in the United Arab Emirates.
MacIntyre started out in the seventh card spot and is now up to sixth in the projected standings. A big weekend, though, could still see him climb all the way to the top of the list, which would be hugely significant as the player securing that card gets into The Players Championship at Sawgrass.
"If I can win this, I can steal the whole thing," declared the Scot, smiling. "I think I am in a good position now to get one of the ten. I think I've almost got enough of a lead for that. But this game is all about winning golf tournaments. I've come close his year and I've come close here a few times. Yeah, I want to win this one."
Playing alongside Hovland, it was MacIntyre at his best for most of the second circuit, which was played on a rain-sodden course following overnight thunderstorms. His card included 2s at both the fourth and 17th, as well as another birdie after a brilliant recovery from the trees at the par-4 tenth.
"I got lucky," he said of that. "I had the perfect number, perfect lie and perfect gap. Everything was set up perfecty, but I still had to execute it and it was a good shot. Just before that Mike [Burrow, his relatively new caddie] had said to me 'I feel we are getting close to being error-free' and I was like 'Mike, when you are caddying for me we are going to make mistakes (laughing)'. I'm human and I am going to make bad swings. I know I'm not perfect and I play golf the way I want to play golf."
It was also a day when MacIntyre finally walked off the par-5 18th with a smile on his face after getting up and down from a greenside bunker for a birdie. "The tee is up, but that's probably when I make most mistakes on that hole as I normally drive it in the water or hit it in the water with my third shot," he said.
"I remember asking Rory how he played that hole in 2019, my first year here, and he said 'I aim it at the water and hit it as hard as I can'. That's my motto on that forward tee this week and nine times out of ten I know it's not going to go straight. Today I pulled it a little bit and it was right in the middle of the fairway. Just glad to get out of there with a birdie for a change."
He'd also produced a brilliant sand save for a par at the fifth. "I think short game brings out of my character more than anything else," he said. "I can have fun and I love it. I got in that bunker on five today and I knew I had a good set of hands to play the feel shot that was required and that's what I love. When I get in the sand, I feel like I can be a kid again."
Talking of kids, MacIntyre and Hovland were still boys when they first played together and now they have a bond through the Ryder Cup. "I've known he's a great guy and a great player, but I didn't really know him properly until the Ryder Cup," he said. It's just a different connection and different vibe off these guys. You feel there's a bond and it was great today."
Winning the 15th edition of the event and becoming the first Scot to claim the title would be something special. "I'm playing really nice," said MacIntyre, who also has a chance to jump from 57th into the all-important top 50 in the world rankings before the end-of-the-year cut off for The Masters. "Last week was obviously poor and everyone thought 'ah, he's struggling just now'. But I was so close to playing great last week and it's mad when you see the scores. This week I've had the team around me. Shanksy (coach Simon Shanks) wasn't there last week due to it being so far away and Stuart (Morgan, his performance coach) is also here this week.
"We've tidied things up a bit as it was off the tee that I'd been struggling a bit. We've committed to certain shots off the tee. It's just trusting the way I play golf and that's moving the golf ball. Just commit to a shot and hit it and I've done that so far this week. Hit some good ones and hit some poor ones, but, overall, it's been good."
McIlroy, who has already been crowned as the Race to Dubai champion for a fifth time, sits ten shots behind Hojgaard after a second-round 72.
Comments
 0 comments
Want to join the conversation? Please or to comment on this article.