Exclusive:

Bob MacIntyre: The making of Scotland's Ryder Cup star - from those closest to him

Martin Dempster pays a visit to Oban, an unlikely place to have produced a Ryder Cup golfer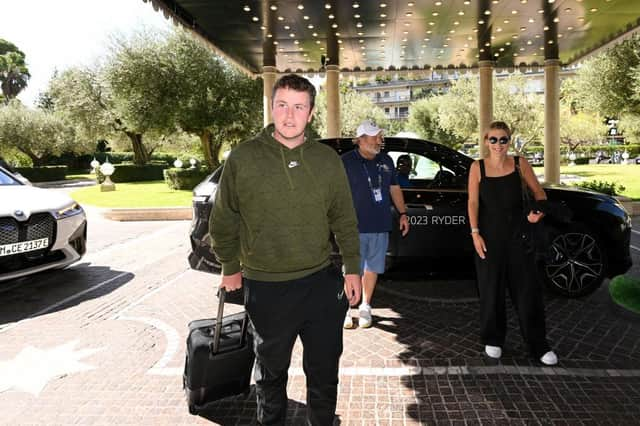 Walk along the picturesque waterfront in Oban with the magnificent McCaig's Tower overlooking it almost sentry-like and you instantly imagine youngsters in the town growing up wanting to be seafarers, adventurers or even explorers as they dream about what lies beyond the islands to the west.
On the sporting front, the fairytale for most is to be successful at shinty, with the coveted Camanachd Cup being its holy grail. Good footballers have also been spawned in the town while Susie Wolff and John McPhee both grew up in Oban before carving out careers in motorsport.
With all due respect, though, it really is an unlikely place to have produced a Ryder Cup golfer. For starters, in addition to its rural setting Glencruitten Golf Club is quite quirky, as you instantly see when looking out of the clubhouse window and wonder where the first green actually is on a hole that entails a steep climb - the first of many - up and over a hill.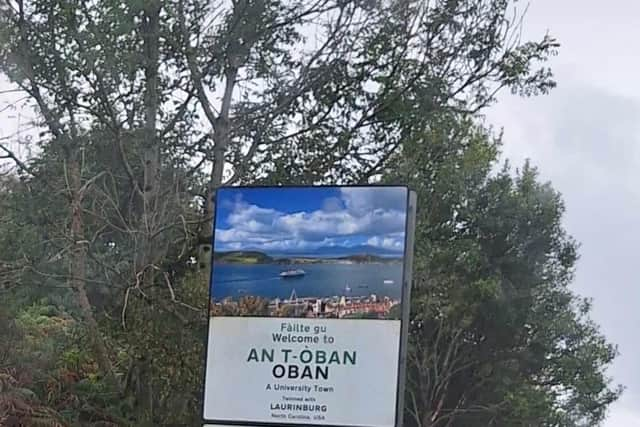 But that didn't stop Bob MacIntyre from making headway in the game and neither did the fact he occasionally missed out on big tournaments when he was coming through the ranks as a junior due to his parents, Carol and Dougie, simply being unable to afford the accommodation or travel costs.
Having amassed earnings of more than £6 million on the DP World Tour alone in his short professional career, money is no longer an issue for MacIntyre, but, as he prepared to be part of Luke Donald's European team for the 44th Ryder Cup in Rome, a visit to his beloved hometown by The Scotsman discovered that, in the eyes of those who have either grown up with him, got to know him through golf or played alongside him on a shinty pitch, he's still the "nice wee boy" they met at the outset of their respective journeys.
Some of those people, including the man who was being treated for cancer in a hospital in Glasgow when MacIntyre paid him a surprise visit straight from the airport after arriving back from the US, are heading for the Italian capital and, in a sort of 'thank-you' gesture, it's all been paid for by the 27-year-old.
Golf has literally been on MacIntyre's doorstep – the family home sits behind the 12th tee on the 18-hole course that his dad looks after as the head greenkeeper - from the moment he arrived in the world while sport is in his genes. His grandad, Dougie, is a shinty legend, having played in a Camanachd Cup Final for Oban Camanachd at the age of 49. He also hit 23 holes in one after being a relative latecomer to golf. Dougie jnr and his brother, Gordon, were the Oban Camanachd goal heroes in another Camanachd Cup Final, which was recently acclaimed by Hugh Dan Maclennan, the legendary BBC Scotland shinty commentator, as the highlight of his career covering the game.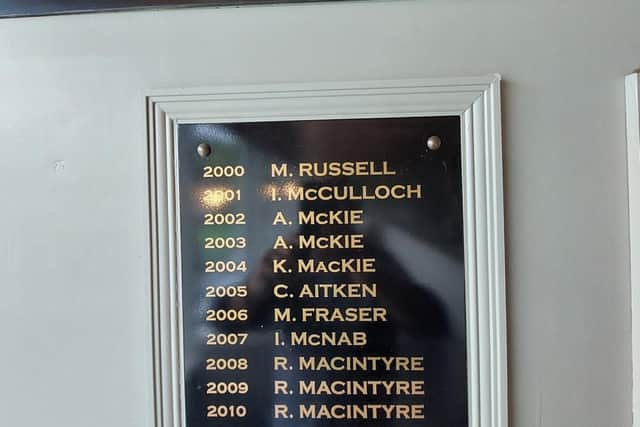 "Bob played shinty from primary 1 basically and, in primary 3, when he was seven or eight, he was actually playing shinty with the primary 7 kids. The hand to eye coordination was there, you could see it, and when he started playing golf he picked it up pretty quickly," recalled Dougie, sitting in the clubhouse at the end of a day when he'd been fighting Mother Nature out on the course. "I can't recall the first time I took him out onto the golf course, but I remember when he was still a nipper and was walking about with plastic golf clubs. As he got to seven or eight, I cut down a set of clubs for him and when I was playing, he'd follow me around and play a couple of holes.
"We built a house next door to where we are now. That was in 1996, the year he was born. We'd just moved in when I was at work when Carol was on her hands and knees shouting at me as that was him on the way (laughing). I was still playing a bit then and we'd be out there every night, maybe just playing four holes but it was all the time. That said, I don't think he thought about a career in golf, to be honest. It was shinty and he was a good wee footballer as well. He played in a good team for Oban Saints and played up front. Believe it or not, he was fast (laughing). He was a good player but shinty became the main thing for him and he got pretty good at it."
By all accounts, he still is, turning out for Oban Celtic, the team managed by his dad, whenever possible, but golf is where he's making a name for himself, having been crowned as DP World Tour Rookie of the Year in 2019 before winning twice on the circuit and now set to become the first Scot to play in the Ryder Cup for nine years.
"He won a flag competition – the first one he ever entered - when he was ten at Killin," added Dougie of how that journey to Rome had started. "That earned him a trip to Celtic Manor, where played in a Faldo Series event and met Nick Faldo. He then qualified in the Wee Wonders at Strathmore Golf Centre, I think, and that got him a trip to Pinehurst. I've still got a copy of the scoreboard at home and it's got Robert MacIntyre, Collin Morikawa and Cameron Young on it. When he got to 14 and did well, finishing tenth or something like that, in the Scottish Under 14s - Bradley Neil was the kingpin at that time - I think he got an inclination that he was decent. At that point, he was getting right into his golf and, when he won the Scottish Youths at the age of 16 at Lanark, it made him think 'I'm probably pretty good at this'. Shinty was then dropped as he started to concentrate on his golf."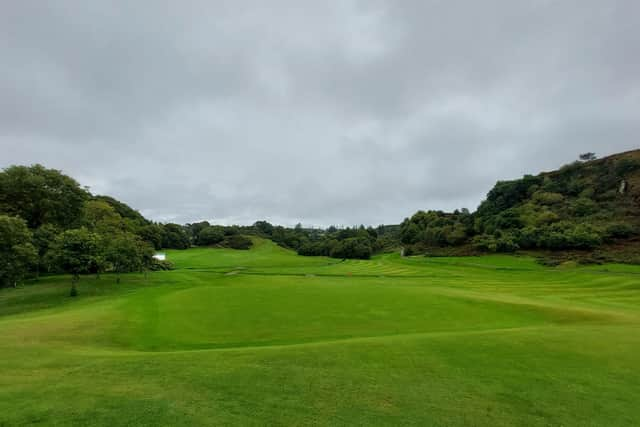 McIntyre spent a lot of time on the course at Glencruitten when he was a junior with his boyhood friend, Ali MacLean. "I first met Bob when I was two or three years old," he said. "Our dads have been pals for years, knowing each other growing up in Oban and playing golf together. We both got into golf together and also football and shinty together. We played our first competition together on the same day here. It was a fund-raiser for the Indian Ocean tsunami in 2004, so we'd be nine or ten maybe. My dad walked round with us to keep us right about the rules and mark our score. I remember my dad talking about a Wilson 3-ion Bob had at that time and saying to Dougie when we dropped him off 'gee, what about the way he hits that - I can't even hit a 3-iron (laughing)'."
The majority of MacIntyre's shots during an amateur career that, in addition to that Scottish Youths' win, also saw him land the Scottish Boys' Open Stroke-Play at The Roxburghe in 2013 before coming from three down at the halfway point to win the 2015 Scottish Amateur Championship at Muirfield were witnessed at close quarters by Angus MacEachen, who is better known in Oban as 'Bedang'.
"We knew him when he was a young fellow out here playing but, just before I stopped working, I gave them some sponsorship," he said. "I gave them a couple of grand and some equipment. I then retired the following year and said to Carol and Dougie that if they ever needed someone to take him away to events, I'd do it and they phoned me the following weekend and I started to take him to events and caddying for him, which was about 11 years ago.
"There was always something special about him. Bradley Neil was the boy wonder at the time, but I'd say Bob was the next special thing. The other thing is that he was always a hell of a nice wee boy. I'd said to Carol and Dougie that, if he was a wee arsehole, I'd not be taking him again (laughing). You go amongst these boys and, when they get their Scottish Golf badge, they think they've arrived whereas Bob was very good at playing the teuchter and playing the shinty boy card and all that stuff. Don't let anyone think that's not clever on his behalf as he's a very sharp wee guy. Indeed, when a bit later in his career we were looking for sponsorship for him, a guy made a big offer but said 'I want ten per cent of your earnings'. Right away Bob said 'no way'. I spent a lot of time with him and, funnily enough, we share the same birthday, which is quite unusual."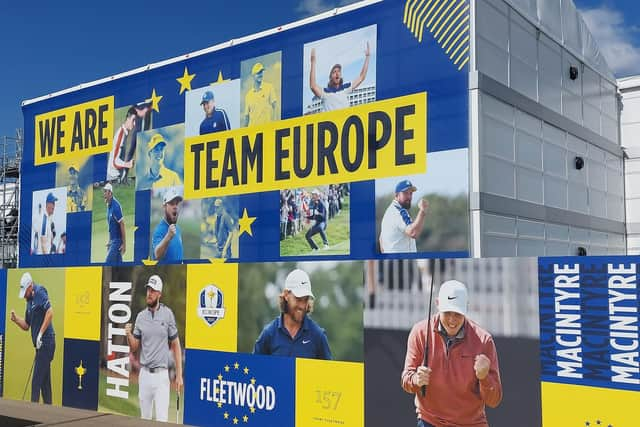 Willie MacAdam, a long-time Glencruitten member who was heavily involved in junior coaching at local level and with Argyll and Bute Golf Union, first came across MacIntyre when he was 12. "He was a precocious talent. I think he's what Malcolm Gladwell would call an outlier," he observed, smiling. "When he was 16, Robert had a handicap of plus 4.2 and, if he hadn't played here, it would have been plus 5.2. But, due to the fact he came from a rural part of Scotland, he had huge obstacles to overcome to get where he is now. To qualify for teams at any level, Robert had to be so much better than everybody else."As already mentioned, it was also a struggle at times for Carol and Dougie to help give him the same opportunities as other upcoming youngsters. "If you go through the record books, you will find that Bob MacIntyre never played in the Boys' Amateur Championship because we couldn't afford it," admitted Dougie. "After it had been held one year. I remember hearing that the US college guys had been over and had a list of players they wanted to speak to and Bob apparently was quite high up on a few of them and, it was only when they were told his parents couldn't afford it, they said they would have footed the bill. We had a budget and we sat down at the start of the year to plan his schedule, saying we can afford this and that but 'sorry Bob we can't afford to do that and we he was fine with it - it wasn't a bother to him. A lot of things we stretched to, but we were never killing ourselves that way as the two girls (Bob's sisters Nicola and Gillian) had things to do as well and, jesus, they missed out on a lot when they were young, though they now love being at the events and watching Bob."
Nicola, incidentally, is a good golfer herself. "What a talent she was and she just gave it up," said Dougie, shaking his head. "She went to Argyll & Bute Ladies' training down at Dumbarton and then Bob Collinson from Windyhill took a session with them at Bearsden Driving Range and he came up to me and said to me 'what a golf swing she's got'. I had been telling her that, but it needed someone else to tell her she could maybe go places if she wanted to as she wasn't listening to me (laughing)."
MacEachen is glad that MacIntyre listened to him at Muirfield during that Scottish Amateur title decider against Daniel Young eight years ago. "On the Thursday, the trophy appeared at the first tee and, as soon as that happened, he said to me 'that's coming up the road with us'," he recalled. "But he was three down at lunch in the final and I said to him 'let's just put the clubs in the car and f*** off as there's no point wasting the time of the people here to watch you and also waste my time' if you don't think you can win this. I then said to him 'well, do you remember when Liverpool were 3-0 down at half-time in the Champions League final and came back and won it 4-3?' He came up close to me and said 'of course, I can still win it' and did so."
As his golf career has developed, shinty has been MacIntyre's solace. "That has always been important to him," confessed Dougie. "I think he's told the story about how he came home from Morocco in 2019 and was raging, saying 'I don't want to play this game anymore and don't enjoy it'. He put the clubs in the shed and said 'I'm not touching them again' and got the shinty stick back out. He made two trips with the team and I think one of them was to Bute for a game and on a bus back from a shinty game the craic is always great. The fact he's a good player helped us but it obviously helped him as well as he picked up the clubs again and suddenly felt good once more. He went away to the Betfred British Masters, finished second at Hillside, then went to Denmark and had a good battle there with Bernd Wiesberger and The Open at Royal Portrush (where he finished in the top ten on his major debut) wasn't long after that. Playing shinty obviously helped him get the stress he was feeling about golf at that time out of his head."
Iain 'Shuggie' MacFarlane is one of his Oban Celtic team-mates. "Shinty is a huge part of his life and always has been," he said, wearing his club colours before heading off to attend a Tuesday night training session in the pouring rain. "I played against him at primary school before we both ended up at Camanachd playing at under-14 level. I then went to Celtic before he went off and did his golf before he started playing again about five years ago. That's all he thinks about. Obviously he talks about golf but, without the shinty, I think he'd be quite a different person. He likes his football as well but shinty is definitely his main go to thing when he's at home. I think it's the team environment as much as anything. He loves the craic."
Recalling Dougie's story, he added: "I think we got beat that day, but it didn't matter. He's just an Oban boy and I remember him coming back and coming to training and getting in amongst the boys. He loves the camaraderie that comes with playing shinty. He's good at motivating people in a changing-room while on a shinty pitch he's hard but fair. He's a talented player but also powerful. I don't think it's daft that he still wants to play. If you worry about that, the stick is there to protect you anyway and he's good at that."
As he is when it comes to the small things in life that matter. "I was in hospital with cancer and Robert came off the plane from playing in the Walker Cup in Los Angeles in 2017," recalled MacAdam. "His dad picked him up at the airport and he came straight to the Beatson in Glasgow to see me - that tells you everything about him as a person. I'll meet Robert and he always asks after my wife and young fella. He always thinks about other people and will always give you the time of day. I'll tell you what a nice boy he is. He even came to a club-fitting that I was getting (laughing)."
It was no laughing matter for Glencruitten Golf Club before a combination of MacIntyre putting it on the map, so to speak, and the Covid pandemic delivering a golf boom in Scotland staved off the real threat of closure. "We were on the verge of finishing," said MacAdam, a committee member at the time. "I reckon that until Covid hit we would probably have closed in the August or September that year. Bob was a huge help and so was Covid.
John Tannahill, the club secretary, described MacIntyre's contribution to the club's improved state of health, albeit it far from 100 per cent secure as "enormous" and shared a nice story about how it now attracts foreign visitors to the town. "Ten days ago an American couple came into the clubhouse, which is down to us now picking up some visitors off the cruise liners that come in," he said. "They said they'd heard this is where Bob MacIntyre comes from and one of the boys said to them 'he's actually out on the course just now if you want to see him'. As it happens, Bob was coming down the 18th as they were going off the first and the woman couldn't play, saying he's my 'hero', which is fantastic and actually a frequent occurrence. We are picking up extra revenue as a direct result of him and it's great as we are struggling a bit. Eric Deverill, who is behind the bar, had carried this place on his back for the last few years up until we managed to bring in a bit of money and the coverage the club will get during the Ryder Cup is phenomenal. I've got the Glencruitten Golf Club flags ordered for the locals heading out to take with them. Max Mackay-James, the chap who owns the land here as we lease it, is also going over with his two boys."
It will be a Ryder Cup-themed weekend in the clubhouse and members will even be offered an Italian menu to get them in the mood. "It's amazing for the club and also for Oban that we are the only club in Scotland who can say we have someone playing in this Ryder Cup," said club captain Charles Spreadbury. "It will be heaving in the clubhouse as Bob is a great ambassador for the town and a great role model for the juniors at the club."
As one of four rookies, it remains to be seen how many matches MacIntyre will play in out of the five sessions as Europe try to win the trophy back but, according to the man who knows him best, the left-hander won't let Donald or his team-mates down at Marco Simone Golf & Country Club. "I was quite glad he missed the last one in the end because I don't think he was quite ready - but I do now," declared Dougie. "Because I know him and I know how he plays in match play, he's definitely got something that I think a lot of other players don't have. He's a terrier. You think he's down and out, but that's not the case." Concurring, MacEachen, who will also be there as one of MacIntyre's special guests, added: "I'll be emotional when he steps on the first tee in Rome but also chuffed to bits for him."
Understandably so because it really is a sporting fairytale for a wee boy from Oban, with its population of 8500 but with streets swelling with visitors for much of the year, to be appearing on one of the biggest stages in sport. "I said this to my dad," mused MacLean. "Imagine if somebody had said to you 30 years ago that someone from Oban will play in the Ryder Cup, you'd have laughed at them. It's crazy."
Crazy but actually now happening and he's doing his town proud.
Comments
 0 comments
Want to join the conversation? Please or to comment on this article.