Bob MacIntyre secures PGA Tour card but laments 'useless' wedge play
Bob MacIntyre safely secured his PGA Tour card for 2024 but admitted he had mixed emotions at the end of the DP World Tour Championship in Dubai.
Helped massively by finishing second to Rory McIlroy in the Genesis Scottish Open in July, the Oban man ended up in seventh spot in the battle for ten tickets on the US circuit through the Race to Dubai Rankings.
It means MacIntyre will be pressing the button on a move to America, having revealed earlier in the week to The Scotsman that he was ready to commit to making a big "sacrifice" by leaving his beloved hometown on the west coast in order to chase his new goal of trying to win a major.
However, the Ryder Cup-winning team member was bitterly disappointed about having to settle for a tie for 18th behind Dane Nicolai Hojgaard in the fifth and final Rolex Series event of the DP World Tour season as it meant he's still outside the world's top 50 and running out of time to secure a Masters invitation before the first cut-off on 31 January.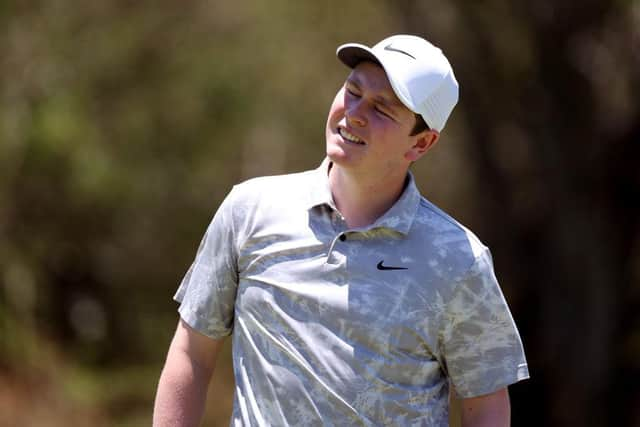 "Ach, it was terrible, to be honest," said the left-hander of his closing effort - a one-under-par 71 for an 11-under total - on the Earth Course. "I must be one of the best wedge players from probably 70 yards to 110. And then I am one of the worst wedge players from 110 to 135 - and it showed today. When I was in position in a certain range, I was deadly. When I was outside that range, I was absolutely useless."
Asked if trying to tie down his PGA Tour card had been on his mind, he added: "Not at all. I was actually trying to win a golf tournament. And, when I birdied the first I thought 'here we go'.
"But then I felt some things went against me, including a plugged lie with a 3-wood into a greenside bunker on two and you make bogey and it ended up just being one of those days."
MacIntyre finished 13th behind winner McIlroy in the Race to Dubai Rankings, with Ewen Ferguson jumping five spots to 37th after a top-ten finish in Dubai.