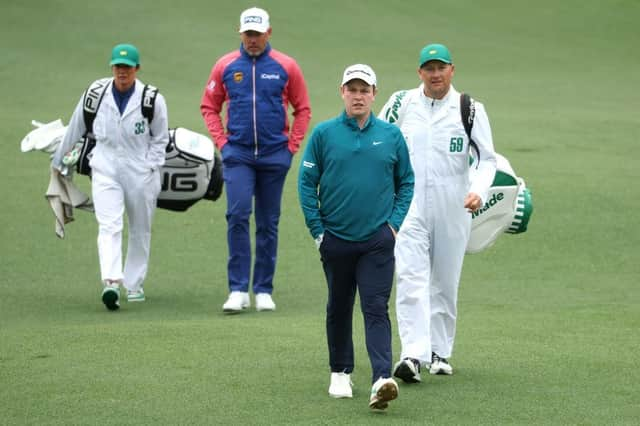 Lee Westwood, one of MacIntyre's playing partners in the opening two rounds of this week's Betfred British Masters, has requested a release from the PGA Tour and DP World Tour to play in the inaugural $25 million event at the Centurion Club near St Albans next month.
So, too, has fellow Englishman Richad Bland, who is the defending champion at The Belfry after breaking his duck at the 478th attempt at the same venue last year, but MacIntyre, who, in comparison to that duo, is just starting out in his career, isn't interested in being part of the Saudi-backed series.
"I won't be there, simple as that," said the Oban man, speaking as he prepared to spearhead a 12-strong Scottish contingent in the second Betfred British Masters being hosted by Danny Willett at the Sutton Coldfield veue.
Speaking last week, Open champion Collin Morikawa said he was motivated by winning majors, not winning money, and MacIntyre echoed that view.
"I'm just starting out in my career," added the 25-year-old. "I'm playing on both sides of the planet - America and DP World. So I'm in a great spot. I'm enjoying my golf. "
The first seven LIV Golf International Series events will all offer $25m prize pots, with $20m in individual prize-money as well as $5m for the top three teams. A season-ending eighth tournament will take the format of a team championship with a $50m purse.
Admitting it had been the first time he'd been asked about the riches on offer, MacIntyre said: "There's crazy, crazy money getting thrown at it. If you ask me, it's obscene money to be throwing at sport. There's only so much money that a human needs.
"So, for me right now, I'm comfortable. I've got a house, a home, my family is healthy. I've got a car I can drive. I have clothes I can put on and I can still treat myself and my family. What do I need? Just now, I'm as happy as I can be in the life of Robert MacIntyre."
MacIntyre, who was thrilled to be in the same team as Scotland midfielder John McGinn in the pro-am on Wednesday, smiled when he was asked about someone paying around £12,000 at the Stephen Gallacher Foundation dinner in Edinburgh last week to play golf with him at Loch Lomond.
"Absolute madness," he said of that. "I get when you do well in sport, especially the recognition that you get, I'm out there playing with John McGinn, I was nervous today playing with him and when you get talking to him, he is nervous to play with me or play in events. It's just different. People think you're something that you're not. They expect you to be something special. But, at the end of the day, we use the same toilet."
MacIntyre had this title in his sights a year ago until coming a cropper at the iconic tenth hole in the Brabazon Curse in the final round and had to settle for a tie for eighth, three shots behind Bland.
"I want to win every week I pitch up, whether it's America or in Europe," he declared of his mission this week. "That's the reason I play - it's the only way to drive yourself is to be competitive and try and win."
The left-hander spoke about how scheduling is proving a headache due to the fact he's one big finish away from breaking back into the world's top 50.
"I'm trying to plan a schedule, but it's not easy at all," he said. "I personally feel like I've played a lot of golf (this year). Just travelling is not easy back and forth. It's just the way it is just now. I know I'll take next week off, play PGA, and after that, I mean, it's back to Oban and back to the drawing board."
MacIntyre is hoping to fare better in Westwood's company on this occasion than he has in the past. "My only goal for the week is make a birdie," he joked of failing to do so in the past in the same group as the former world No 1. "I've got to get used to playing with him. I don't know what it is. It's more mental than physical."
Calum Hill, who finished alongside MacIntyre in the 2021 edition, is an absentee this week due to his ongoing health issue, but Ewen Ferguson is making his first appearance on British soil since winning the Qatar Masters.
Also flying the Saltire are Stephen Gallacher, Grant Forrest, Connor Syme, David Drysdale, Marc Warren, Scott Jamieson, Craig Howie, Richie Ramsay, David Law and Greig Hutcheon.
"I think this will be a great event as The Belfry is right in the middle of England and is always well supported by fans," said Gallacher. "The last couple of years we played behind closed doors, really, due to the pademic and it's great to get back to playing in front of fans again. It's magic - what a difference it makes."The four-time tour has been heartened by a return to form in the recent ISPS Handa Championship in Spain, where he shot scores of 65 and 68 in the middle two rounds.
"I know that I didn't kick on the Sunday how I wanted to, but sometimes making the cut on the mark can change your whole year," said Gallacher.
"I am really looking forward to this week. I've finished second here before and I really like the golf course and everything about place.
"Hopefully I can hit a bit of form going into the summer. There are some big opportunities to try and get into The Open and then we've had a mini order of merit for the US Open, so there's a lot to play for."