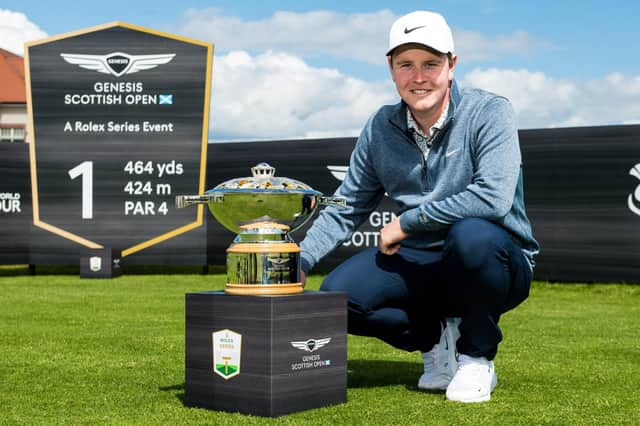 The 26-year-old's title defence in last week's DS Automobiles Open was curtailed as a niggling back strain forced him to withdraw before heading out in the second round at Marco Simone Golf Club on the outskirts of Rome.
Despite that disappointment, which led to him dropping five spots to 96th in the world rankings, MacIntyre secured his spot in the season's second major, which starts in New York State next Thursday, and it's all systems go again.
Speaking at a Genesis Scottish Open media day at The Renaissance Club in East Lothian, he said of his injury: "It's far better. I tried my best when I was out there (in Rome). On the Wednesday morning, when I woke up I could hardly move, just from the way I'd slept. I'd been in for physio yesterday and this morning and it's feeling far better.
"If I'm being honest, I push as much as I can. I've had niggling injuries already this year, most recently my arm and pushed through that. This one pushed as much as I could.
"I managed to get out in the first round feeling good. Tried to hit a tee shot hard down nine and felt it going. I kind of tried to manage my way round after that, but I struggled late on in the first round.
"I then almost didn't have enough time between rounds. When I woke up on Friday morning, I was like, 'this ain't good'. I went into the physio room for about an hour then went out and tried to warm up but the speed was that far down. It wasn't good enough to go out and play.
"The guys in the physio truck were absolutely brilliant. They'd said it wasn't going to do any long term damage trying to push through it. It was just a case of how much pain I could take.
"I could get through it with an iron, but when I am trying to hit a driver I'm full tilt and the way I move the back wasn't allowing me to tilt. I could have played with an iron but it was too long a golf course to hit something soft. I'll be good to go next week. I've seen the right people and am doing the right things. So I'll get on with it."
As has been the case throughout his career, MacIntyre is also feeling the benefit of spending some time at home in his beloved Oban since getting back from the Italian capital. "Yesterday I was walking along the beach with my little niece, just enjoying it," he said, smiling. "It was pouring with rain but I didn't have a worry in the world, just enjoying myself. That's how I almost recalibrate. There is so much going on in the golfing world that you can get too bogged down in golf. For me, it's good to get away from the course."
MacIntyre is relishing his return to major action after missing The Masters in April. This will be his 11th major appearance, having made the cut in his three previous appearances in the PGA of America event. "Next week is going to be really important," he said. "If you have a good week, it's a big push in the right direction. I've not seen anything of the golf course, I don't know it, but I try to keep it simple. Good golf takes care of it."
MacIntyre boasts a proud record of making the cut in all of his major appearances so far and would love that still to be intact when heads to Royal Liverpool in July for the 151st Open. "There are some courses I know are difficult and different from the rest of them, but Mike [Thomson, his caddie) does a good job," said the left-hander. "He's a good player himself and knows what I like now.
"Me being left-handed and him being right-handed is a bit different, so he had to work it out, but knows what shots I like and don't like, what clubs. We'll prepare like any other tournament. But the biggest thing is being comfortable. Walking into locker room and not being starstruck by who is in the locker next to you. I know the guys now, so it's about going there and going about your own business."
On his PGA Championship experience, he said: "I'm much better placed now. Big time. It feels like it's been a while since I played a major, to be honest. But I've got a decent track record in them. It's not been my best, not been my worst, but it's been solid, no real mistakes. I feel like, at some point, I'm going to have a good start – and be there competing come Sunday."
He's had a couple of chances this season to add to a brace of DP World Tour title triumphs. "My game has been good," MacIntyre continued. "It was a far better start to the year in the Middle East. Abu Dhabi, if I'd putted halfway decent I would have been there or thereabouts. I've played really well. In Kenya, I had so many opportunities from ten or 12 feet. Again, if I'd putted well, I would have got across the line. Japan, I was coming back after five weeks off, my game was still good – and Korea was one that almost got away from me. But I feel like 2019 (when he was crowned as Rookie of the Year) again. If I keep giving myself these chances, it's going to happen."
Another stellar field is set to assemble at The Renaissance Club for the second Genesis Scottish Open to be held on both the DP World Tour and PGA Tour schedules. World No 2 Scottie Scheffler has already been confirmed along with current major champions Justin Thomas and Matthew Fitzpatrick and also the 2022 winner, Xander Schauffele. "It's been good," said MacIntyre, who will spearhead the home challenge, of the changes that have been made at the East Lothian venue since it first staged the Rolex Series event in 2019. "Quite a few changes. Down the par-5 tenth, bunker on the first, couple of mounds Jerry [Sarvadi, who runs the resort on behalf of his family] has snuck in on the second.
"They are obviously going to do more. This year they have not. Next year and years to come they are going to adjust it and a lot of people speak to the players as well. People ask me my opinion. I've driven in and seen they are fertilising certain areas, so that's a hint they are getting the rough up for the coming event. Links golf needs a bit of wind to protect the course and then punishing rough that makes you have to think about it more."