Bob MacIntyre jokes about 'idiot' role in viral DP World Tour video
Bob MacIntyre joked about how the "idiot" had been left to last to hit the final shot in a video clip that has gone viral after he joined his fellow DP World Tour players in displaying their camaraderie.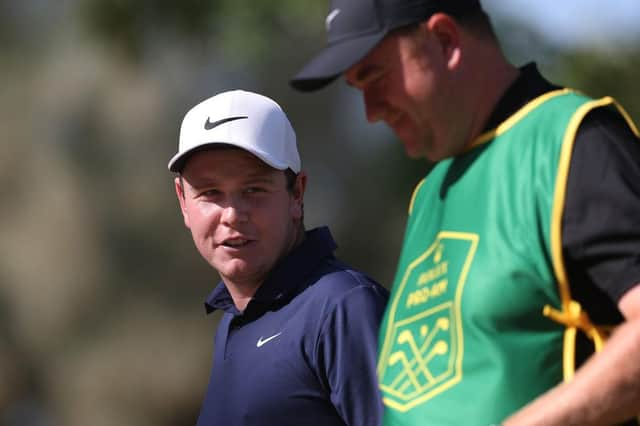 The DP World Keepy Uppy Challenge, which was filmed in the build up to this week's season-ending DP World Tour Championship in Dubai, involved 27 players attempting to juggle a golf ball from one side of the range to another at Jumeirah Golf Estates.
Connor Syme, Ewen Ferguson and Grant Forrest were among those who displayed their keepy uppy skills with a golf club to get it along the line to MacIntyre at the end, where the left-hander hit a driver on the full volley.
"It was a great laugh and great fun," said the two-time tour winner, speaking after he'd signed for a three-under-par 69 on the Earth Course to sit inside the top ten after the opening circuit in the season-ending $10.5 million Rolex Series event.
"I was trying to bail on it as I thought it was going to be a wee bit stupid. But everyone got right into it and, I mean, they had to leave the idiot to the last hit, didn't they?"
But how many takes did it need? "It was about the tenth attempt as it didn't get to me as the keepy uppys weren't reaching the end of the line," he added, laughing. "I had one attempt before the actual strike but also had a couple of practice shots and within those I broke a driver!"
MacIntyre, who is on course to secure one of the ten 2024 PGA Tour cards up for grabs through this season's Race to Dubai, was pleased with his day's work back at the coalface, though he's not a fan of the par-5 18th on the Earth Course.
"I've said it about there being a few bad holes out on tour and that's right up there," he said after taking a 6 in his latest attempt to crack it. "It's just that there's no let up on the whole hole. I'm fair game if you can see where the water is and if I hit a bad one that ends up in the water, then fine.
"But, when there's a thing that zig-zags up the middle of the fairway, it just becomes a bit Mickey Mouse. But that's the way it is. That's the hole we are playing and I have to deal with it. I just have to get two ahead coming up the last (laughing)."
His round contained six birdies but it was a par at the 16th that proved the most satisfying. "One shot really stood out and that was a 7-iron out of the fairway bunker on 16," said the Scot. "As soon as I hit it, I knew it was executed the way I wanted it to be."
Dubai-based Ewen Ferguson signed for par-72, one less than both Connor Syme and Grant Forrest. "It was a slow start," said Ferguson of missing a great birdie chance at the first then taking a 6 from just short of the second green. "I never start well here and I wanted to get off to a good start this time. But, when you try too hard, it often doesn't work out how you want it. But, overall, it was decent."
Comments
 0 comments
Want to join the conversation? Please or to comment on this article.