It simply didn't happen scoring-wise for the 26-year-old in the 105th PGA Championship, this year's second major, at Oak Hill. Having struggled on and around the greens, he'd opened with a six-over-par 76 at the Rochester venue to sit a good few shots outside the projected cut mark once the delayed first round had been completed on Friday morning.
It wasn't the first time he'd found his back against the wall, having dug deep on two or three occasions in the past in golf's showpiece events to be around for the weekend, but he was heading for an early exit on this occasion before really giving himself a chance to extend that cut streak.
In benign conditions for the start of the second circuit, MacIntyre opened with five straight pars before running up a double-bogey 6 at the sixth, where his tee shot ended up in a hazard and led to him having to take a penalty drop. It followed a two-shot spillage at the par-5 fourth on Thursday. That left the two-time DP World Tour winner needing something really special in the remainder of his round, but this wasn't the golf course to be in that position. MacIntyre had described it as an "absolute monster" earlier in the week and it gave him absolutely nothing in terms of gifts over the two days.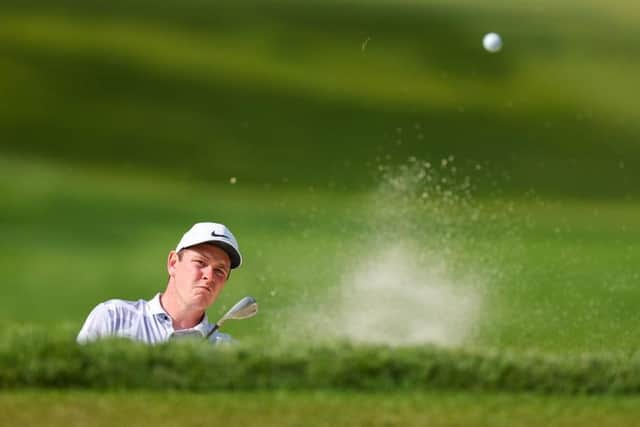 His sole birdie in 36 holes came at the par-4 eighth – his 17th – in the opening round and that meant it wasn't the profitable week he'd been hoping to deliver for the My Name'5 Doddie Foundation after making a birdie and eagle pledge as he carried the logo of the late Doddie Weir's MND charity on his golf bag.
While the two par 5s on the course where Bernard Gallacher led Europe to victory in the 1995 Ryder Cup are both now in excess of 600 yards, MacIntyre played them in an accumulative three-over-par, which left him standing on tees at a bunch of brutal par 4s and a couple of par 3s over playing at over 200 yards under extra pressure.
Also dropping shots at the seventh, 11th, 16th and 18th as a wind picked up and firm greens became really slick, he signed for another 76 for an 12-over-par total. After three 72-hole outings in this event, three in The Open and two apiece in both The Masters and US Open, it meant his major record has 'MC' on it for the first time.
"It's an absolute brutal golf course, but disappointed with the way I scored, if I am being honest," said MacIntyre, showing his class by agreeing to speak to a PGA of America media official afterwards. "I didn't play as bad as the score reflects, but the way it was set up this week, you couldn't get away with not being on your game. Horses for courses and it's not one for me just now.
"I just hit a couple of loose shots at the wrong time. If I'd hit them on other holes, I'd have got away with them. There's a couple of things I need to work on, but I don't feel too bad, to be honest. I stopped counting how many I was over par by the end, but I'm not as angry as people would expect me to be. I'm just disappointed not to make the cut. I just didn't hole a putt outside six feet."
He'll probably now need to win his next event, the Porsche European Open in Hamburg, to get into the US Open, the next major, through a DP World Tour Qualifying Series, but will be comforted to have already secured a spot in the 151st Open at Royal Liverpool through finishing in the top 30 in last year's Race to Dubai.
Yes, this was a missed opportunity in terms of boosting his hopes of making the European team for the Ryder Cup in Rome in September and no-one will be more disappointed about that then MacIntyre himself, especially after having to withdraw following just one round in his recent Italian Open title defence due to a back strain.
However, he wasn't going to be alone in that respect and, once the dust has settled on this week and he's had a chance to what he describes as "recalibrate" back in Oban for a couple of weeks, there are still some big opportunities to come as far as that Race Cup battle is concerned.