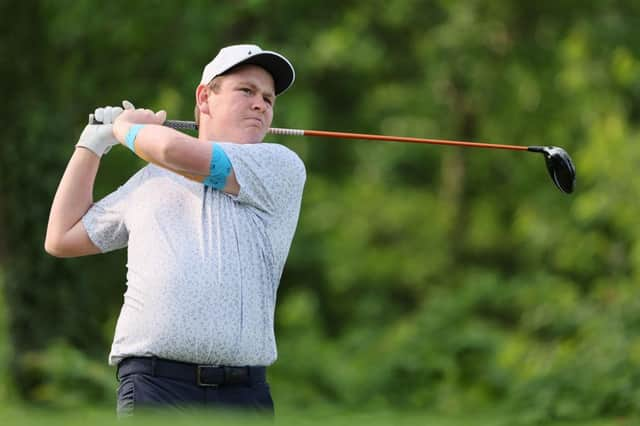 The Oban man delivered the verdict on Oak Hill after getting his first look at the Rochester course in preparation for the second major of the season starting on Thursday.
"It's going to be on a golf course that is an absolute monster," said MacIntyre of his fourth appearance in the PGA of America event, having made the cut in his three previous starts.
"I have to be honest, it's as tough a golf course as I've ever played in my life, and I think the majority of people would say the same."
Hosting this event for a fourth time, the Donald Ross-designed course has been renovated by American Andrew Green since its last visit in 2013.
"It's a great layout," added MacIntyre. "It's long, it's tough, but the rough just makes it the hardest golf course I've ever played in my life. That's what it does. It's plain and simple."
Both Rory McIlroy and Jon Rahm believe that discipline will be a big factor this week and MacIntyre agreed with that assessment when he was asked about his strategy.
"There's going to be lots of dropped shots. It's just about limiting them and taking your chances when they come along," he said. "There's not going to be a lot of chances, but there's going to be enough to keep it honest. It's just about damage limitations at times."
The two-time DP World Tour winner, who has been paired with Austrian Sepp Straka and American Harris English in the opening two rounds, has shaken off the back strain that forced him to withdraw during his Italian Open title defence a fornight ago.
"Obviously the body wasn't great in Italy, but it's really good now. It's feeling as good as it has in a while," he said. "Yeah, just got to go out there and take each day as it comes and enjoy yourself.
"Just stay calm and just don't get too uptight if it's not going your way early. It's a golf course that is going to get you at some point. It's just about when it gets you and how you react to it."
The Scot is among a posse of players hoping to boost their hopes of getting into the European Ryder Cup team in Rome in September by having a big week in New York State.
"Obviously it's my main goal," he said. "But, as I say all the time, if it happens, it happens. If it doesn't, it doesn't. It's not going to change the way I play golf, the way I live my life. But this week could be a good place to show your golf. This is as big a test of your golf that you'll ever get."
Luke Donald, the European captain, is playing himself this week, but the Englishman will be "keeping a close eye on the scoring" to see how the likes of MacIntyre handle the added pressure. "I think it's always good to see how potential rookies do in majors. It takes a different kind of mindset, a different kind of nerve," said the Englishman.