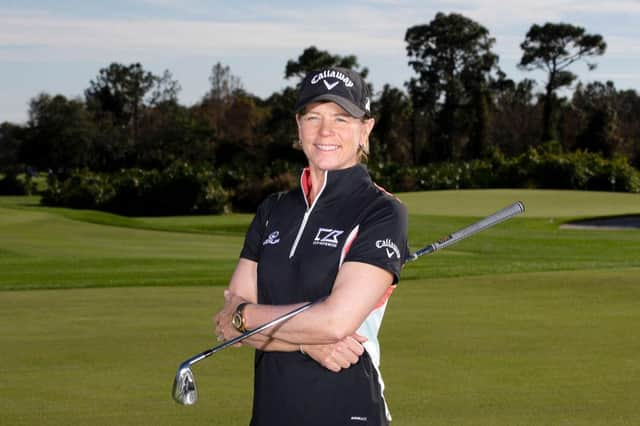 Ten-time major winner Annika Sorenstam has strong views about how more women can be attracted into golf. Picture: Michael Reaves/Getty Images
Speaking as she took part in a Virtual Women's Leadership Forum hosted by the R&A and Mastercard, the 10-time major winner said she feels the wrong message is currently being sent out to women the minute they arrive at most clubs around the world for the first time.
"I have some ideas, but not necessarily programmes," said Sorenstam in reply to being asked about what she believed could be done to encourage more women and girls to get into golf. "I think there are already a lot of programmes out there that have incentivised women to play.
"But, just from a club standpoint, I think the language - even the basic things like a pro shop - is a big deal if you are new to golf. Also the ladies' locker-room, it's almost as though it's a last-minute thought. There's just nothing to it. It's small. It's old. It's very dated. It's just not welcoming. It's not fresh.
"I think there are few things we need to do to invest in these clubs and I'm not talking about fancy country clubs. Let's make golf attractive in the sense of being welcoming. It's not just about hitting 7-irons and holing putts.
"There's a lot of things we can work on to make golf clubs a place you want to go to. I think the dress code needs to change. If you want to get people involved, you can't have all these rules. There are a lot of things we can do and a lot of it is the perception of golf. Let's start making golf cool again.
"Let's look at other sports and see what they are doing to make it welcoming for young people. There has to be a fine line where we can preserve history and tradition because I think that is what golf is about but, at the same time, how can we modernise it and share what we have?"
Over 200 delegates from around the world took part in the forum, which started on a positive note as it was revealed by host Sarah Stirk that the Masters a fortnight ago had attracted the highest-ever female audience for a major championship on Sky Sports.
That has come on the back of golf participation among both men and women rising rapidly around the world after it was one of the first sports to be permitted after the Covid-19 lockdown.
"We've seen 20 per cent of rounds increase since the pandemic, which is interesting," added Sorenstam, an honorary member of the R&A. "I guess there is something good coming out of something bad. In golf, equipment sales are up and memberships are up and it is considered a great Covid sport.
"I think it is important that we all take advantage of this surge in the game. We all know that golf has a lot of benefits being outside and I think it is something that has naturally occurred due to this pandemic.
"As an industry, I think we need to talk about the benefits of golf for women. Maybe from the health perspective. Maybe from the mental perspective. Maybe from a social perspective.
"I think it is important to promote that and get that exposure so that people understand those benefits.We also need to continue grass-roots programmes. We want young girls to play because we know there is a lot of room for them in the game.
"In the industry, let's get women into jobs, maybe on board seats and promote women in the management positions. We have to make it more welcoming for women, we have to support them. It's not going to happen overnight, but I think the opportunities are there, so let's keep moving forward.
"Sport brings people together. We all have different passions for sport, whether you play it or whether you watch it or maybe you know someone who is involved in sport.
"We know that young kids look up to role models, so you have a responsibility to say and do the right things and are able to change things for the better. Maybe we should tell them a bit more and a bit louder about some of the success stories."In a segment on "futures thinking and strategic foresight", Gabe Cervantes, a researcher for the Institute for the Future in California, said it was important for people in golf to look out for "signals of change" that were concrete, current and compelling.
Martin Slumbers, the R&A chief executive, has made no secret of his desire to grow women's golf and used the forum to hammer that message home."I believe passionately that there is a significant growth opportunity and probably the most growth opportunity for golf if we can do more to inspire more women into playing and, equally as importantly, working in the sport," he said.
"We have been encouraged by the industry's response to the launch of the Women in Golf Charter two years ago and the commitment made by over 400 orgainsations worldwide to developing that more inclusive culture within golf.
"But we are and cannot be complacent and we need to redouble our efforts. If we are to adequately address the issue of gender adversity, it requires a real long-term and sustainable shift in the culture throughout our sport to ensure that it is more accessible, appealing and inclusive.
"I believe that we need to do more to open up for women and girls so that they can enjoy its many proven benefits."
A message from the Editor:Thank you for reading this article. We're more reliant on your support than ever as the shift in consumer habits brought about by coronavirus impacts our advertisers.
If you haven't already, please consider supporting our trusted, fact-checked journalism by taking out a digital subscription.