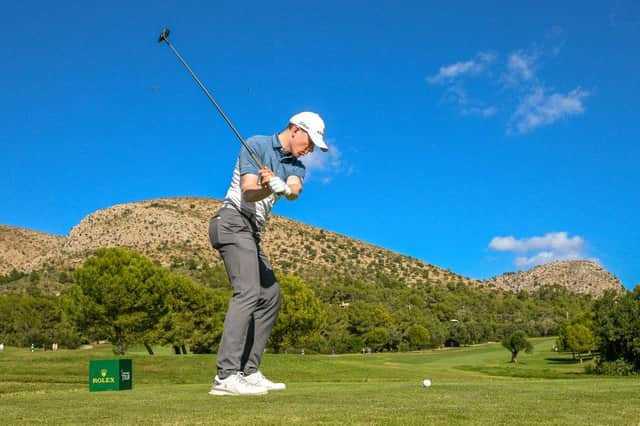 Euan Walker plays his tee shot on the 10th hole on day two of the Rolex Challenge Tour Grand Final supported by The R&A at Club de Golf Alcanada in Mallorca. Picture: Octavio Passos/Getty Images.
Due to wind gusts up to 45mph having been expected at Club de Golf Alcanada in Port d'Alcúdia, the tee times in the season finale had been moved forward, meaning most of the players were done and dusted for the day before it really turned treacherous.
Playing in the final group with Spaniard Javier Sainz and Frenchman Jeong weon Ko, Walker reckoned they would have, too, if on-course referees had been taking action against slow play, leading to the Troon man's frustration eventually boiling over.
As a tree was crashing down close to the 18th green and billboards started to be blown over around the course, Scottish Challenge champion Sainz was reluctant to hit a three-foot putt and eventually called over a referee.
As they were having a discussion, Walker decided to putt from slightly closer to the hole and, after knocking it, he marched over to the referee and let him know exactly what he felt about the situation he'd been left to face over the final few holes and, more importantly, why that had been the case.
"It was so difficult out there and, if any one of the referees had been monitoring pace of play, we'd probably have finished 45 minutes ago and wouldn't have played the last three holes or at least the last couple in such bad wind," said the joint-overnight leader after signing for a 75 that saw him slip four behind Englishman Matthew Baldwin and Frenchman Adrien Saddier at the halfway stage.
"They've been allowing players to take two, three, four, five minutes to hit a shot. I mean, it's unacceptable. We knew the wind was coming in the afternoon and they just needed to get us round in the morning.
"But, right from the start, no-one is on the pace of play and I feel why am I even bothering to adhere to the pace of play when nobody else is. They know exactly who the slow players are, but nobody does anything about it, so it is a bit frustrating from that point of view."
Matthew Baldwin lines up a putt at Club de Golf Alcanada in Alcudia en route to securing a share of the halfway lead. Picture: Octavio Passos/Getty Images.
According to a member of the Challenge Tour Rules team running the event, referees had been "keeping an eye on individual timings from outside the ropes as per the regulations, like every week". However, it was claimed that the final group had not been out of position until the 18th tee and that it had been down to the "bad weather situation on 17th green".
That, though, didn't cut it with Walker, who is a mild-mannered young man but hoped he'd made a point with his actions at the end. "Nobody stops for the wind. You've got to hit your shot," he said. "By the Rules of Golf, you've got a time limit (40 seconds) and I was adhering to that.
"One of my playing partners was unable to hit his putt on the last and I showed him it was quite easy to hit it. I just hope everybody saw that because it makes me really angry. I was like, 'I'm going to knock this as it is unacceptable'. The referee did absolutely nothing, just dismissing your opinion. You would just like a bit of honesty from them at times."
Though he started with a double-bogey 7 after finding a hazard with his approach then dropped a shot at the last, the 27-year-old played well again in between and, sitting joint-sixth, he's on course to jump into the all-important top 20 in the Road to Mallorca Rankings on Sunday night.
Frenchman Adrien Saddier on his way to a best-of-the-day seven-under 65 in the second round of the Rolex Challenge Tour Grand Final supported by The R&A. Picture: Octavio Passos/Getty Images.
"I'm in a great position and I just need to go and compose myself after today's round because I am really angry right now and it's not down to how I played," he declared. "It was very difficult obviously and the course was totally different today, when the greens were much softer. There had been a lot of rain overnight and it was very difficult to tell what was going to happen prior to going out on the course."
Out in one of the first groups, Saddier started with four straight birdies, and, even allowing for the fact he escaped the worst of the wind, the 30-year-old's bogey-free seven-under-par 65 was a splendid effort as he moved to five-under.
"It's a really nice round," said Saddier, who came into the week in 43rd position in the standings but is up to eighth in the projected positions. "I was a bit lucky because we didn't have much wind for the first six holes, so I just took advantage of that. I needed a good round like this to get back into position and I'm very happy with it."
On the task ahead in the final two rounds, he added: "The pressure for me is quite different for me because I know I need to win, but I really want to be at home next week for my son's first birthday. I don't really care about the top 20 because I just want to be at home next week with him, so it's a different kind of pressure."
Baldwin, a 36-year-old from Southport, was 22nd in the standings starting out this week, but, working well with Julien Phillips, one of the most experienced caddies around, he's also on course to be sitting at the DP World Tour table again in 2023 after a second-round 69 that was illuminated by three birdies on the spin.
"We're only halfway, so there's still a lot to play for," said Baldwin, one of the game's cheerful characters. "I'll try not to get ahead of myself and keep trying to do what I've been doing so far."