Andrew Oldcorn on his equal measure of joy and tears in golf
Andrew Oldcorn was born in England and played amateur golf for England, but has lived in Scotland for more than 50 years and, after a long fight, has proudly flown the Saltire in the paid ranks for the past 20 or so years.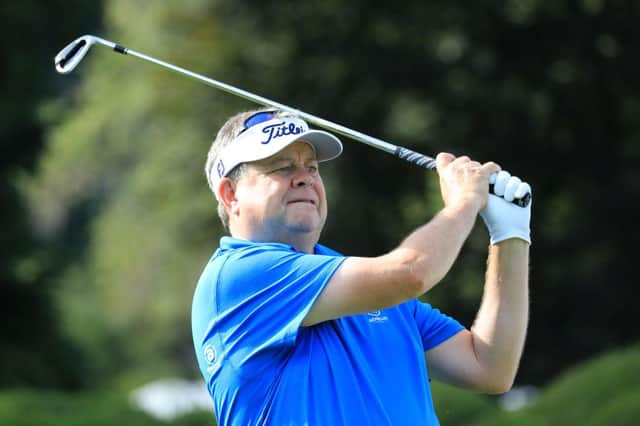 Andrew Oldcorn in action during the first round of the 2019 Murhof Legends: Austrian Senior Open in Frohnleiten. Picture: Phil Inglis/Getty Images.
His career has had some low points, including a battle with ME, but he also hit some memorable heights, notably a win in the PGA Championship at Wentworth, the 20th anniversary of which is this year.
Oldcorn recently carded a 59 at Ratho Park, where he played as a junior and is now flying the flag for the Lothians club as an ambassador.
Take us back to Bolton, where you were born, and did you start to play golf in your time living there?
Andrew Oldcorn holds the trophy after winning the 2001 Volvo PGA Championship at Wentworth. Picture: Andrew Redington/ALLSPORT.
AO: My mum and dad, Jean and John, were both born in Bolton, so the roots of my family originated in Lancashire. We moved to Formby when I was four and we lived there for another four years before moving to Edinburgh in 1968. My dad was a member at Southport & Ainsdale and he took up golf because his brother, my uncle Vic, lived in Troon and played. We were in Corstorphine when we first moved to Edinburgh then moved to Balerno in early 1969 and, while my mum passed away 13 years ago, my dad is still with us and is still in that same house. The year I went to Currie High School, Ewen Murray, who was at Baberton at the time and now, of course, works for Sky Sports, left.
So where did you start playing golf?
AO: I think I can recall a vague memory of walking round Southport & Ainsdale with my dad once just before we moved up to Scotland but I hadn't touched a club by then. My uncle Vic was in the RAF and became an air traffic controller at Prestwick and he played his golf at the three Troon municipal courses - Darley, Lochgreen and Fullarton. My cousins, both girls - the younger one is Karen Ballantyne - had started playing golf and I tagged along and asked if I could have a go and that was it. I would be about 10 years old at the time. My dad joined Dalmahoy, the original club there, and that's where I became a junior member at 12 or 13.
Was there anyone at that time who had an influence on you really getting into the game?
Andrew Oldcorn celebrates winning the 2001 Volvo PGA Championship at Wentworth. Picture: Stephen Munday/ALLSPORT.
AO: Yes, Dalmahoy had a wonderful secretary at that time, a guy called Gilbert Clark. He was a real champion of having juniors at the golf club. He really encouraged youngsters, which was against the trend in that era. Juniors were an afterthought and they weren't really accommodated that well at too many clubs. But Dalmahoy was different. Scott Macdonald, who went on to play in the Walker Cup, was there when I joined, and they had countless Lothians players, as well as Scotland internationalists. I was lucky that at a very young age to be in an environment of good players. I remember Gilbert saying to me, 'if you are good enough, I am happy for you to start playing in senior medals'. As usual, you got the odd person who didn't like the thought of a 14 or 15-year-old scrawny kid playing in the senior medals, but we were also lucky at that time to have David Ingram the club pro and he took me under his wing and gave me on-course lessons and so on. Around that time as well, the Lothians were starting to do some coaching for juniors and I came to the attention of Graham Ewart, who was a prominent figure at the time. I had a lot of good people around me at an early age, which made a big difference.
When did you start to think that you might have a chance of making real headway in the amateur ranks?
AO: I won the Lothians Boys in 1976 when I was 16 and it was about that time I started to take it much more seriously. I had started to play football and I preferred that more than golf, to be honest. But I turned my ankle really badly in a game at school when I was about 15 and, with that in the back of my mind and through my dad's encouragement, I started to play a bit more golf. To be honest, I always needed a bit of encouragement along the way because I never really thought I was good enough. When I won the Lothians Boys, that set me on a trajectory.
At that time, of course, you couldn't play in the Scottish Boys Championship due to having been born in England, as was the case with Sandy Lyle?
Andrew Oldcorn poses with wife Kirstin and baby during the 2001 Victor Chandler British Masters at Woburn. Picture: Andrew Redington/ALLSPORT.
AO: I first met Sandy, who was already a prodigy, when the British Boys Championship was held at Bruntsfield Links in 1975 and, by pure chance, it was also around then that I came to the attention of somebody else who proved to be very important in the next stage of my career and that was Gerald Micklem. He was an ex-president of the English Golf Union and a Walker Cup selector. He was Mr English Amateur Golf and it was through him that I was picked for England. I remember Duncan Currie, who was with the Scottish Golf Union, telling me that they wanted to pick me for Scotland Boys for the Home Internationals, but I said to him that I didn't think that would be allowed on the basis of residency. Anyway, I was picked the following year for England Boys and it was really weird as I ended up playing against guys who I knew through playing amateur golf in Scotland but cross-border trips had been few and far between for me at that point, so I didn't know anyone in the England team other than by their name (laughing). It was really bizarre, actually, and I think the English lads were asking, 'who's this guy?' when I turned up.
What other wins helped give you the confidence to believe you had a chance to carve out a career in the paid ranks?
AO: In 1979 at Dalmahoy, I was the first winner of the Scottish Youths' Championship, which isn't held any more, and by then my ambitions had moved on as I really wanted to achieve as much as I could. The goal was ultimately the big teams, which, in those days, was the Eisenhower Trophy and the Walker Cup. I was progressing towards my early 20s by then and was selected to play for England with a guy called David Blakeman in the French Youths' Championship in Paris and I ended up winning that. If there was an embryonic start for me in golf, it would have probably been winning a junior medal at Dalmahoy when I was 14 or 15, but, at every single level I played through my career, I found a way to win and they all went up in terms of importance along the way, culminating in winning the English Amateur Championship in 1982. That pretty much put the seal on me getting into the Walker Cup team the following year. I also got into the Eisenhower Trophy that year and, back in those days, the four-man team for that was more difficult to get in and meant more than getting into the Walker Cup team. That Eisenhower team was myself, fellow Scot George Macgregor and Irish duo Philip Walton and Arthur Pierce.
You won that English Amateur Championship at Royal Liverpool and then picked up four points out of four back there for the Walker Cup?
Colin Montgomerie congratulates Andrew Oldcorn after their victory in the afternoon foursomes on day one of the 2002 Seve Trophy at Druids Glen. Picture: Andrew Redington/Getty Images.
AO: Although the team lost, which was hugely disappointing, it was another huge milestone in my career as I became the first British and Irish player to achieve that feat. That place has a special place in my heart, that's for sure, and I then couldn't go any further in the amateur ranks, saying to my dad that I would regret it if I didn't give it a go in the professional ranks. I remember a couple of old sages, George Macgregor being one of them, saying that there was no point in anyone turning pro and expecting to win if they hadn't won as an amateur and, thanks to having confidence instilled in me, by my father mainly, I had proved that I could be successful if I believed in myself.
You turned professional after that Walker Cup in 1983 and made an instant impact in the paid ranks by winning the European Tour Qualifying School at La Manga. How big was that at the time?
AO: That really vindicated my decision to give it a go. There was one minor disappointment at that time. I'd come on the radar of IMG at the time and they flew me down to the World Match Play Championship at Wentworth. They said they were keen to have me on board and said they'd be back in touch after seeing how I got on at the Tour School and take it from there. I said that was fair enough as there was no point making a commitment from either side if I didn't have a card. But, despite winning the Tour School, I never heard a thing. That has stuck with me all the way through my career. It's never been a personal thing, but it's made me very wary of agents. As things turned out, though, I don't think it did me any harm.
When you started out on the European Tour in 1984, did you feel as though you were at home straight away?
AO: No, I didn't. It took me quite a while to adjust. While I had travelled a bit by that stage, I hadn't travelled extensively. The tour back then ran from April through to October, of course, and most of the guys headed off to the Safari Tour. I decided to play in South Africa on the Sunshine Tour and off I trotted down there in January with Campbell Elliott. We were there for six weeks and it was a voyage from boyhood into manhood. We all grew up on that trip, all of us who went. Looking back on it now, it was character building. It made you realise what it was all about as you just had to get on with it. There were no mobile phones and no internet back then. I remember myself, Campbell and Robert Lee walking to a telephone exchange in Joburg on a Saturday night to phone the family. People would find that bizarre these days, but that's what we had to do. It was still the era of apartheid and and I remember speaking to David Ingram about this a few years afterwards because he was someone who went out and played on the Safari Tour and he told me, 'youve got to be careful you don't put yourself on a black list by going to South Africa' and, at 23 or 24, I hadn't even thought about anything like that. We did see some things out there that were not very good. The treatment of the local black people was appalling. In many ways, when you got back to Europe to start the new season in Tunisia, it was like being in a holiday camp compared to being in South Africa for six weeks in a row and going from venue to venue there. But I loved South Africa
Andrew Oldcorn, back row second left, with the other members of the victorious Great Britain & Europe team in the 2002 Seve Trophy at Druids Glen in Ireland. Picture: Ross Kinnaird/Getty Images.
What are some of your main memories from that first season on the European circuit?
AO: For starters, there were no courtesy cars back then, it was planes, trains and buses and I used every mode of transport that year. You had to Monday qualify and, if you made then made the cut in that event, you were automatically exempt for the next week. But, if you missed the cut, you had to somehow get to the next venue in time for a Monday qualifier. I had an instance where I was in Germany and missed the cut and had to get to Sweden, somewhere near Stockholm, and the Monday qualifiers always used to be in the middle of bloody nowhere. I remember saying to my dad, 'I can't do this as it is just so difficult' and it was so hard to build momentum when you missed a cut as it was the same process over and over. And, of course, if you missed out in a Monday qualifier, you just had to toddle off home, lick your wounds and try again the next Monday. At the end of that year, I finished 105th in the order of merit, which meant I was exempt for every tournament the following year, which was the beginning of the new tour that was Ken Schofield's baby. I won just over £5,000 that year (laughing) and that just scraped me 105th spot. One or two of my colleagues from the amateur days didn't make it and they were never seen again. For me, though, it meant I had a bit of breathing space for the following year. That said, I still found it difficult to get a foothold, to be honest. The next few years, I comfortably held on to my card and improved each time, but I never really fulfilled the ambitions I had set in the early part of my career and those people were expecting me to achieve in the media, and family and friends as well, and I found that burden hard to carry, to be honest.
When did your ME start to kick in and how bad did that become?
AO: That started at the beginning of the 1989 season. We were down in Tenerife when it started and that pretty much put me out of action the rest of that year. I was the first person ever on the tour to apply for a medical exemption for the 1990 season. I couldn't use that much, though, as I still didn't feel great and they wouldn't extend it. I had to regroup and go back to the Tour School eventually. My first visit in 1991 didn't go well and I had no option but to think about maybe taking the club pro route. But, as I started to feel better, I played almost exclusively that year on the Tartan Tour and played really well. I thought to myself, 'no, I have to have another go at the European Tour' and I went to the Tour School - it was in the south of France at that time - and I got my card back. It was almost like starting all over again. My first marriage had also fallen by the wayside at the same time my illness came around. Everything was a reset. I think it was my second or three event in the 1993 season that I won.
That victory came in the Turespana Masters Open de Andalucia. How special was that?
AO: It was at Novo Sancti Petri in Cadiz. Seve Ballestero designed it and was playing, it was quite a deep field with Bernhard Langer, Jose Maria Olazabal, Darren Clarke and Colin Montgomerie also in it. At that stage, I had linked up with Alan Maxwell. I'd known him a long time and he became very involved in helping me. He caddied for me that week and, if only we were to know what was going to happen a few years later (dying of cancer in 2001), it was a very poignant moment. It was also validation of everything that had gone on previously that I hadn't been able to achieve. I hadn't forgotten how to win. That was the biggest buzz I got. Not the fact that I'd won and the players I beat, but it was like, 's***, after all I've been through and, having been tipped to all sorts of things in my mid-20s, here I am in my 30s and it has happened'. That gave me huge confidence. I started to become a bit more consistent over the next couple of years and my next win was in Jersey in 1995. Of all my wins, that is the one I probably enjoy most because I felt the most in control. At no stage, did I ever feel I was going to lose that tournament on the back nine. Most guys will say they don't get the chance to enjoy it when they are winning a tournament, but I really enjoyed that one. It was just a great week.
That win helped you finish 35th on the Order of Merit. What did you see yourself going on to achieve at that stage in your career?
AO: At the end of that year, I thought to myself, 'you are virtually reaching your peak years now'. But I still had problems with confidence being knocked out of me by having bouts of fatigue. I had to keep having to overcome that. It's been there all the time, in fact. It's an under-current I've always had to fight. You can't have regrets in this job, but the only major disappointment I have, even with all the things I have achieved, is that I think of all the problems I've had with illness and injury and wonder what I might have achieved without those things. It's not a regret, just a disappointment. If I was never to hit another golf shot in my life, I would still feel blessed about what I have managed to achieve in the game. I feel I have been more successful than I thought I would have ever been. But I also know that, deep down, I should have played in Ryder Cups. I should have challenged more in major championships. That's the level I should have got to and, because I didn't, I will always feel a little unfulfilled. But I am still incredibly pleased about what I did achieve.
When did your switch to Scotland come about and did you drive that?
AO: Yes, I did and it was right from when I turned pro. I'd been living in Scotland for 16 years at that stage and I felt Scotland was my home country. I will never forget my family roots being in Lancashire, but I grew up in Edinburgh and that's my home. It seemed natural to be classified as Scottish as a professional, but they wouldn't let me at first. They said that Sandy Lyle was going to be the last person to be allowed to play amateur golf for one country and professional golf for another. He did what I wanted to do and I must have made three or four submissions over a period of 10 years. But then Jarmo Sandelin played for Sweden in the Dunhill Cup but he was born in Finland. I remember phoning up Ken Schofield and saying, 'Ken, I've finally got you and simply said Sandelin'. That was it and instantly Scotland became my nationality. It was in the late 90s.
The biggest win in your career, of course, came in the PGA Championship at Wentworth, with this year marking the 20th anniversary of that success?
AO: I had always looked forward to playing at Wentworth every year, as we all did. It didn't matter how you were playing leading up to that event. I always got a buzz when I went through the gates there. A couple of weeks before that event, I had played quite well in Spain after struggling a bit at the beginning of the year. I felt my game was trending in the right direction. The first couple of days were quite serene. I played well and putted great. I remember playing with Greg Turner and Marc Farry the first two days and Marc to this day still gives me a hard time about 'all those putts you holed at Wentworth (laughing)'.
Is there anything about that week you haven't shared before?
AO: Well, not many people know this. Myself and Gary Emerson had played a few holes on the last practice day and we walked through the Wentworth Estate to get to the 15th hole and we bumped into Justin Rose. We joined him for the last few holes and both Gary and myself played those holes so badly. We were sclaffing it and were just awful. I remember Rosey saying to us at the end, 'well, you guys are going to need some luck this week' and, of course, I went out and won the tournament. I bumped into Rosey the next week and he asked me, 'what happened?'
You opened with two 66s to hold a two-shot lead over Angel Cabrera at the halfway stage. How comfortable did you feel at that point?
AO: Very and it was great to know I was playing with Angel in the third round. My all-time favourite golfer is Edoardo Romero for a number of reasons. I admired the way he played. I admired the way he was as a man, he was just a brilliant guy to play with and be around. He played with such natural god-given ability and loved the flow of his swing. Angel was one of his protegees. Edoardo had actually paid for Angel to come and play in Europe and he was approaching his really good years. I was really pleased that I was playing with him as we both played with rhythm. I remember being nervous that day but played really well again.
After adding a 69 in the third round, your lead had increased to five. What was your mindset heading into the last day?
AO: Well, I was out with Niclas Fasth and I never enjoyed playing with him because he was so bloody slow. I was a little bit concerned about that, but I stuck to my processes from everything I had learnt from over the years, going all the way back to when I was 12 or 13 playing on the wee course at Dalmahoy. All the stages I had gone through were to get me to this point and it was a case of either facing up or running away. I used every ounce of experience, especially one from the 1996 Irish Open. I should have won that at Druids Glen as it was a massive tournament at that stage. I double-bogeyed the last to give it to Monty by a shot. That took many months and probably even a couple of years to get over as it really hurt. I didn't feel I had made a mistake other than I rushed a little bit once I got to the green. The night before the final round at Wentworth, I went through that round at Druids Glen in my head and I said to myself, 'you must not rush things tomorrow, stick to your routines and process'. I was a bit edgy to begin with, settle down but then made a couple of unforced errors. I knew that Cabrera, Nick Faldo and Michael Campbell were getting closer and I thought, 'right, it's now or never'.
Was there a particular moment in the round that gave you belief that you could go on and finish off the job?
AO: Yes. I holed a putt on the 11th green for par and I was watching it again five or six years ago as I knew it was coming up for 20 years. After that went in, I turned to my caddie, Robert 'Blackie ' Black, and said, 'that is the most crucial putt I will hole today and nothing is going to stop us now'. I played beautifully from then on, I really did. I had three or four testy putts that I managed to hole and I won style. That's what I was told afterwards by people I respect and that meant the world to me. I won that tournament; it wasn't given to me. To win that event at 41, the oldest player at the time, was fantastic and, like my earlier pro wins, it was down to having managed to win tournaments all the way through my career.
How disappointing was it to miss out on the Ryder Cup at The Belfry later that year?
AO: I knew after I won the PGA that I had a good chance to get in that team. Sam [Torrance] was the captain. I should have spoken to him about my schedule as I made a mistake with that. I thought, 'this is my chance; I might never get another chance'. But I ended up playing something like 12 weeks out of 14, with two of those across in America. By the time I got to Munich, which was the last event, I was on my knees. I ended up narrowly missing out on earning a spot on the Ryder Cup team. I was bitterly disappointed, but my body was in pieces. Sam came to find me in the locker-room and, as it hit me that I wasn't going to be in the team, there were a few tears. But he was great, he was fantastic with me. I came home and I really didn't want to play again for a few weeks. I had no real goals other than financial ones to finish higher in the order of merit. But my body just packed in due to the stupid schedule I had taken on and I was out for six months. I missed out on the World Cup and a few bonuses I would have achieved off the course.
The following year, what did it mean to you to play in the Seve Trophy?
AO: That was a really nice bonus for me. I had missed out by one spot but, a month beforehand, I got a call really late at night at home and it was David Howell. He said, 'Andy, you are going to get a call tomorrow from the tour as I've had to pull out of the Seve Trophy team as I've hurt my back'. I was left speechless and, after coming off the phone, I was jumping up and down as I was thrilled as I had so wanted to be in that team. I really respected David for doing that as he didn't have to do that in person.
That was a winning appearance for Great Britain & Ireland against Continental Europe, captained by Seve Ballesteros?
AO: I really enjoyed that. It was at Druids Glen again and that obviously brought back memories from the 1996 Irish Open. Monty was the captain and the night we met up, I said to him, 'remember when I gave you the Irish Open here?' and he replied, 'absolutely rubbish Andrew, I won it' (laughing). That night, it was just me, him and Paul Lawrie as we had arrived early and he said, 'right, I'm not going to tell the others, so keep this a secret, but us three will play in the foursomes and fourballs together. It will be a mixture of us, but I will obviously be in each one' (laughing) and right away that put me at ease. It was quite a feisty event. Seve had heard Monty was expecting an easy match as Seve was on the downward spiral at that time, but he beat Monty in the singles on the Sunday - that was quite something.
Your best performance in the Open was tied for 28th behind Ben Curtis at Royal St George's in 2003. Was that disappointing?
AO: That was bogeying the last four holes as well. I played in 16 Open Championships and it was always an issue for me why I never played well in them. I had grown up playing lots of links golf. It wasn't as though it was an alien form of golf to me. I don't know. Maybe I just built it up too much each time. When I first played in it as an Amateur at Troon in 1982, I was like a rabbit caught in the headlights. I didn't know what was going on. But, as you gain more experience playing in them, I think it was just down to the occasion being too much more than anything else.
Your first win on the European Seniors Tour was a thumping nine-shot success 10 years ago in the PGA Championship at Slaley Hall?
AO: I had prepared well for the Seniors Tour, playing enough tournaments here and there to get me ready for it. I finished seventh in my first year on the order of merit then won the next year and went on to finish third in the 2011 Order of Merit. A lot of the guys didn't like Slaley Hall, so that was great for me as you knew half of them were beaten before you even started. I had always liked Slaley Hall and played well in the European Tour events there. That was me at my best that week. Everything was bang on. I just annihilated them basically. To do the PGA double was a nice feeling. I have had eight or nine seconds on the Seniors Tour and at least three of four of them I feel I could have come away with a win if I'd learned some lessons. The first four of five years I was on the Seniors Tour, I absolutely loved it. The bit I enjoyed the most was meeting new guys, Delroy Cambridge and Jerry Bruner, for instance. The atmosphere around the tour at that time was great - I loved it. I should have won more, but I'm fine with it.
You are now in the Golfer's CBD camp along with Catriona Matthew?
AO: It was because I saw Catriona was taking it that I contacted the company and they were dead chuffed when I got in touch. I've been on it for a couple of months and I think one of the main benefits is that it helps keep you calmer when you are in a competitive environment. There's also benefits when you are not playing as well.
It is obviously working as you recently had a career-first 59 at Ratho Park, where you are a club ambassador?
AO: That was almost like coming full circle. One of my oldest and closest friends from schooldays, Colin Binnie – he was also a junior member with me at Dalmahoy before we went over to Ratho in 1976 after the original club at Dalmahoy folded – was there the day I shot the 59 and he got as much a thrill out of it as I did. I'd been close a couple of times, shooting 61 or 62 quite a few times. It was just one of those days. I was nine-under after 13 holes and needed one more birdie in the last five holes. I had a great chance on the hardest hole on the course, the 14th. It was into a bit of a breeze and I hit a 3-wood to about six feet and missed it. I had another six-footer on the 16th but it smacked the middle of the pin and bounced out onto the lip. We were all groaning when that happened. It came down to the 18th and had a 9-iron to a pin over a ridge. I'd had the same shout a thousand times before and knew exactly what the club was and pulled off a great shot, hitting it to 15 inches. In it went for the birdie and we were jumping about with excitement. After people heard about it, my phone was going crazy for a couple of days. It was really nice to do that on a course that means a lot to me as I've gone back there now to be the tour pro and ambassador.
There's no hiding your sheer enthusiasm and passion for golf. Sum up what golf has meant for you over the years.
AO: I think next to being there at the birth of my girls, it has meant everything to me. It's been my life from a young boy of 13 and here I am at 61 still going hitting balls, still having the enthusiasm to play. I don't know how much time I have left, but my enthusiasm is still there, which is amazing as god knows how many golf balls I've hit in my life and how many airports I've been in. But I wouldn't swap it for anything. It's been a ride and a half. I feel blessed to have done what I have.
A message from the Editor:
Get a year of unlimited access to all of The Scotsman's sport coverage without the need for a full subscription. Expert analysis, exclusive interviews, live blogs, and 70 per cent fewer ads on Scotsman.com - all for less than £1 a week. Subscribe to us today https://www.scotsman.com/subscriptions/sports
Andrew Oldcorn poses with the trophy after winning the 2011 De Vere Club PGA Seniors Championship at Slaley Hall. Picture: Phil Inglis/Getty Images.
DJ Russell and Andrew Oldcorn during the 2017 WINSTONgolf Senior Open in Schwerin, Germany. Picture: Phil Inglis/Getty Images.
Andrew Oldcorn poses with the trophy after winning the 2016 WINSTONgolf Senior Open in Schwerin, Germany. Picture: Phil Inglis/Getty Images.
Want to join the conversation? Please or to comment on this article.