Yelping Scotland fans can tune in and relax: England coming to town, Harvey Barnes pursuit, 'let's go and qualify directly for a change'
The yelps of delight suggested England were not having it all their own way against Ukraine. Small groups of tired, slightly broken but content Tartan Army members gathered around screens at Larnaca airport on Saturday. It was the evening after the night before.
Oleksandr Zinchenko had just crashed a shot beyond Jordan Pickford to give these Scotland fans an additional boost following the high of the previous day. England were playing Ukraine in Wroclaw. Thousands of Scots, meanwhile, were heading home from Cyprus via various travel hubs around Europe, including, like this writer, Oslo. It seemed reasonable to consider staying on there.
Scotland's destiny seems so wrapped up in the Norwegian capital. From June's dynamic changing last-gasp victory to tomorrow's clash between the teams currently lying in third and fourth place in Group A. As we know, because it's been repeated so eagerly that it will almost be a bitter disappointment if it does not indeed transpire, a draw between Norway and Georgia takes Scotland to Euro 2024. As much as we are willing this, it does appear unlikely. Having started poorly, Norway can only deal in the currency of wins for the rest of their campaign. Georgia, meanwhile, just got hit for seven by Spain in Tbilisi in another hectic week of international football.
Scotland fans are nevertheless still booking flights for Germany after the 3-0 win over Cyprus – indeed, were doing so before half-time. Clarke applauded their dynamism but can't afford to be so presumptuous. There could still be some work to do. "The fans can do what they like – and I'm sure they will," he said yesterday. "Listen, I love it when the fans get carried away and they're dreaming."
Travel to inhospitable spots and, in Larnaca's case, hospitable ones is a feature of the modern game. But tomorrow sees football coming home. Scotland and England step off the qualifying wheel to mark a time, just over 150 years ago, when they were the only two teams in international football. It didn't matter what anyone was doing in Oslo, for example. Whatever it was, it wasn't playing football.
But that's what was going on at the West of Scotland cricket ground in Glasgow on the afternoon of 30 November, 1872. The challenge match set in motion a chain of events that would eventually lead to the creation of World Cups and European Championships. It is therefore right and proper that the anniversary should be celebrated, slightly belatedly. England were otherwise engaged last November as they prepared for a World Cup while Scotland sat brooding at home, because, yes, they "didnae qualify".
How Scotland have paid for that 1978 snark in recent decades. While ending the major finals exile at Euro 2020 felt cathartic, there is something about the team's progress now that is ramping anticipation up to new levels. Perhaps it's the thought that if and when Scotland get to Germany, they are capable of actually doing something.
Further strengthening this impression are reports that Clarke might have a new £50 million-valued 'signing' to enhance his attacking options. Harvey Barnes is ready to commit to Scotland which could prove a game changer. The Newcastle United forward has been on Clarke's radar for a while and seems to be at the point of giving up on England, the reason he had resisted the manager's initial gentle enquiries.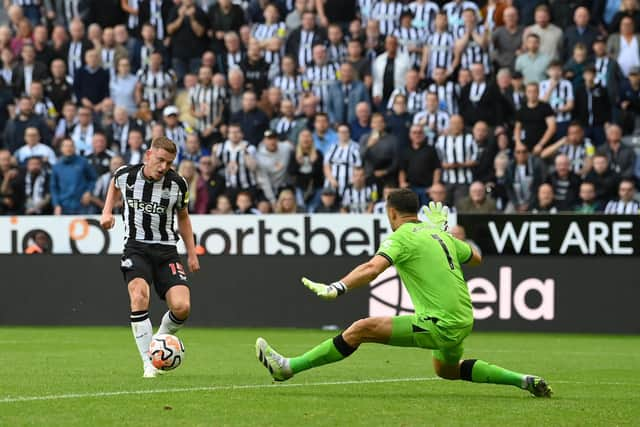 Even with Che Adams, recruited shortly before Euro 2020, Scotland came up short when dining at football's top table. Clarke is alert to the need to keep evolving. It's one reason why Scotland have arranged friendlies against top-tier sides in England and France, although strictly speaking they will be slumming it against Gareth Southgate's side, recently relegated to League B in the Nations League – the level below the Scots.
Clarke was asked how the present moment feels compared to qualifying via the backdoor and in slightly stuttering fashion for the last European Championships. "We don't want the play-off," he said. "We don't want that gamble, that Russian roulette, that risk of going into a play-off game. We have a chance of finishing second to qualify direct or maybe even first. Let's go and qualify directly for a change, it would be nice."
It would be nice, too, if it might happen as soon as tomorrow, allowing Clarke to get to work on tasks such as the Barnes question. He must also establish the situation with Elliot Anderson, another Newcastle United player who is further down the line to pledging his international future to Scotland. However, his departure from the squad last week – he picked up a knock on the second day of training – raised eyebrows.
So what does Scotland v England mean to you? To this writer, it represents the first game I remember watching a football match on television. A few days later came the second: Real Madrid v Liverpool in the 1981 European Cup final back when there was a law that great English clubs must have a Scottish backbone. Kenny Dalglish, Graeme Souness and Alan Hansen in the case of the Anfield side.
All three were absent from the Auld Enemy clash due to these commitments but Scotland could still count on players of the quality of Steve Archibald, who won the decisive penalty at Wembley after being tripped by Bryan Robson – and then celebrated while lying prone on the turf. John Robertson casually picked up the ball and sent the badly advised Joe Corrigan the wrong way. Trevor Francis, God rest him, ran up to Corrigan and made a very big show of whispering in his ear where Robertson liked to put his penalties for their club, Nottingham Forest. Corrigan dived to his left and Robertson duly put the ball to his right.
These were heady days for a young football fan. Two games live on television within days of each other. Happily for Scotland supporters without tickets, tomorrow's match will be shown on a terrestrial station thanks to England's contract with Channel 4. Tune in – and relax.