When Saints were kings: How St Mirren made history in the Anglo-Scottish Cup 40 years ago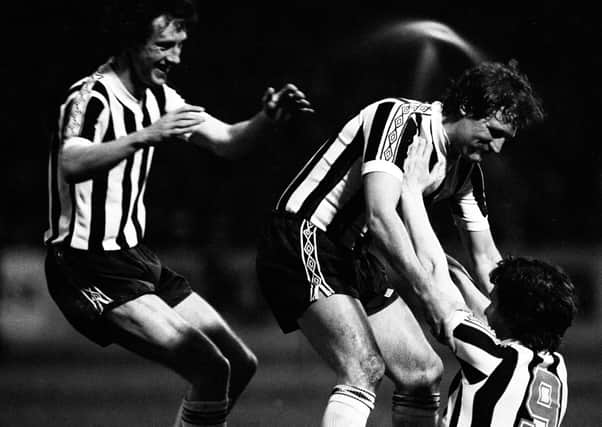 No wonder Billy Stark cherishes his memories of the Anglo-Scottish Cup, a cross-border tournament which featured some of the highest profile names in British football.
It is 40 years ago today that Stark and his 
St Mirren team-mates defeated Bristol City 3-1 at Love Street to become the first and only Scottish side to lift the trophy during its 11-season existence.
They joined a roll of honour which also includes Bobby Robson's Ipswich Town and Brian Clough's Nottingham Forest, a testament to the 
quality of opposition 
Scottish clubs could face in what began as the Texaco Cup in 1971. For Stark, it provided a platform to showcase his then emerging talents as one of the most effective goalscoring midfielders of his generation.
In the three seasons St Mirren took part, from 1977 to 1980, he was an integral figure in a series of memorable ties for the Paisley club.
Highlights included a 5-3 win over Fulham at Love Street in the quarter-finals in the ̓77-78 campaign, the presence of George Best (who scored a memorable long range goal) in the visitors' ranks swelling the attendance, on the way to being edged out 3-2 by Bristol City in the final.
Saints lost out on penalties to Oldham at the semi-final stage the following year, before finally claiming the silverware with the thumping 5-1 aggregate triumph over Bristol City in 1980.
"It was a great competition for us, I loved it," recalls Stark. "The three seasons we took part were all really enjoyable.
"Playing against Fulham, with George Best in their team, was especially exciting for a young player like myself at that time.
"I also remember playing against Willie Morgan and big Sam Allardyce when we played Bolton and Norman Hunter and Joe Royle who were at Bristol City during the times we played them. So you were facing a lot of big names from that era."
For Stark, the tie which sticks out most vividly in his mind was the dramatic quarter-final against Bolton in the trophy-
winning campaign.
"We have a get-together every year with some of the players from that time," he said. "Jimmy Bone, Jackie Copland, Dougie Somner, Robert Torrance, Campbell Money and the manager Ricky McFarlane.
"We often talk about that Bolton game. We were 4-0 up in the first leg at Love Street after about 25 minutes, it was crazy. Then it ended up 4-2 and it was still in the balance going into the second leg.
"We lost 2-0 down at Burnden Park and in other tournaments, that might have meant you went out on away goals. But it went to extra-time in the Anglo-Scottish, and Jimmy Bone scored our winner.
"That was a real feather in our cap, because Bolton were a good side. I actually remember that tie more than the semi-final against Sheffield United, which we won 4-0 on aggregate after drawing 0-0 down at Bramall Lane in the first leg.
"The tournament always started with a tie against another Scottish team. We played Hibs in the first round that season and after a 3-3 draw at Love Street, we were second favourites going into the second leg at Easter Road but I managed to get the only goal there. Although I can't remember much about that one – that's the great thing for players nowadays, every goal they score is captured on film somewhere. Old guys like me have to rely on our memories!"
Stark has much clearer recall of the first leg of the 1980 final at Ashton Gate when he scored both of Saints' goals in a 2-0 win, setting them up for the triumphant night at Love Street on 16 April in front of around 15,000 Paisley buddies.
"I remember getting quite a high profile after my performance down in Bristol," he adds. "It put me in the spotlight a bit.
"It was a tremendous night at Love Street in the second leg, a big crowd turned out and it meant a lot to everyone connected with the club.
"I've got a copy of a photograph from the celebrations afterwards and I'm wearing one of those daft top hats with the black and white stripes. Someone must have stuck that on me, because it wasn't like me to get too excited!"
Stark went on to win every major domestic trophy in Scotland with Aberdeen and Celtic but still regards the Anglo-Scottish Cup 
success as one of the highlights of his playing career.
"St Mirren have won the Scottish Cup and the League Cup in the years since, which were fantastic achievements for the club," he said.
"But, maybe a wee bit selfishly, I always think that the calibre of the teams we beat to win the Anglo-Scottish Cup puts it on a parallel with any of St Mirren's 
successes. I know the fans from that 
era still recall it as fondly as the 
players do."
West Ham United manager David Moyes recently called for a return of a cross-border competition involving Scottish and English clubs, perhaps at the expense of both countries' League Cup tournaments.
Stark gives his nostalgic approval to that idea, although he is sceptical about how practical it would be.
"I would be in favour of it, because 
of the experience we had as a team playing against English clubs, but I'm not sure how you could fit it into the modern-day football calendar," he said.
"But I think players nowadays would enjoy those Scotland-England ties at club level every bit as much as we did."