Welcome to the new capital of world football
It has stopped the Olympics, Euro 2020, the Grand National and is set to scupper Wimbledon and the Open. But coronavirus has found a match in the Vysshaya Liga, which as you will know by now is the Belarusian Premier League.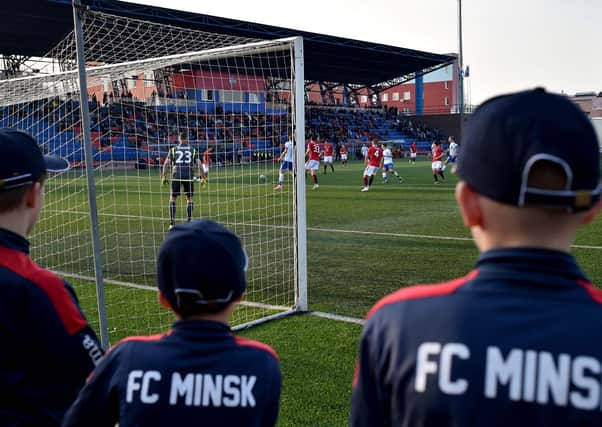 We are set to emerge from lockdown with an intrinsic knowledge of FC Minsk, Torpedo BelAZ and BATE Borisov et al. While the rest of us try to get our kicks from identifying players with footballs superimposed on 
players' heads, voting in goal of the decade competitions or watching old games replayed by content-desperate television channels, Belarusians are enjoying the real, live thing.
Everyone else is trying to get in on the action. As an Everton fan, Tony Edge, put it on Twitter: "Belarus footy is the only one in the world still going. The team I've adopted is FK Isloc. We've got Smolevichi at the weekend and we hate them bastards."
President Alexander Lukashenko certainly isn't one for following trends. He has dismissed fears about football carrying on as normal in the country while everywhere else is on coronavirus lockdown.
He has claimed vodka and banyan Russian-style saunas, are the best cure, as well as ice hockey, which, like football, is continuing as scheduled in Belarus. There have been around 150 confirmed cases of coronavirus in Belarus to date. It is easy to question this figure if they are as blasé about their approach to recording medical data as they are about playing football in the midst of a global pandemic. It is particularly surprising because the Football Federation of Belarus had every opportunity to close down for a spell.
While many other countries are still fretting about what to do with seasons already three-quarters played, the new league season in Belarus only started last week. There was no dilemma about whether to call off the season or null and void it. All they needed to do was extend pre-season a little longer.
Instead, cocking a snook to the rest of the world, they simply said: play on. It is certainly one way of reclaiming some of the attention 
lost when Diego Maradona left his position as chairman of Dinamo Brest nearly two years ago to head for 
Mexico and a hit Netflix series.
For the first time, Russia's Match TV and Ukrainian Sport 1 are set to broadcast games from the Belarusian top flight. As many as eight other countries have reportedly expressed an interest in negotiating quick deals to fill the long gaps in television schedules where live football – indeed, live any sport – used to be.
Bookmakers are among those relieved by the decision since it stops them having to rely solely on e sport results and horse and greyhound 
racing from Australia.
Betting websites are now offering odds on the big Friday night clash between Belshina
and Gorodeya. Alex Apati,
a spokesman for Ladbrokes, has had to brush up on his knowledge of Belarusian football for a weekly slot on Tony Cascarino's TalkSPORT radio show on which he talks about the latest sporting odds. Gambling on these games has shot up. "Our traders are having to do a lot of research," Apati told The Scotsman. "We have seen a spike in bets on other sports and football – especially the Belarusian Premier League, largely because that's not a market we see much interest in in a 'normal world'. We have increased betting opportunities for customers by offering a 
wider range of markets than we 
usually would for such a league – first goalscorer, etc."
Former Kilmarnock player Peter Leven, pictured, has recently returned from the country, where he worked under Czech manager Marcel Licka at reigning champions Dinamo Brest.
"Maybe they are doing it so everybody looks to their league," he said in an interview last week. "There is no panic over there either in terms of playing football or life in general. If I went to the chemist I could buy as much hand sanitiser as I wanted and my wife was telling me to bring some home because they were running out in Scotland.
"They had already played three competitive games in the Super Cup and Belarusian Cup before the league even kicked off so they are carrying on regardless."
Belarus is landlocked by Russia, Poland, Lithuania and Latvia. It is a genuine oasis of football.
"It so happened that this derby was practically the only official match on earth," read Dinamo's match report of their clash with FC Minsk at the weekend. So it was fortunate they had a contest that lived up to this portentous billing. Sadly for Dinamo, they were on the wrong end of a 3-2 defeat in front of a 3,000 capacity crowd.
Some fans were wearing face masks and all had had their temperature checked on the way into the ground. But it was very much business as usual on the pitch – plenty of goalmouth action and crunching tackles. One imagines it felt good since it is what the rest of us are missing. But then again there's playing football and there's playing dumb.