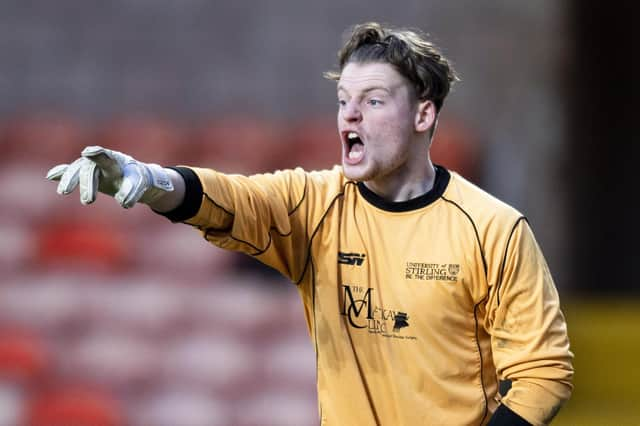 Take Ben Fry, for example. The 21-year-old is in the last year of a sport and exercise science degree. He is due to start his dissertation. "That'll be a fun one," he said as he sat in front of reporters on Saturday evening, with the cameras and media glare set to turn elsewhere.
Bespectacled and floppy-fringed, Fry looks like the archetypal student. He is also goalkeeper for the university's First XI and on Saturday made several marvellous stops to ensure his side left Tannadice with a lot more than just their self-respect following their historic Scottish Cup fourth round meeting with Dundee United.
They earned plaudits, too, particularly for the way they kept their hosts at bay for almost the entire first half. A goal on the stroke of half-time from Aziz Behich set United on the way to a home clash against Kilmarnock in the fifth round.
Although the Premiership side added two more goals in the second half, including an overhead kick from Jamie McGrath, the visitors never gave up. The students did have Fry to thank for several stops, including a fine point blank save from Charlie Mulgrew's header. The goalkeeper's parents, who had flown over from Northern Ireland, were in the away stand, as was a coach load of friends from his church group. Fry began playing football with Coaching for Christ, a charity in Northern Ireland. He made a handful of appearances in the Northern Irish Championship before heading to university in Stirling. "I am a firm believer that God will put me where He wants to put me," he said. "That's massive for me. I think God has brought me here to start with and he'll take me to the next stage."
But not the next round, sadly. Still, with Fry's thoughts now turning to what he might do next, Saturday was a fine time to shine. "You know, as a goalie, it's obviously important you have your important moments in the game," he said. "And the defence in front of me helped me out a lot. We kept a really good shape. We limited them, especially in the first half, to shots outside the box, and I didn't really have that much to do.
"I'm always hard on myself," he added. "I'm annoyed with the goals, but like I say it's just brilliant to get here and be able to just have an opportunity to play with these players, like Steven Fletcher, who has scored in the Premier League. So to test yourself against a player like that is a brilliant opportunity. It's (also) the opportunity just to put ourselves on show and show university football isn't just about guys who just want to have a party and play a bit of football on the side. We have a serious set up here. We take it seriously. And obviously we have a bit of fun as well."
One assumes some fun was had on Saturday night after a long-delayed night out. The schedule has been so hectic recently that the students have not had the chance to celebrate a third successive BUCS Premier North league title, which was secured last midweek. Games against Nottingham Trent University in the same competition and then Dalbeattie Star in the Lowland League are to come this week, when lectures also resume. Oh the tales they will tell in the back row.