Through Steve Clarke's eyes, the night Scotland qualified for Euro 2024: seat plan change, massage tables and sticking to curfew
He came smiling round the corner and shook everyone's hand. Well, he was hardly going to come high-kicking in to Yes Sir, I can Boogie.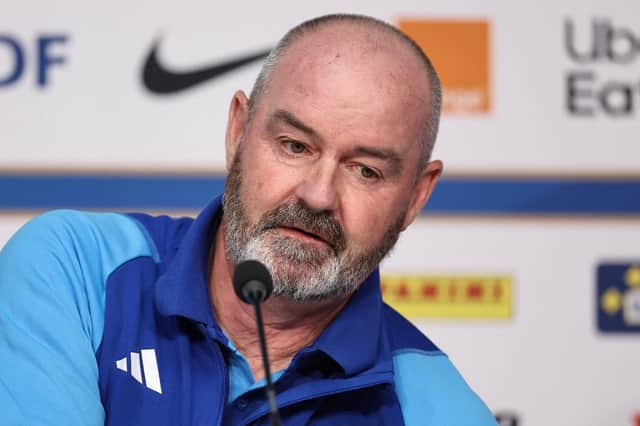 This is Steve Clarke after all. The man who was pathologically opposed to speaking about qualifying until the letter Q had been indelibly placed next to Scotland's name. This happened at around 9.40pm on Sunday night as Clarke and his squad watched Spain beat Norway 1-0 in Oslo in a central Glasgow hotel.
Now the manager, the man of the moment, was standing in a corridor of a football stadium in northern France giving six reporters an account from his viewpoint at the back of the room of the night Scotland reached Euro 2024 without kicking a ball. Even the fastidious Clarke understood that while it might have been the eve of an attractive-looking friendly against one of the best teams in the world, discussion about how to handle Kylian Mbappe and co would have to wait.
It was a privilege to get this exclusive briefing from Clarke's perspective. Ever the manager, he revealed he had been forced to tinker with the seating arrangements early on. "It was strange because you watch a game where you want a specific result and yet you have no control over it whatsoever," he said. "I started off near [assistant coach] John Carver and Graeme Jones, the SFA head of performance … oh my God. They were so nervous! So I just went and stood at the back of the room."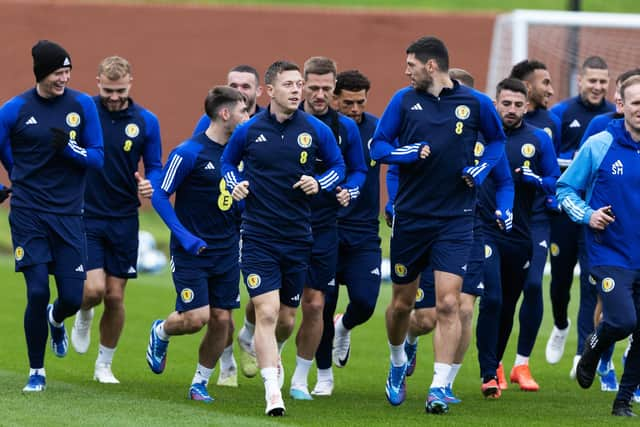 The hotel was good enough to clear the dining room and make it a temporary television-stroke-spa room. "Some of the boys like to get a massage the night before we travel so there were a couple of massage beds at the back of the room, and some comfortable seats at the front," explained Clarke.
He didn't need the two balls of nervous energy next to him as Spain saw a first-half goal, which had been injudiciously tapped-in by Alvaro Morata, ruled out for offside. "I knew when he touched it to put it over the line," said Clarke. "You know what the decision is going to be as soon as it went to VAR. It took a long time. But at nil-nil we were still going through, and we were in a better position to win the group, so I wasn't too fazed about it. It wasn't as if Norway were creating chance after chance. It was a game where Spain had a lot of good control of the game."
And when the final whistle went? "The boys had a wee jump up and down," he said. "I stood and watched them. I just went down and gave everybody a little hug and a 'well done, thank you' and that was it. I went round the whole room and said thank you for your contribution."
These were not the wild, bacchanalian scenes that we might recall from the night Scotland sealed their first major finals qualification under Clarke in Belgrade, breaking a 22-year hex. The novelty meant those celebrations packed an extra punch and perhaps contributed to subsequent defeats over the proceeding days against Slovakia and Israel. But Clarke did permit a glass of something alcoholic if it was desired. "In football you do not get this moment very often," he said. "So you have to learn to enjoy the moment, obviously within limits because we are playing one of the best teams – if not the best team – in the world tomorrow night. Although it is a friendly, it is still an important game. But you have to enjoy the moment. And I think they enjoyed it ..."
Naturally, Clarke was first to bed at just after 1am. But there was a curfew. "And they stuck to the curfew, 100 per cent," he said.
This is a different world from boats being drunkenly commandeered and sailed out into the Firth of Clyde. Even players sitting up drinking in the hotel bar until morning, as happened once as recently as 2009, seems like another age. Clarke hadn't made attendance mandatory but everyone who could be there was there. "And I mean everyone," he said. "Even the old guys."
Welcome to an audience with Scotland's greatest-ever manager. Well, that's what some are now calling him. A double major finals success certainly puts them up there with the likes of Andy Roxburgh and Craig Brown, recollection of whose death earlier this year brought some melancholy to the celebrations of Sunday evening. Because no one would have been happier for Clarke than Brown. Roxburgh is still going strong and can, and probably has, sent his congratulations. Clarke's phone has been red hot. He started replying to all the messages yesterday on the journey to northern France.
Oh yes, France. There's a game still to play of course. And the preparations, certainly in terms of the hosts' side of things, has been partly dominated by some concerns about the state of the pitch at the Stade Pierre-Mauroy, which has hosted five matches at the rugby World Cup. Although he had yet to see it, it was not something Clarke was getting too worried about. There was even a flash of arrogance as he momentarily let that careful, straightforward mask of his slip. "We can play anywhere," he smiled.
And why not puff the chest out a bit. Even France manager Didier Deschamps referred to the visitors as a "beautiful team". Scotland are back on the big stage. There's no better place than Germany next summer to show what they can do.
The ambition has to be taking the next step and progressing past the group stage, something Scotland have never done and which proved well beyond them two years ago. "Hopefully, when we get to Germany next year, we can show we learned a little bit from then," said Clarke, who really would be out on his own if he could mastermind reaching this new frontier.