'This cannot just be a flash in the pan': Dundee United reaction after big win over Livingston
Liam Fox believes Dundee United's win at Livingston was proof of his players' determination to show that they do care.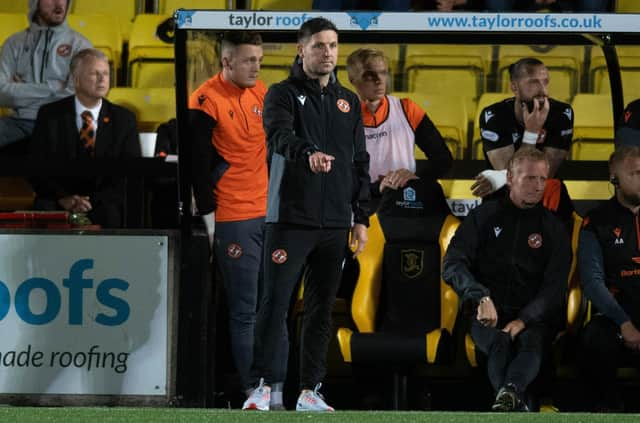 The Tannadice side's commitment had been called into question following Sunday's 9-0 defeat against Celtic that cost Jack Ross his job.
But Fox, who has been handed the reins as caretaker manager, oversaw a much-improved performance that saw the visitors hold on for a 2-1 win to secure a last eight trip to Kilmarnock.
Livingston manager David Martindale complained his side had been "bullied" by a United team with plenty to prove. "They didn't outplay us, they did a job on us," he said.
Fox was happy with that assessment. "I asked them for a reaction off the back of a period of poor results, culminating in Jack losing his job," he said.
"Their personal pride has been called into question and we needed a response. I think they answered that. But it's only one step on the way to hopefully getting back to where the club wants, and needs, to be.
"This cannot just be a flash in the pan. That was the last thing I said to them in the dressing room.
"They'll get credit on the back of tonight and we are through to the next round — which is great — but we've now got a difficult game on Saturday away to Motherwell and we need to build on this."
"All we can try to do, as a staff and a group of players, for as long as I'm here — that could be a day, a week, or longer, who knows? — is to repay some of those poor results and move forward."The players have taken flak. I hope they are feeling better about themselves tonight. But it's only a start."
Fox recalled the experienced Charlie Mulgrew and Tony Watt and kept faith with 'keeper Carljohan Eriksson.
"That was a decision I came to because I thought we needed our most experienced team on the pitch," he said. "And I think I got a decent response from them. The players won the game, not the coaches."