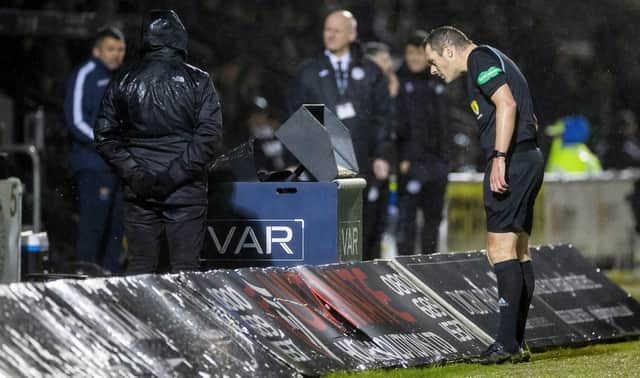 If we don't count his beloved Cappielow, Hampden Park was Mecca, scene of his greatest match among the hundreds witnessed, Real Madrid 7, Eintracht Frankfurt 3, when, told by the BBC there was no room in the South Stand for STV's outside broadcast unit, he nipped over to the North from where he won the battle for viewers.
Tynecastle was a favourite. "We used to film from under the brewery wall, the noise was incredible, and we had our own loo," Arthur told me. Coldest eyrie? That was Tannadice and its snell winds. Poorest vantage point? "Right down by a corner flag at Cathkin Park."
I'm too young to have seen an edition of Scotsport where oor fitba's custodian/curator tried manfully to describe a Third Lanark game from such a disadvantageous camera position. But I had cause to remember his mentioning of these struggles when The Great Fir Park Non-Goal Jotaboutery erupted.
Did you see what I did there? On Wednesday night Celtic's Portuguese patter-merchant scampered after a raking pass from deep and thumped the ball into the Motherwell net. "Sen-sation!" Arthur would have exclaimed if he'd been on duty. Only VAR intervened and ruled the winger offside. Celtic were dismayed by the decision, their fans even more so. And even more so still when they got home and during the TV highlights learned of the camera angle from where the decision was made.
The relevant action was shot from the Celtic half, Jota's position being judged from there. Where was an equivalent camera in the home team's half? Oh, it was there, all right, said Motherwell, just not focused on the action at the crucial moment.
Is this what we signed up for? Sorry, but we've got to ask. VAR was supposed to settle disputes, not provoke more. Now The Great Fir Park Non-Goal Jotaboutery seems set to rival The Great League Cup Final Lens Cap Outrage.
In the Old Firm final of 1957 Celtic led two-nil at the interval but whatever was in their half-time cuppas it sent them hurtling into another dimension for the biggest-ever victory in the fixture – 7-1. But the five additional goals only exist in the record books and the fast-fading memories of the Hampden audience. (This included a youthful Andy Cameron, by the way, the future funster and Rangers diehard remaining grimly to the final whistle believing a comeback was still possible). A blunder at the Beeb, though, when the camera re-recording the game for highlights stayed covered up for the second half robbed armchair fans of Billy McPhail's hat-trick, allowing a Parkhead conspiracy theory to burble for decades.
If the televisual processes of 1957 sound clodhopping – pictures from the final being relayed to the Corporation's Lime Grove Studios in London for a telerecording machine to essentially film the existing film – then compare them to VAR, the Scottish version.
I think most of us were worried that we would end up with something cut-price. Not so much state-of-the-art as would-you-look-at-the-state-of-it. England's Premier League, as far as I can remember, has not suffered a blip like the one at Fir Park.
We await the first VAR judgement in Scotland on whether a ball has actually crossed the goal-line. Down south the technology produces clear-cut imagery just like Wimbledon's Hawkeye. Will ours? Or will we have to endure Pie-Eye? Or Cockeye?
In the St Mirren-St Johnstone game on Wednesday, played in a downpour, referee Euan Anderson was urged to consult the pitchside monitor. The screen wasn't set up vertically but at an angle, giving the impression he was Paisley's chief sanitary engineer peering down an open drain. The screen was exposed to the elements with no rain cover. What's that about? A legacy of Steve McClaren wimpishly hoisting a brolly? The macho equivalent of Scott Brown playing in short sleeves right through a Scottish winter? That's perverse if the refs can't see a bloody thing.
England going first with VAR was supposed to be to our advantage. We could avoid being tied in knots by the system with fingernail judgements and lengthy, atmosphere-crushing delays. Instead we've clocked up as much as seven minutes pondering errors deemed "clear and obvious". Outcomes which are protracted and nebulous kind of defeat the purpose. Meanwhile, every kiss of a hand is being judged a penalty. The makes-oneself-bigger rule is, in the VAR tyranny, making football stupider.
Already it is obvious the system will not cure all our ills. Aberdeen's Luis Lopes was still able to fool officialdom to win that penalty against Hibernian. Not enough angles available? Even the only one used showed that he dived.
It was clearly wishful thinking to hope we might be able to sidestep teething troubles. Scottish football these past few demented weeks has been like a kid with a new toy, the latest craze. There's a mania regarding VAR and we can't stop playing with it. Most crazes fizzle out eventually. The break for the World Cup is coming at a good moment and hopefully the game will return slightly less obsessed.
What would Arthur say? I reckon that being a punctilious and precise fellow, he might approve of VAR in principle. But he surely wouldn't like the stramash it's causing, killing sen-sations all over the land.