The Steve Agnew Aberdeen factor - why experienced coach is a valuable asset to Barry Robson and the Dons
Barry Robson and Steve Agnew have made quite the team at Aberdeen. Saturday's victory over St Johnstone saw the team close the gap to third-place Hearts to just a point and take the management duo's record at Pittodrie to five wins from seven games.
The addition of Agnew to his coaching staff was Robson's first shrewd move as interim head coach following the departure of Jim Goodwin. Their success on and off the field led to an extended period as the coaching team until the end of the season.
There would have been a number of people within Scottish football, especially supporters, unaware of the 57-year-old Englishman. But he built a respectable career in England, first as a player during the 1980s and 90s, turning out for the likes of Sunderland, Leicester City and Blackburn Rovers before moving into coaching. It was with Middlesbrough where the relationship with Robson blossomed and set in motion a reunion which arrived more than a decade later. And now the partnership is flourishing.
"When you have a man like Steve, who has all this experience in the game, it's important," Robson said. "It's always good to have someone like him beside you, it definitely helps. He's got experience and enthusiasm, it's great.
"Steve is a good planner, he saw the model I wanted to work to and has improved it. His ideas on the game and the way he wants to play the game are similar to mine. What he demands is the same as me - one hundred percent effort and focus from the players. He's the same as me, if people give you that then you're happy but if we drop below those standards then we have a bit of an issue.
"Steve is a good coach, he's got good people skills and he's also demanding. So he has all the aspects you need to be a good coach."
'Dealt with those situations'
Robson added: "I played with big players at big clubs, I dealt with players who would chap the manager's door and ask why they were not playing. I have been at big clubs, worked under big managers, had team-mates with big egos too. So I have been there as a player and Steve has dealt with those situations as a coach. He's a top guy, a top coach who has brought a wealth of experience, talent and ability to the club."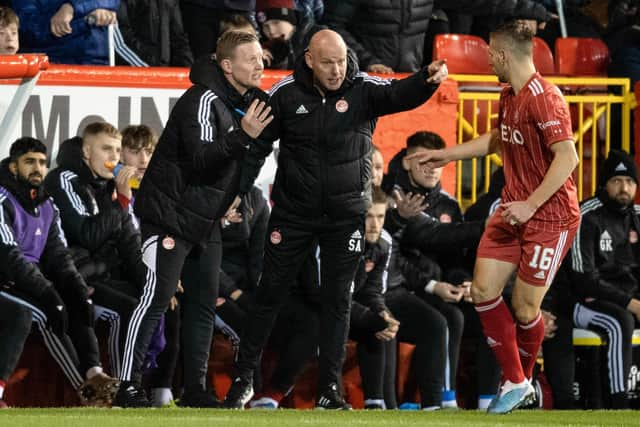 Robson also added Liam Fox to his coaching staff last week ahead of the weekend's win at St Johnstone. The 39-year-old had only recently been replaced by former Dons boss Goodwin at Dundee United but has a wealth of experience, especially work with youth players, despite his age with roles at Livingston and Hearts before the switch to Tannadice. "We have Liam here now too, he's been a manager in his own right and is still young," he said, "so it's a great blend we have, we're strong at the top table. That's what I wanted and we have got people here who have the right levels of enthusiasm, experience and drive."
Comments
 0 comments
Want to join the conversation? Please or to comment on this article.