The Scottish Premiership manager who won't give up bowls for anything
It is fair to say Steven MacLean has been bowled over by the all-consuming nature of football management since being placed in charge of St Johnstone on an interim basis. That doesn't mean he is over bowls, though.
MacLean could be forgiven for wanting to go lie in a darkened room for what is left of the weekend once the dust has settled on his team's hosting of Hibs on Saturday afternoon. His every waking hour has been dominated by preparing the ailing Perth squad for the encounter subsequent to being put through the emotional wringer with the club's removal of his senior colleague and mentor Callum Davidson last Sunday.
But MacLean has a passion beyond football that he refuses to contemplate giving up on, whatever the upheaval of late in his professional life. Indeed, pitching up at his local Peebles bowling club for some Borders Bowling League action is perhaps the diversion he will need more this week than ever. "I've not given up the bowls," he said, appearing almost offended at the suggestion he might now be required to give it a miss. "I hope I can go there on Sunday and play. So I definitely won't be giving that up despite me doing this job now. No chance."
MacLean is not for changing then. And Perth forward Stevie May, his strike partner for the club's 2014 Scottish Cup win before witnessing him operate as Davidson's assistant, doesn't see any reason for him to do so. Memories of the interim's rousing address as St Johnstone's led Dundee United 1-0 at half-time at Celtic Park nine years ago – MacLean netting a late second – would appear to remain fresh.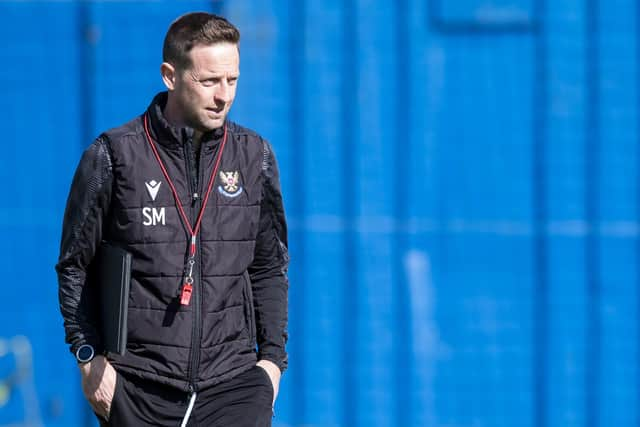 "That was a common thing for Macca," said May. "He'd come in and say what he thought. It was a motivating speech as much for himself as everyone else. He was always loud talking and I'm sure he'll be the same. He was a big leader from the front. I know him better from playing up front with him and he was always a big motivator. Even for himself, he always got himself going. He was always good at talking to me and telling me where I should be. It's no surprise [he has been given this opportunity]. There were a few in that dressing room I could have seen going into management. A few have and I expect to see others as well."