The Rangers and Scotland legend who just wishes his parents had seen his scoring spree
The very first time Scotland ventured to Cyprus for a football match, Colin Stein remembers their plane being tossed around to such an extent that after a refuelling stop the pilot was in a state of high anxiety about continuing the journey.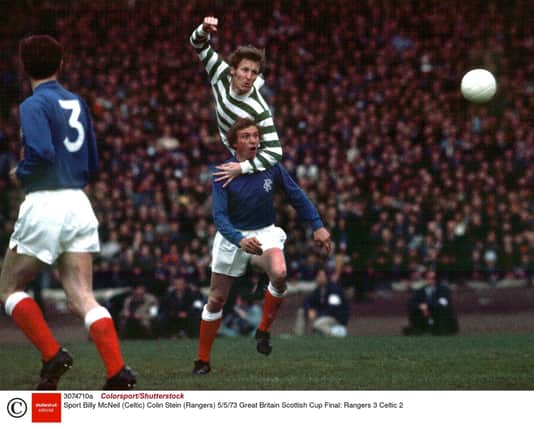 But the subsequent late arrival, long bus trips across the island and a pitch of black ash which turned to slurry following a downpour could not dull the experience for the young striker making his competitive debut for his country.
You could not take that World Cup qualifier away from Steiny. You could not take his two strikes away from him, although some tried by crediting one as an own goal. "Both of them were mine," he insists in Linlithgow today, 55 years on, and still as sharp as he ever was in the box.
And it does not matter to him that Cyprus, opponents for the current Scotland in Nicosia next Friday, were at the time a developing nation and the outcome was an easy 5-0 victory. Not when he remembers how he got to that moment in his life, and how unlikely it had seemed just a few years before.
"My dad died when I was six years old and my mum when I was 17," he explains. "My sister Helen, ten years older, took me in and she and her husband were like a mother and father. When I started at Hibs I was still sharing a bedroom with their young boys."
It's a short walk from the train station in "Lithgae" where Stein, 76, met me and the cafe in the High Street where we're talking but he was stopped three times for a chat. "One guy was Hibs, the other two Rangers," says our first £100,000 player, a Barcelona Bear and, against the Cypriots, Scotland's top goal-grabber.
His big regret is that his father Bobby, a miner, did not live to see any of this. "Or anything my big brothers did either," he adds. "Eric was a half-back with Broxburn Athletic, played for Scotland Juniors, but he was never quite the same after a game against Newtongrange Star. Guess who tackled him? Dave Mackay. Years later I mentioned this to Dave - what a great man he was, by the way - and he said: 'I cannae mind that, son.'
"My other brother, also Bobby, played for Raith Rovers, Montrose and East Stirlingshire. We were on the park together a few times when I was at Hibs and I'm sure these games would have made the old man proud - though maybe not the one at Stark's Park when I got sent off.
"Peter Cormack - and what a player he was - got in my way chasing a through ball and I swore at him. The ref didn't like that. Bobby grabbed me: 'What an effing idiot. What the effing hell did you do that for?'"
That was in September, 1968. The indiscretion didn't count against Stein representing his country - though a later one would - and the following month Bobby Brown awarded him his first cap in a friendly away to Denmark. "I was fair chuffed. Scotland was the ultimate. And to think that just a few years before I couldn't get a game for the county team."
I have the feeling this stung for West Lothian is the Stein heartland. He was born in Philpstoun. He was banging in goals for Armadale Thistle manager when Bob Shankly signed him for Hibs. As a Ranger he wouldn't be budged from Linlithgow with wife Linda despite the club's attempts to move him. "They wanted me to live closer to the ground but I found Glasgow too intense. A night out was impossible. Here I could go for a pint in the bowling club and no one would bother me."
Never forget where you're from. And Stein couldn't, not even in Cyprus. "On the way to that game some serving British soldiers came onto our bus to wish the team good luck. One of them laughed when he got to me: 'Hey Stein, you shouldnae be here. My brother's a much better player.' He was talking about Davie Marshall, a good pal and a good player with Linlithgow Rose. But, no - not better than me!"
This was the team for what was our first-ever international against Cyprus: Jim Herriot, Dougie Fraser, Eddie McCreadie, Billy Bremner, Ron McKinnon, John Greig, Tommy McLean, Bobby Murdoch, Steiny, Alan Gilzean, Charlie Cooke. Names to be savoured, for sure.
"Wee Billy was a good captain, though not as good as John Greig. Ronnie is the oldest of my Rangers pals who're still around - 83 last Sunday - and I'll be seeing him soon. Gilly was the quietest. Charlie was a riot. Eddie McCreadie? Madman!
"I wasn't overawed by being in these guys' company, more excited, though when Denis Law came into the room I always stopped and listened. I'd tried to model myself on him. And when we played for Scotland together I'd say: 'Do your usual thing, Denis, and leave the running around to me.'"
By the time of the Cyprus game, two weeks before Christmas '68, Stein had joined McKinnon and Greig at Ibrox. He grew up supporting Rangers but stresses that he loved his time at Easter Road. "I watched Hibs as kid a few times, not being allowed to go to Ibrox, and saw them beat Barcelona. When I joined them some right good young talent was coming through: Cormack, [Peter] Marinello, [Pat] Stanton, [John] Blackley, [Alex] Cropley."
Rangers did broaden his horizons, though, culminating in Cup Winners' Cup glory in 1972. Stein's thunderous goal in the final has increased in distance and velocity in supporters' memories, although the centre-forward arrived in Govan unsure of the welcome he would receive.
"The season before I moved, playing for Hibs at Ibrox, me and Alex Ferguson were sent off for fighting. He caught me with one of his sharp elbows so I walloped him. Walking past the old enclosure I was verbally abused and spat on."
Could he get off to a good start, win his new public round? "Well, it took me a while to find my feet," he says, breaking into a grin. "About an hour of my first game up at Arbroath and then I scored a hat-trick in four minutes." Methinks he's used that line before and indeed it got a laugh the previous week in Bangkok when Stein regaled Gers fans exiled in Australia with tales from the bygone days of yore.
Next match - his Ibrox debut in light blue - he hit another hat-trick against Hibs. "Wee Jimmy O'Rourke was winding me up in the tunnel: 'A hundred grand they paid? What a waste of money. Yer a dumpling!' And I was on a third hat-trick in three games away to Dundalk [in the Inter-Cities Fairs Cup] but my shot struck both posts and stayed out." What an introduction. No wonder he has a chuckle to himself when excuses are made for players slow to make an impression at new clubs, the Old Firm especially.
He knew he had to keep it up. "Jim Forrest scored a ton of goals for Rangers then had one bad game [the seismic Scottish Cup loss at Berwick] and was gone." Fergie would soon be gone, too. "His last instruction was 'Mark Billy McNeill' and he didn't [same competition, the Celtic captain opening the scoring in the 4-0 final of '69]." Reputations stood or fell by what happened in Old Firm games, and still do.
With the fierce rivals squaring up again tomorrow, I read out some match reports from Stein's baptism in the fixture: '69 again, the Ne'er Day meeting. He's amused by pressbox sage Hugh Taylor's description: "A harrying, hurrying centre-forward creating great havoc." That was Stein, all right - from then until the end at Ibrox when it was his turn to feel the heat of competition on his collar from the Dereks, Johnstone and Parlane. He moved to Coventry City ("Loved it there") but would return to Rangers, a trademark crashing header at old stamping ground Easter Road clinching a league title in 1975.
I compliment Stein on his recall, something which sadly in our game can be compromised by too many crashing headers. "I know," he says. "No one headed the ball more than me. It's sad that dementia is hitting so many guys from my era. The last time I saw big Billy [McNeill] was at a writers' do. I had to tell him my name. He perked up at that, right enough, and hopefully was able to remember some of our great battles. But I almost wish I hadn't seen him that day because he was this little hunched figure, not the giant of a man he'd been."
Brother Bobby died two years ago but Eric is still going strong and will be 90 this year. The baby of the family is himself a grandfather and, on the bowling green, as competitive as ever, having returned the previous day from Peebles with a Scottish Seniors title. In the Ibrox lounges, usually as part of a double-act with Willie "Bud" Johnston, he's rightly revered and regularly buttonholed for a misty, mud-splattered memory of how football used to be.
Stein loved the Old Firm Sturm and Drang. "Back then, not like now, it was a sea of red, white and blue on one side of the ground and a sea of green and white on the other. I would have kicked anybody during these games but afterwards the likes of Willie Henderson and Jimmy Johnstone had a great laugh together - Willie and Tam Gemmell too. Among the guys who played together for Scotland there was a camaraderie."
He reckons that in total he was sent off a dozen times. "Mostly for retaliation. Defenders used to steam into you, right through your back." Maybe the most notorious of those incidents involved Clyde's Eddie Mulhearn. "He chased me round Ibrox, booted me six or seven times and eventually I socked him. [Referee] Ian Foote wasn't much cop that day. He said: 'I was just about to send him off. Now you're going to have to go, too.'" Old Firm clashes couldn't be officiated indecisively so invariably "Tiny" Wharton was given the job. "Funny guy. If he was booking me he'd go: 'Name Mr Stein?' If he was sending me off I'd get a pat on the bum."
The fallout from the Clyde game was a five-week ban for Stein which meant him missing Scotland's next World Cup qualifier against West Germany. When he returned to the team he returned to the scoresheet. Goals in six consecutive appearances hadn't been beaten previously and still stands as a record.
Among those games was England's revenge win over Scotland for the 3-2 Wembley victory in 1967. There was little consolation in his artful header as the Scots were beaten 4-1. "Though Adidas gave myself and Eddie Gray, who crossed for me, £150 each for wearing their boots. That was a lot of cash."
The highlight of the sequence was the reverse fixture against Cyprus at Hampden - 8-0 to us with Stein grabbing four. "A lovely sunny afternoon, a great performance. And it could have been five goals. We were awarded a penalty at the 'Rangers End'. Behind the goal there were shouts for me to take the kick - Rangers fans went to Scotland matches in those days. But big Tam [Gemmell] - the regular penalty-taker - grabbed the ball off me."
The reverse fixture against West Germany in Hamburg was a much less happy affair with a 3-2 defeat ending our hopes of reaching the finals in Mexico. "It was a fantastic game. We were dead unlucky. Of course it's remembered for Tam being sent off. He booted [Helmut] Haller up the backside. I tried to calm him down - maybe the last person you'd expect to be doing that."
At the final whistle there was a shirt-swap with Franz Beckenbauer. "I've still got the strip, despite this big army bloke trying to grab it off me in the tunnel. I guess I was supposed to be intimidated by his leather coat and machine-gun. I wasn't!"
Comments
 0 comments
Want to join the conversation? Please or to comment on this article.