The Barry Robson Aberdeen message - recruitment involvement, interview, no job uncertainty
Business as usual. That was the message from Barry Robson, having been given the Aberdeen job until the end of the season. At least. There was no fanfare from the enthusiastic coach. Everything is about focus, keeping the head down and the next game, which is a trip to McDiarmid Park to face St Johnstone.
Perth is just one of three venues the Dons have won on the road in the league this campaign. There was an acceptance that the team "need to win more games away from home". If they can begin to do that they will put themselves into an even better position for the much sought-after third spot and potential European group stage football. Not that Robson is thinking that far ahead. "This job needs pure focus on the job in front of you," he said. "That is what I have done and I will continue to do."
After a period which many would view as uncertain regarding the managerial position at Pittodrie, Robson has been given the relevant clarity for the next couple of months. Not that the idea of uncertainty had affected him in any way. "Not for me," he said. "I didn't find that all. The most important thing was that the club made a decision along with myself, let's keep it going the way it is at the minute. We are trying to push up the table by getting wins."
Interview and recruitment
And he wasn't giving much away regarding the talks he held with the club's hierarchy, one of three candidates who met director of football Steven Gunn, chief executive Alan Burrows and non-executive directors Willie Garner and Stewart Milne for in-depth discussions over the last week.
"We spoke about how the team is playing, how I know the club and what I wanted to do with the club," Robson said. "When you go into that it is not something you want to talk about with everybody else. We chatted about several things. My focus now is on winning football matches. We are going to be here until the end of the season so let's go and win football matches."
He added: "It doesn't matter if it is me or another manager, we need to keep focusing on where we are at the minute, winning games and then we can sit down at the end of the season and see where we are."
What about recruitment for next season? Robson has already developed a clear identity for how he wants his Aberdeen side to play, the high point so far being the first-half showing in the 3-0 win over Hearts. How involved will Robson be within the club's strategy in how they unearth gems such as Bojan Miovski, Duk and Ylber Ramadani?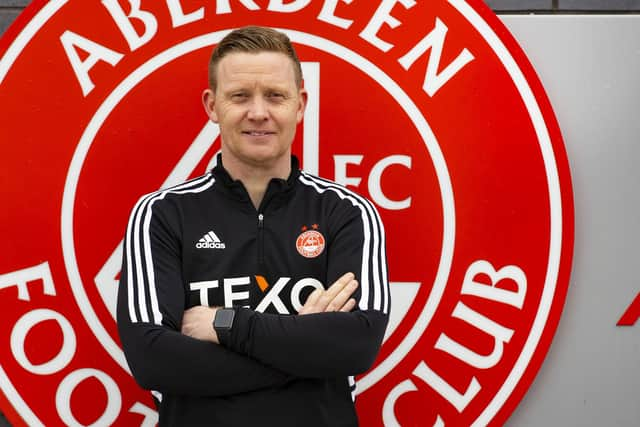 "There is a recruitment process that goes on in the background and has been here for a while, with Darren Mowbray, Steven Gunn and some other people," he said. "A lot of the players we are looking at have already been written up to where the club will be next season. I will be part of that with them. We will go and have a look at the profiled players and what players will be staying and going."
Comments
 0 comments
Want to join the conversation? Please or to comment on this article.