'That's my answer to the question - we do not speak about it': Steve Clarke gives short shrift to suggestion Scotland can rely on insurance of play-off
Steve Clarke has stressed that an already-secured play-off place could not be further from his players' minds as the Scotland manager targets a famous victory against Spain in a Euro 2024 qualifier at Hampden on Tuesday night.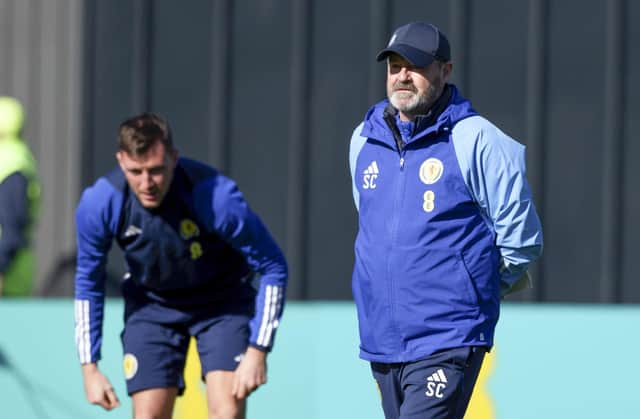 Scotland already have the assurance of a play-off spot banked following their efforts in the Nations League. They topped Group B1 to gain promotion to elite League A and secured the bonus of a spot in the play-offs should they fail to qualify automatically by finishing in the top two places in their regulation qualification group.
As second seeds, Scotland are projected to qualify through their group. They made a perfect start to the campaign after Saturday's 3-0 victory over Cyprus. Tuesday's opponents are a different proposition, but Clarke has assured the sell-out crowd that Scotland will seek three points to maintain a 100 per cent start and put them in the driving seat to qualify automatically.
"We have players who have played Champions League football and Europa League football," said Clarke. "Some play in the English Premier League against top quality opposition every week. So the majority of the team - in fact the majority of the squad at this minute - are used to this level of opposition. Therefore we shouldn't be going in with a feeling of being the underdog. I know we love that, the Scottish mentality is that we love being the underdog. But I think we can be competitive against Spain at Hampden. And I think the players think they can be competitive against Spain at Hampden. That's a good basis to start on."
He is not interested in second chances. "What play off?" he asked, when it was put to him that some pressure has been eased by the knowledge that a play-off spot is already banked. "We want to qualify direct. That's my answer to the question. We do not speak about the play off.
"We are not speaking about the play off," he added. "We want to qualify directly from the group. I have not spoken to the players about the play-off. I have not spoken about it. Only because it is not good for my heart, play-offs! I just want to go through the group. That's the mentality. So we have to go with that mentality.
"I know what you are saying – it gives you the freedom to go and play because if you mess up … but there's no point thinking about the play-offs. It does not take any pressure off this game because we want to qualify out of the group stage."
Clarke is mindful of other countries who have taken their foot off the pedal in regulation qualifying because they know they have already secured a chance to access through the back door. Despite considerable improvement under the manager, who signed a contract extension only last week, Scotland are not yet good enough to count on prevailing in a two-match play-off, as was proved as recently as last summer in a World Cup semi-final play-off against Ukraine. But Clarke expressed confidence that Scotland are getting nearer the top-ranking countries having booked a place in League A of the Nations League. "I still think we're working towards it," he said. "Whether we've got a way to go, I don't know. We'll find out a bit better when we're involved in that Nations League section. We'll find out tomorrow night and when we play Spain away. We'll find out when we play England later this year."