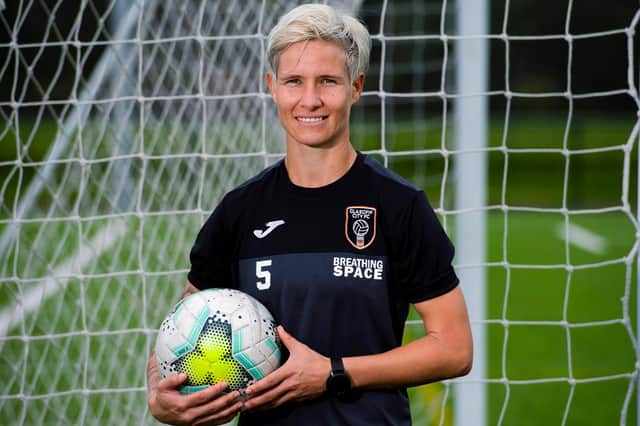 One of the highest-profile overseas signings in the league's history, the 33-year-old centre-back is just relieved to be pulling on her boots again after 15 months of injury setbacks.
She expects a baptism of fire against a Celtic team two points behind second-placed City in the table as the league resumes for the first time since December, but it is a challenge she is relishing – part of her plan to play on until the 2023 World Cup.
After recovering from a knee injury that had brought a premature end to a spell at Fortuna Hjørring in Denmark, Van Wyk was offered the chance to join City in August after following them on social media.
She made her debut in the Champions League quarter-final defeat to Wolfsburg that month, only to suffer another knee injury in training shortly before the start of the SWPL1 season last October.
That and another Covid shutdown in Scotland has prevented her taking to the field since, so today's match in front of the BBC Alba cameras at K Park cannot come quickly enough.
"It's been really frustrating," she explained. "Picking up that injury was a huge setback and I didn't think I would bounce back as strongly as I have. But I feel really good and fit.
"I'm coming towards the end of my career, so I feel have the maturity to handle this type of situation. When you know you only have a couple of years left, you absolutely give your best to get back. I think I've done that pretty well."
With 170 international caps, Van Wyk is the most capped player, either male or female, in South African football history. Quite a coup for City, then. Her experience at club level in Denmark and for Houston Dash in the US also marks her out as one of the players to watch as SWPL1 resumes with a higher profile than ever before.
City, Celtic and leaders Rangers are all full-time and a new weekly highlights programme begins on BBC Scotland tonight. Van Wyk believes the game in Scotland is now at a level that can attract top internationals.
"I don't think the quality at home in South Africa is as good as it is here in Scotland," she said. "​​​​​​It's important for me to play at the highest level possible. If I want to play in the next World Cup, I need to be playing in a country where I'm being tested and challenged. I have that here and I want to make a good impression."​