SWPL final day: Glasgow City, Celtic and Rangers all set for title shootout - the numbers will add up for someone
There is no need for helicopters to change direction when the distance to Ibrox or Celtic Park is a simple hop, skip and a jump away. This afternoon's motorbike outrider, however, would be better served with an abacus rather than a sat nav.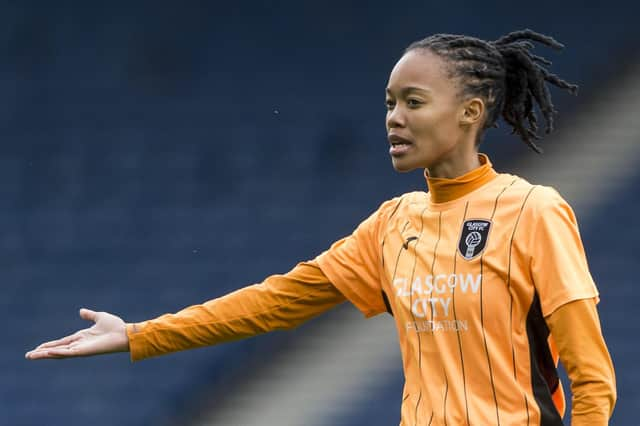 Both Celtic Park and Ibrox have the winning paraphernalia in situ behind the scenes in order to ensure a speedy release of confetti and champers when the SWPL title winner is declared. A definitive on that announcement might take a bit longer. City are the only one of the triumvirate who can eye a straightforward route to glory; a win and the title is theirs.
Rangers need to win but hope that Celtic do not beat Hearts at Celtic Park and in front of another anticipated record attendance. If both Fran Alonso's side and Rangers win, the title will be settled on goal difference. Rangers are currently one better off. Should they be level after this afternoon on points as well as goal difference, the title will go to the team who have scored the most goals; Celtic by two, as it stands.
"We want to score 3, 4, 5 goals but to do that we must first score one," said Fran Alonso, the Celtic manager. "That only happens with total concentration and focus. That is all we can do. We will be aware of what is happening because there is a crowd expected and I am sure they will let us know but we have to focus." He admits that he has allowed himself to dream of being the man to lead Celtic to their first SWPL title. "It is tricky," he said. "But I have. Obviously I have. It is very emotional. I hope we win it, I hope it is us but regardless of what happens I am extremely proud of these players."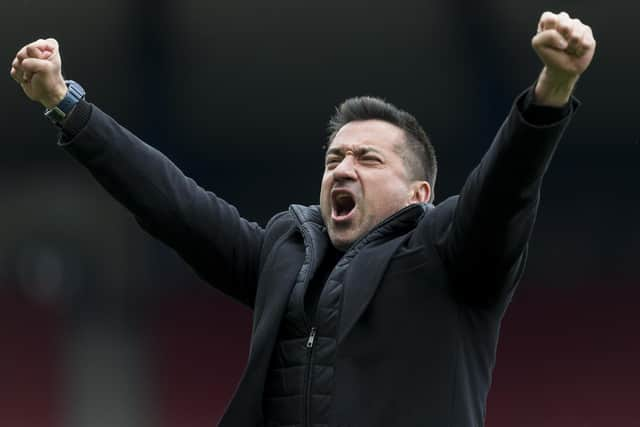 It was only last month when, fresh from a convincing 4-2 win over Glasgow City, Alonso suggested that Rangers remained the favourites for the title. It seemed such an absurd observation – the Ibrox side at that point were six points behind City and a point behind Celtic – that the question was asked a second time for clarity.
Rangers were the favourites, insisted the Celtic manager. Nothing had been lost in translation. It is a toss-up this morning to decide who is leading the charge for an SWPL title which will be decided by 5.45pm tonight. On paper it should be Glasgow City. Out of the trio they are the only side who walk into today's game knowing that a simple win at Ibrox is enough, courtesy of the two-point cushion they have at the top of the table.
And yet it is impossible to ignore the sense of fragility that has engulfed Leanne Ross' side since a wretched April in which a commanding eight-point cushion was whittled to just two, with every point dropped in alarming succession wounding a psyche that had looked impenetrable for so much of this season. Until that 4-2 match – only a month ago – City had not lost a league game for the entirety of the campaign.
Within a week they had lost two – Rangers beat them – and found themselves bundled out of the Scottish Cup, again by Celtic. The damage of those seven days has echoed around this City side, whispering reminders of last season and the manner in which their grip on the Scottish game was loosened. "We don't need to rely on anybody else," maintained Ross. "If it doesn't work out on Sunday we've nobody else to blame apart from ourselves. We know exactly what we have to do – and that's go and get the three points. That's what we're drumming into the players and it's what they're focused on doing."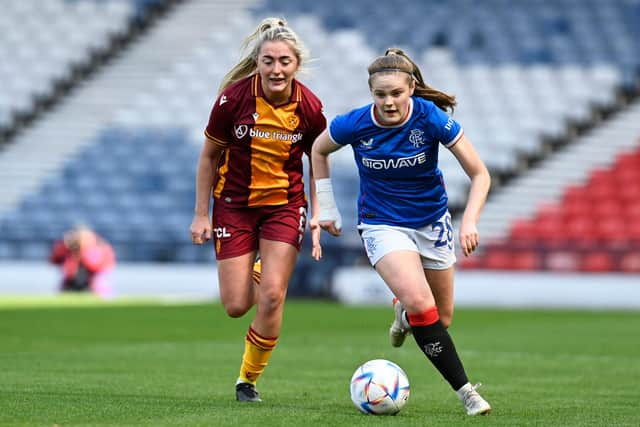 Ten days ago led Celtic at Celtic Park in front of a record crowd of 9553 for a Scottish women's league game, were the better team by far only for their resolve to evaporate when Celtic levelled. The game finished 3-1 with a suspicion that the damage could be more lasting that one adverse scoreline. Similar questions will be asked of City at Ibrox this afternoon with another significant crowd expected. Ross has dismissed the idea that it can be prohibitive to a team full of senior players.
"They've obviously got that experience, not just in winning titles and being in situations like this, but experiencing international football as well, playing in bigger stadiums in front of bigger crowds," said Ross. "We have had a chat about that. We have a lot of experience in the team, right through the starting eleven and the players who will be on the bench so that's not something that really worries me on Sunday about players not being ready."
Malky Thomson's Rangers side are expected to go for the jugular from the off this afternoon. His advice to his players is that they need to draw on the experience of last season when they claimed the title for the first time and on the back of an unbeaten campaign. The suspicion is that today might just all be about who has the stomach for a pulsating final 90 minutes of league football.
"To win any league campaign is monumental," said Thomson. "What is important is that we can draw on the experience of last season. I spoke to the girls about what it felt like to win the league, and what that hunger is. When you experience it, you want more of it. Big players do. I think they are ready for it. We need to be clinical. Two and two is not four in this situation."
The numbers will add up to glory for someone today.