Stunning Scotland player ratings: The grown-up defender, the premonition, head swivels like in Exorcist
We give the Scotland players a mark out of ten for their performance against Spain in the thrilling 2-0 win ….
Angus Gunn: It was understood that Craig Gordon's injury gave him big gloves to fill, but the Norwich City No 1 patently has big belief to do that. Gobbled up a header from Joselu early on as if it were catching practice down the park on a Sunday and, while he wasn't required to make any worldies, his handling was immaculate throughout. 8
Ryan Porteous: The centre-back is proving a proper grown-up defender in dark blue. The rashness sometimes his undoing at Hibs seems to have given way to full commitment of the wanted kind, with the recent Watford acquisition putting head and body on the line at all the right times. 8
Grant Hanley: A British-style match-up with a big forward throwing himself at headers might have been considered a welcome contest for the 31-year-old, but Joselu – fresh from his scoring double on his debut in the weekend win over Norway – had the beating of him early on. To the Scots' credit, he gradually made it more of an even arm – or should that be head? – wrestle. 7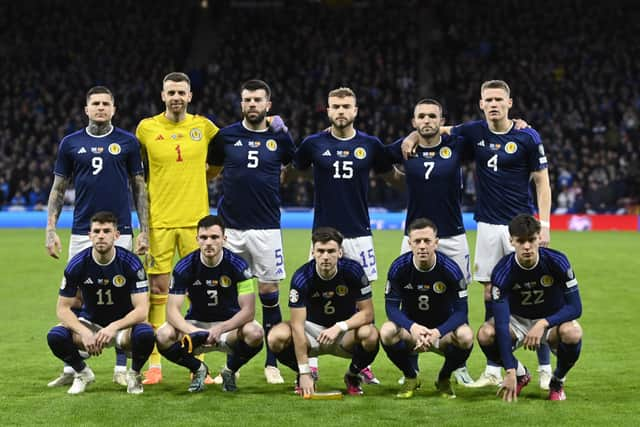 Kieran Tierney: It seemed as if the Arsenal man had about six lungs when he just kept bursting these with a crazy 60-yard bound down the left to set-up Scott McTominay for his 51st minute second. It summed up the awesome application he delivered until, struggling, the 25-year-old made way for Liam Cooper in the 74th minute. 8
Aaron Hickey: There was something of the jitterbug about the right wing-back's display early on, as he appeared caught in two minds about how much to tuck in or push on. The 20-year-old admirably got into his groove though, Less said about his up-and-under pass-back to Gunn early on the better, mind. Burst himself before Nathan Patterson took over from him on 81 minutes. 7
Scott McTominay: Another day, another double and Scotland suddenly seems to belongs to the Manchester United midfielder. As the Tartan Army appeared to have a premonition it would. His name rang out in the early minutes at Hampden as normally only that of John McGinn does … the adopted Scot's double in Saturday's Cyrpus win, no doubt helping. It was beyond his wildest dreams to repeat the feat against the world's 10th ranked team but, incredibly, it happened. A deflection might have aided his first after only seven minutes but, as with his second shortly after the restart – a first-time, left-foot volley – he was rewarded for positioning himself to have a crack from the edge of the area. His derring do encapsulated his team's heroics. 9
Callum McGregor: At times he must have feared his head would be left swivelling like Linda Blair in The Exorcist with the ball passed around him by the Spanish and launched over his head by his own keeper. The Celtic captain simply had to hold his line and nick a toe in as much as he could. 7
Andy Robertson: The Scotland captain showed admirable composure to capitalise fully on a desperate slip from Pedro Porro with a precision cut-back that allowed McTominay to fashion the opener. Midway through the opening half, he was then at the centre of the fearful moment of the night, when he caught the same player in the larynx as he looked to shoulder him off … the card colour not assured until yellow was produced. Discipline and doggedness was spot on thereafter. As was his raking 50-yarder that almost led to Lyndon Dyke's finding the net. 8
John McGinn: Like a golf buggy with a jet engine in how he zoomed around the pitch and his disruptor role was crucial as Scotland were restricted to opponent-close-down-mode for most of the first period. Cracked an effort off the bar in the second period as the Aston Villa capta proved pivotal to Steve Clarek's men finding an extra gear to engineer a fabled victory. 8
Ryan Christie: The Bournemouth attacker could have ended up bumping into moles so ceaselessly did he run himself into the ground. And in 14 minutes he looked like he would dart into dreamland when he bounded forward and Spain parted like the red sea only for him to stab wide when one of the great Hampden goals seemed his for the taking. 8
Lyndon Dykes: Scraps of scraps was often all he had to feed off but he never stopped putting himself about, and never stopped having an impact – even if it was only to offer the most modest respite with a flick-on, or block. And then there was his first half added-time, faintly outrageous run in fastening on to a Robertson through ball. The striker did everything right in out-pacing his marker as he ran fully 40 yards while keeping the ball under control, only for his attempted dink finish to end up the wrong side of the upright. 8
Substitutes: Liam Cooper did what was required of him in slotting in for Tierney for the closing stages, likewise with Kenny McLean taking over for Ryan Christie in that 74th minute. Nathan Patterson didn't have much opportunity to get involved in replacing Aaron Hickey in the 81st minute, but though Lawrence Shankland was brought on for Lyndon Dykes in the final minute of the 90, he almost put the second cherry on top in drawing a save from Kepa Arrizabalaga in added time. Lewis Ferguson was also brought on to add fresh legs to the midfield.