Steven MacLean takes St Johnstone job with Callum Davidson blessing but admits: 'I'm so consumed with Hibs I forgot I had kids!'
The phenomenon of the managerial bounce is regularly picked-over in football circles.
On being asked to assume the reins at St Johnstone for Saturday's visit of Hibs in the wake of Callum Davidson parting company with the Perth club on Sunday afternoon, Steven MacLean seemed to suffer an immediate managerial flounce - of sorts - though. In the form of his mind turning to absolute mush. A consequence of being required, in wholly invidious circumstances, to block out all other thoughts but the club's next game that suddenly it fell squarely on him to take charge of preparing the McDiarmid Park squad for.
"I've been so consumed with Hibs. I even forgot my son was going to uni on Monday…" said the amiable 40-year-old. "I phoned my wife and said 'where's Luke?' She said 'he's at Aberdeen' and I was like 'oh, so he is'. I forgot I had kids….I honestly forgot where he was. But thankfully I didn't have to drive him up there. He works in the office and goes on campus 10 times a year and then goes up for exams and stuff. He's doing chartered accountancy so he has a lot more brains than me."
Some would say that MacLean has taken leave of whatever senses he may possess in stepping up from his previous no.2 role under Davidson when the change has been made because St Johnstone are a team so acutely on the slide. A side fearfully looking over their shoulders to the three teams below them at the foot of the cinch Premiership courtesy of four defeats and a draw in their past five outings. Form that places a target on their backs for every other team making up the top flight's relegation-threatened cohort in the shape of Ross County, Kilmarnock and Dundee United. Frankly, all will see the Perth club - only five points better off than the Malky Mackay's bottom-placed side - as more than catchable. Understandably so, since none of them has endured the winless run that snapped the club's bond with a manager whose cup double success only two years ago makes him a figure unparalleled in St Johnstone's history.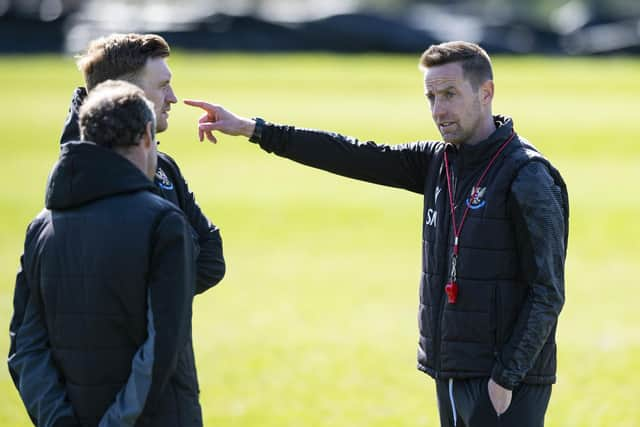 Others wouldn't necessarily be as generous over their rendering of the situation in which MacLean finds himself. The former St Johnstone striker, who won the Scottish Cup with them in 2014, is well aware as to how it could look that, effectively, he appears to have been the beneficiary of his former confrere and confidante's downfall. Despite having been a senior member of - after all - a management team that could not draw the desired performances from the players under their stewardship. There are two ripostes MacLean can rattle off to whatever suspicions the turn of events at the club could generate among on-lookers. MacLean isn't sure in his mind that, right at this juncture, he wants to be a manager on a permanent basis. "I've not really thought about it [being a manager]," he said. "If you asked me if I had thoughts of being a manager, yes, I've had thoughts of being a manager all my days [but] right now, I'm just focusing on Hibs. It is full on, you are just trying to do everything right and you want it to go well. Myself, [coaches] Liam [Craig] and Alex [Cleland] are concentrating every minute of every day on Hibs and how we can get a result. We're working tirelessly on that."
And, more pointedly, the trio are picking up the pieces after Davidson's relationship with the club's board fractured after almost three seasons at the helm because that is precisely what the deposed manager wanted to happen. MacLean hasn't been an opportunist this week, he has been faithful to Davidson's wishes.
"Of course there has been real sadness in all this because Callum brought me to the club," he said. "People who know me, I'm as loyal as can be. As a player I was loyal to my team-mates and to the club. On Sunday I didn't know what to think, if I'm being honest. I had Callum's blessing and he said I needed to do it. That kinda left me fighting myself but, listen, he said to me to do it and that's basically why I've done it. If he had said 'I don't think you should do it' then I would've walked away. Simple as that.
"Callum said I was good enough to go and do it. Those were his exact words. He gave me his blessing, and said 'do it, go and do it, put your own stamp on it and be your own man'. I can't thank him enough. I learned so much from him on a day-to-day basis. This was our third season and I took in so much from him. Watching games with him, doing the video stuff, everything. I know he will be wanting us to do well. He will be sitting at home on Saturday desperate for us to win. That is a big thing for me. Callum's not just a good manager and a good coach, but he is a good man and a proper gentleman and I think that's why it's been so hard. To go back to what the chairman [Steve Brown] said, he's a legend and that will never change and that's why he had such a difficult decision to do it. Callum's going to be a manager again somewhere. He's going to get another job and he deserves a top job."
Comments
 0 comments
Want to join the conversation? Please or to comment on this article.