Steve Clarke reflects on Euro 2024 qualifying: key game, Jacob Brown assessment and defensive change - 'that's why I did it'
A common complaint from an international manager used to be that there were too many lulls in the schedule. It simply did not always prove stimulating enough.
Now those in such positions must be able to cope with the relentlessness. They must have vigour as well as stamina. Take Steve Clarke for example. In little over seven months, he's been through highs, lows, hell and high water.
As well as the never-ending monsoon night against Georgia, there were Rodri's tears against Spain. There's been all Scott McTominay's goals, including the one that got away, and what some considered to be the greatest theft in Oslo since Munch's Scream disappeared down a step ladder from the city's National Gallery. In addition, there is the on-going Elliot Anderson saga. It's mostly been great fun but also intense. Amid all this Clarke turned 60 in August.
No wonder the manager took a sip of water and said he needed a couple of days to recover as he looked out at reporters in the Hampden auditorium following Sunday night's chaotic 3-3 draw with Norway. Even a match that didn't mean anything at the end of the group had proved stressful.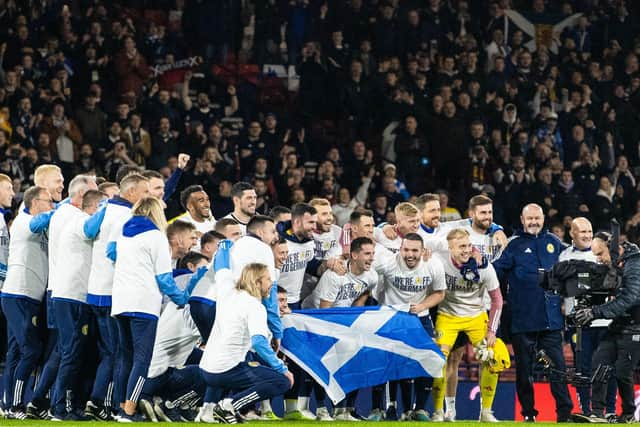 "There is always disappointment when you don't feel that you've played to the level that you know you can play at," he later said. "Listen, I am not going to be too hard on this group of players because they have been fantastic for us. And don't forget that Norway were the next closest seed to us.
"We took four points off them, we took four points off Georgia. We took six off the bottom team and the qualification game was the night here at Hampden when we beat Spain 2-0."
Not only has it been a successful campaign but it has also been a condensed one. Where once qualifying campaigns stretched across years – September 1994 to November 1995 in the case of the last time Scotland reached the European Championships finals from a regulation qualifying group – now it is a far more tightly packed schedule of games.
It was as recently as late March when Scotland kicked-off their European Championships campaign. Nicola Sturgeon had just addressed the Scottish Parliament for the final time as First Minister. Lowly Cyprus might have been the opposition but the sold-out signs were up. It's all very well re-establishing a connection with the Scottish public but there's also the pressure that comes with maintaining it.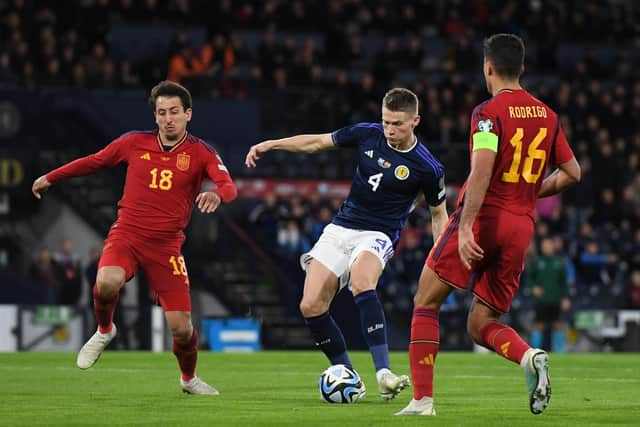 That's something else to chalk up in Clarke's extensive credits column. The fans have kept flocking to Hampden, staying 'til close to 11pm on a night of torrential rain against Georgia. They have remained faithful. Their patience was perhaps tested only once, in Oslo, before Scotland hit Norway with a late sucker punch after being second best for 87 or so minutes.
"We capitalised well on the fact we had three out of four home games early," reflected Clarke. "Then obviously going to Norway and giving them a bloody nose with the two late goals was crucial."
While the win over Norway altered the dynamics of the group, the victory over Spain ignited Scotland's hopes. That was the night when Clarke's side played to their potential and delivered on what had been promised. Crucially, it was also something close to Clarke's first choice XI. Only Che Adams was missing.
"Don't forget how good they were that night and how good the performance was," noted Clarke. It was certainly unfair to linger too long on a night where Scotland had allowed a Norway side missing Erling Haaland to score three times, including a late goal that robbed the hosts of a 100 per cent home record.
"It would have been nice to finish with a flourish instead of conceding a late equaliser just as we were about to put on another centre-half and shore the game up," said Clarke. "We conceded, but fortunately that hasn't happened too much during the course of the campaign."
Scotland's success was built on a strong defence, which makes the concluding two games in the group, when they shipped five goals, all the more surprising. That is until scrutinising the personnel involved.
Clearly Scotland struggle when missing key men. And Andy Robertson, Kieran Tierney, Aaron Hickey and Angus Gunn, the find of the campaign, are all key men. Grant Hanley, too, although he has been absent for longer than just the last two games.
Clarke was pressed into experimenting again with four at the back against Georgia and Norway, but it was helpful to have the opportunity. It's increasingly rare to have the chance to try out formations and players in a competitive environment. "That's why I did it," said Clarke.
He has still been left with as many questions as answers. Zander Clark made some good stops over the two games although still conceded five times, which is two more than Scotland conceded in the previous six group games. Striker, meanwhile, remains a concern.
Although there's been criticism of Clarke for fielding Jacob Brown from the start against Norway rather than Lawrence Shankland, he knows what the latter is – and what his limitations are. The Hearts forward will likely go to Germany as someone to throw on when in need of a late goal. Brown, meanwhile, provided the constant harrying that is required of a No. 9 in Clarke's team but did not look like someone who might plunder a goal. "He did OK," was Clarke's assessment. "He worked hard in a lone shift against two big physical guys."
Is he worth one of the precious 23 places next summer? The jury is out but then that's irrelevant. Only one man makes the call. Clarke will have considered all this and more as he drove home to England for some brief respite before the razzamatazz of the Euro 2024 draw in Hamburg next weekend.
It's just as well he is contracted until 2026, otherwise he might be considering returning to club management. Why? For a rest.
Comments
 0 comments
Want to join the conversation? Please or to comment on this article.