Steve Agnew: How Aberdeen have flourished with new assistant and why players respond to him
Barry Robson has hailed assistant Steve Agnew's influence as the interim management team seek to lead Aberdeen to a third successive league win this weekend.
A victory over Hearts would be a persuasive argument for keeping the pair on a permanent basis. Such a decision would likely be a popular one among players. They have not hidden their satisfaction with the current regime. Indeed, such contentment with the way Robson and Agnew are going about their work has been plain to see from the team's performances on the pitch, which have improved markedly in recent weeks.
The 3-1 win over Dundee United at Tannadice in their outing was Aberdeen's first away success in the league since October. They are now seeking to secure a third successive league win for the first time since December 2021, when Stephen Glass was in charge.
Jim Goodwin has since come and gone and now Robson has stepped back in on an interim basis, with recent recruit Agnew's influence also becoming ever more apparent. Very much regarded as a players' coach in a long, peripatetic coaching career at the likes of Middlesbrough, Aston Villa and Newcastle United, the 57-year-old – who is the uncle of former Scotland striker Jordan Rhodes – has been a steadying presence during recent challenging weeks after answering Robson's call. The interim manager worked with Agnew during his time as a player at Middlesbrough. Robson has first-hand experience of what he offers.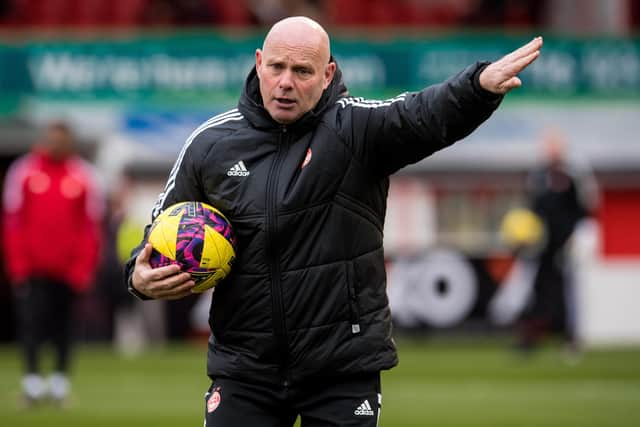 "It's his mannerism and the way he is," Robson said. "I've spoken about the coaching and tactical side of it before but players enjoy listening to him and they enjoy working with him. He is a football man through and through who loves the game. It just oozes out of him. He always wants to make people better and it is never about him – it's always 'how can we make this player better? How can we do this or that?'
"I met him when I was at Middlesbrough years ago and I enjoyed his sessions. I liked the detail he went into. I stole a lot of his sessions from back in the day and tried to improve them. He has been very good for the football club if you ask all the staff and everyone about the place. He is a really experienced guy, a proper football man, and his attention to detail is first class."
Agnew might have seen most things on his coaching adventures but what has he made of his first taste of Scottish football? After all, he has recently stood in very close proximity to a manager who was being pelted with coins, pies and even a full carton of juice. Aberdeen were quick to release a statement condemning the treatment of Goodwin by a minority of travelling fans at his first match in charge of Dundee United. But the strong feelings prompting such extreme actions underlined the passion for the game north of the Border. According to Robson, Agnew has been wide-eyed.
"He has loved the passion of it, he's that type of coach," he said. "He loves the feeling of the Scottish game. He has enjoyed the crowd at Pittodrie and the stadiums he has been to – he really enjoyed Tannadice the other week. He sees the passion that exists in Scottish football and he has worked with a lot of Scottish players over the years, so he knows what we are like."