Stephen Robinson on life at St Mirren, time at Motherwell and his banter with fans
Stephen Robinson is a "nightmare". Who says so? The man himself. St Mirren's Northern Irish manager takes his work home with him. Re-runs games on the screen and in his head. They fill waking hours and sleep. "I wouldn't wish me on anyone," he says.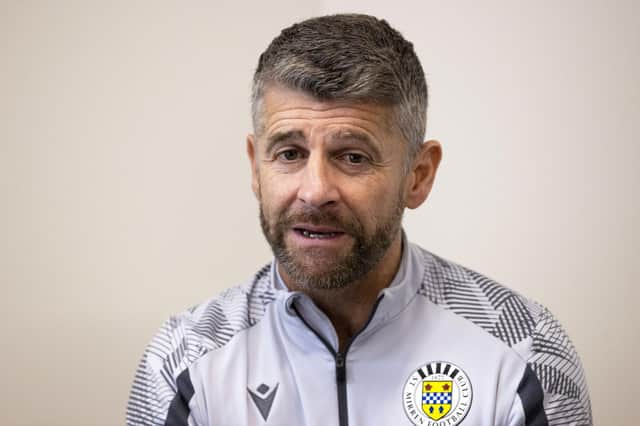 "My partner Robyn is fantastic but, honestly, I don't know how she puts up with it. As soon as I get home on a Saturday night I'm going back over the match and that'll be me for the whole weekend. There'll be no point in her booking somewhere nice for dinner because she knows I just won't speak."
For a break – or in truth to carry on obsessing about his club's latest endeavours in a different location – he'll take his working cocker spaniel into the hills and at least Alfie will get to hear the sound of his voice. "He's listened to loads of my stories. In fact, he picked the team last Saturday."
So you're probably thinking this will be a boring interview. That of all the monomaniacs in the SPFL I've finally found the most dementedly one-dimensional. Well, for Robinson it really is all about football. (Read any good books lately? "Not a non-football one, no. Every year I buy a novel to take on holiday and never open it"). But he was engaging, funny and insightful company the last time we met when he was manager of Motherwell, and he is again today.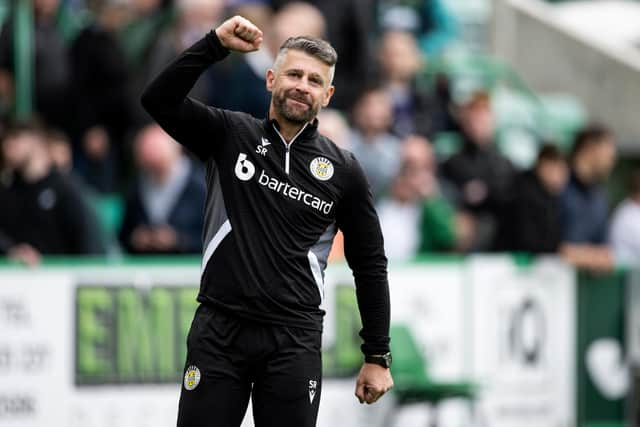 Confessional, too. For instance, as we're discussing Once Upon a Time in Northern Ireland, the fantastic BBC documentary on the Troubles screened to great acclaim earlier this year, I'm remembering him telling me previously how his parents, Winston and Muriel, protected him from the horrors of conflict. But then he says: "We had a bomb wired up to our car. It was mistaken identity but thanks be to God that it didn't go off.
"I was lucky. Mum and Dad did shield me but I've got to thank football, too, as it took me away from what was happening. Catholic, Protestant, it didn't matter: Stephen Robinson was a footballer. Folk didn't care about religion when you were a player. Football broke the divide."
He also tells me about the court case involving a charge of assaulting Robyn and the resultant trauma, still ongoing. "It's scarred me for life," he says. More of that later, but we must start by talking about St Mirren. They're joint top of the league.
The Buddies made an eyecatching start to the season, winning a five-goal thriller at Hibernian in the final minute, Robinson jumping up and down on the touchline line he was leading the pogo-ing at an Undertones gig. The new, quieter, more laidback Robinson, that is. "I have calmed down," he smiles. "In dressing-rooms, with players, referees. All that was a waste of negative energy. I don't say too much after games now because in those situations you can come out with something stupid.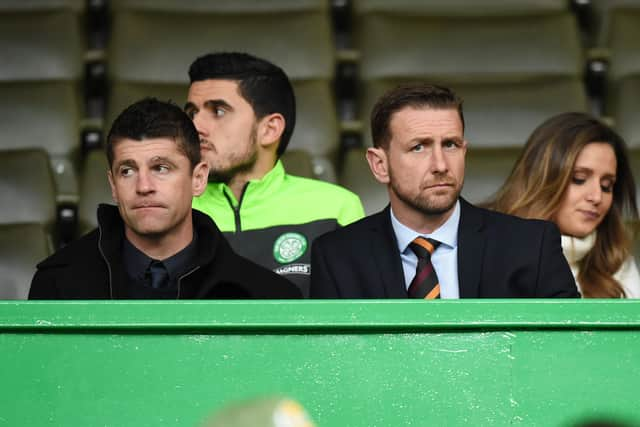 "I don't go around the pitch at the final whistle shaking hands. My players know I love them and that we'll talk on the Monday. Plus I don't want to give you lot something to write about. A case in point was when I took off one of my guys in a League Cup tie. We were four-nil up and I wanted to save him for Hibs but he was unhappy, throwing his arms around. Nothing was said then and later we had a good chat. If that had been me five years ago I would have confronted him and we'd have been rolling around on the ground!"
But, yes, first-ever win at Easter Road and the little man from Lisburn went slightly mental. "Football's an emotional, passionate game," he says. And of course it's great when a plan comes together. Hibbies might not have approved of the celebration, but they liked even less how at key moments St Mirren overpowered their team by being too strong and too quick. Robinson knew how to hurt the opposition and I dig out a quote from our previous meeting – "We do run down the sides of teams, we do go over the tops of teams" – to ask if what worked for Motherwell is being repeated in Paisley. Six years ago Derek McInnes was complaining of his Aberdeen being "bullied" by a Robinson-engineered team; now Hibs have been doing the same.
"Back then I did play up to that image a bit," he smiles, adding that the wham-bam style was a case initially of needs-must. "In the beginning Motherwell had a simplistic way of playing football because resources were limited. But the team evolved. The year we finished third we were 4-3-3, two wingers and very attractive on the eye."
At St Mirren the start was similar. "When I came in there wasn't a lot of pace and energy – I didn't have the legs I needed." They got by – just – with what they had to stay in the Premiership. Then Robinson sent for Curtis Main, the Dons having got so fed up of being bashed around by the striker that they'd signed him. The Buddies exploited Main's physicality but, as previously, there's since been some refinement. "My core values haven't changed – players have to be quick, very, very fit and never-say-die – and I won't ever apologise for them. But we've got good footballers at St Mirren now and this season I'm challenging them: 'Can we play a little bit more?'" I say I'm detecting a mild rebuke for not immediately acknowledging, at both clubs, the evolutionary process. "You're dead right!" he laughs.
As a player himself Robinson doesn't know how he nearly reached 500 games in England – mostly for Bournemouth having started at Tottenham Hotspur and also Luton Town – because a persistent back problem required three operations and 12 epidurals. At school, exams had to be completed lying on his front. Medics warned that if he ever had kids he probably wouldn't be able to pick them up and strongly advised that he got himself a good pension. "I was told I'd have arthritis for the rest of my life. Well, I'm 48 now and I don't think I've ever been fitter. I run every day on top of a 5K walk with the dog. I've knocked off a few Munros – well, I think that's what they were. Hopefully I can keep defying the odds."
But management? He never envisaged it for himself. "I thought I'd be a coach and fancied America for the lifestyle." Then, impressed by his work with Northern Ireland, Ian Baraclough asked him to be his assistant at Motherwell, combining with his national team alongside Michael O'Neill. "We came back from the [2016] Euros thinking we could conquer the world. I was offered the Oldham Athletic job and, despite being warned off by people in the game I really respected, took it. What a disaster. I was sacked but got lucky. Something like 80 per cent of managers who lose their first jobs don't get back in the game. But Motherwell gave me a second chance and for that I'll forever be grateful."
At Fir Park he brought through a good crop of young prospects and briefly the kids included Harry, eldest of his two sons. "That was a challenge and I remember speaking to Brendan [Rodgers] about how difficult it can be to have a boy follow you into football. You're desperate for them to succeed but you can be hard on them, or at least I was with Harry. I couldn't see the good stuff about him because I was so paranoid about anyone saying I'd done him a favour. I didn't want to bring him to Motherwell; [ex-chief executive] Alan Burrows made me. And then I had [ex-wife] Tracey on the phone telling me I should be playing him every week! Unfortunately Harry had a lot of injuries – he must have inherited my body – but he's doing well for himself back in Belfast, finance and now recruitment. Both my boys are there and it's funny, because while I don't have an agent and don't read papers and stay away from social media, I can rely on them to keep me up with all the football gossip. 'So Dad, you're going to be manager of Luton?' … 'Never spoken to them' … 'Hearts, then?' … 'What? …'"
St Mirren host Motherwell today in the Viaplay Cup and Robinson has another reason to always be thankful to his former employers. In 2020 they stood by him when he was hit with the assault charge. He was acquitted but admits today that the ordeal continues to haunt both him and Robyn.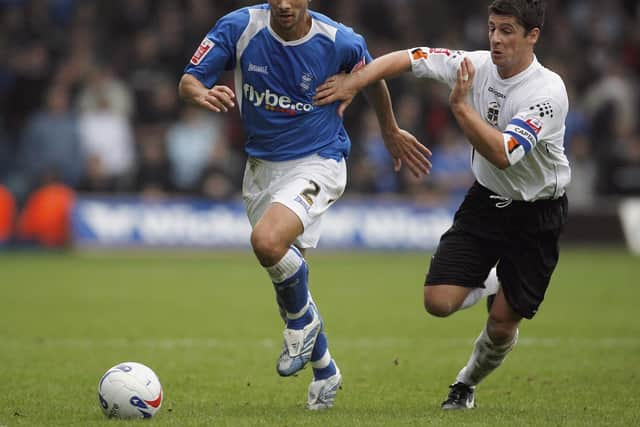 "It was crazy," he says. "We'd been through in Edinburgh with my sister and her husband at the Christmas market and after that had gone to All Bar One. I wasn't drinking as there was training the next day but the others were quite merry. This guy approached us trying to be smart. He was cheeky. Robyn was upset I didn't say something to him but my attitude was: I'm the sober one here, let's finish up and go for our train.
"In the street I was trying to calm Robyn down – she was crying – but two girls thought they saw something different. Others – football fans – got involved and there were false statements. Robyn was never interviewed by the police for her version of events and wrote seven letters to the Procurator-Fiscal insisting there had been no assault. We were sure CCTV would confirm this but amazingly in Princes Street couldn't find any. We were forbidden from seeing each other for three months.
"It was the most horrendous time of my life. Robyn felt awful and was worried my career would be ruined. I'll always be indebted to Motherwell for backing me but the whole thing has taken its toll on us. We don't really go anywhere anymore because of what happened and haven't been back to Edinburgh since." There's a shrug before he adds: "Now we just have barbecues at home."
Robinson left Motherwell in 2021 for Morecambe who'd just been promoted to England's League One. "I liked it there and the people were great. It's not a football town but is trying to become one. We lost 5-0 to Sunderland and the fans were shouting: 'You're bringing the pride back!' I wasn't so sure. For Morecambe success was survival. I wanted more than that."
He wanted a return to the "madhouse", his affectionate term for Scottish football. "I always knew I would come back," he says "because I love the game here." There's a practical reason. Lengthy journeys in England, maybe to Carlisle or Plymouth, can mean less time for actual coaching. Also an emotional one, engendering excitement: the lower leagues down south don't offer 60,000 crowds.
"I like the Scottish people, they remind me of folk in Belfast. You don't take yourselves very seriously and can laugh at yourselves." But – a question I find myself asking managers all the time now – hasn't the job become almost impossible? Of the first eight bosses he encountered on taking charge in Paisley 18 months ago, only two remain in post. "It gets tougher all the time. Before, managers might have got until Christmas, then it became the first international break, then six games – but now I'm hearing that so-and-so might get sacked after only two. There are definitely a lot more enjoyable and a lot less pressurised situations in which you could find yourself.
"I like to think I can develop football clubs. I did it at Motherwell and I'm trying to do the same at St Mirren. Yes, being a manager is a hard job although I chose it knowing all the pitfalls. A lot of it is pantomime but obviously there's abuse which can be horrible. As I say I'm not on social media so I miss the stuff. But I can't tell my family or people close to me to stay off Twitter or whatever and I know when they've seen something because they'll go very, very quiet."
Banter, though, is fine. At Motherwell – who he steered to two cup finals in the same season – a punter behind the home dugout was rarely if ever satisfied. "If we played the ball on the ground he'd shout: 'Robinson, too many passes!' If we hit the ball long he'd go: 'Robinson, keep it down!' A football manager who eats in a Michelin star restaurant will not equate himself with the chef, but fans who watch football can be A Licence coaches in their own minds. The game is their hobby, their passion – I get that. I'd shout back at that guy at Fir Park and he'd always give me a little wink. Really, he had me on toast. So I just hope he's now dishing out the stick to Stuart Kettlewell!"
Of those first eight St Mirren games Robinson lost seven. "A terrible start," he admits. The natives were restless; the lambasting occasionally incoherent. "I was called ugly. By this fella who must have been 20 stone. I didn't shout back. Well, I was new to the place. Then last season we started slowly and my sons told me I was due for the sack. This season, apparently, we're going to win the league!"
Comments
 0 comments
Want to join the conversation? Please or to comment on this article.