SPFL Board's latest bid to grab season-ending powers is doomed to fail - Iain McMenemy
As has been widely reported, the SPFL has once again asked clubs to grant them the power to determine the outcome of the season if it is curtailed to an early close due to COVID-19.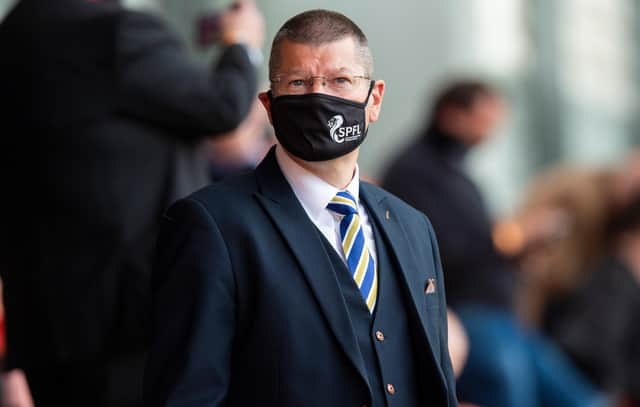 SPFL Chief Executive Neil Doncaster during the Scottish Premiership match between Dundee United and St Johnstone at Tannadice Park on August 01. (Photo by Ross Parker / SNS Group)
This is a second attempt by the SPFL Board to win this power having asked for this back in July, only for it to be resoundingly rejected by the member clubs.
What's changed? According to the SPFL, they say that the mood amongst clubs has changed. They say that a number of clubs have indicated a change in their position and are now wanting this previous decision to be overturned. I'm not convinced that is the case.
My own feeling is that they have perhaps misread the mood. I believe there is a clear concern amongst many that we haven't put any plans in place to deal with the season ending prematurely. We would be faced with the same dilemma we had to deal with last season. This would no doubt be as difficult and messy as it was last time around. However, that doesn't necessarily mean that we want to give the power to the Board to decide our fate for us.
Back in July when the SPFL Board first put forward this proposal, I offered up a different solution. I suggested that we carry out a piece of work to establish the various parameters that might come into play if we had to end the season early. This could primarily include determining how many games would constitute a valid season – 70, 75, 80% of games played for example. It could set levels for declaring a season null and void, or for moving to an average points system, or a straight cut-off date for games played. We could scope out as many scenarios as we could think of and set this out plainly and clearly.
Pre-emptive action
My thinking was that we should declare upfront the mechanism we would use to determine the season, well ahead of a ball having been kicked. That way, there wouldn't be any club names attached to any league positions. As the season hadn't started, there was no potential champion, no clubs in play-off positions, and crucially, no clubs sitting in the relegation spots. This would eliminate, as much as is possible, the self-interest that marred the votes to end last season.
If we wait until clubs are in those positions, particularly those in the relegation spots, then of course we can expect those clubs to refuse to go down without a fight. Their fan base would expect nothing less.
If we defer the decision until the end of the season, then self-interest will inevitably creep in. It really doesn't matter whether it's the 42 clubs making the decision, or if it's the SPFL Board, there will be a bun fight, lobbying, pressure applied, threats of challenges, claims and counter-claims. It's inevitable.
I wouldn't wish that responsibility to be placed on the shoulders of the Board. It's a no-win situation.
So we are where we are, which is pretty much in the same place we were last season. So whilst many club officials, myself included, are critical and concerned that we've done nothing to prevent the mess from last season happening all over again, that doesn't mean we are ready to pass the decision over to the Board.
Half-way house
What the SPFL has proposed is a half-way house solution. They want the power to determine the outcome, but they are also asking clubs for opinions on how to end the season. Tying the two parts together could be their undoing. How much recognition would they need to take of club views? What if there are factors that would prevent it being as clear cut as all teams having played the required number of games? Would this then default to the Board being able to decide? This is where the water gets muddy.
Clubs were unwilling to give the SPFL Board this power back in July. The trust didn't appear to be there. I'm not sure that enough has happened in the couple of months that followed to convince clubs to give them that power for next season.
But this does bring us back to the issue at hand, do we really want to sit on our hands and do nothing? Do we really want to pin our futures on hope value alone? Hope that we can get the season completed to enough of a finish? Hope that a solution is clear enough come May next year?
The signs thus far aren't good. A number of clubs have had fixtures affected due to COVID. Cup matches have been forfeited, and league games postponed. Some clubs have been hit harder than others.
Contingency plan
Football will continue to face many challenges over the coming weeks and months. Therefore we need to come up with a Plan A and a contingency Plan B. We need to move away from questions over who has the power, and instead focus on what the solutions may be.
It will eventually come down to how many games clubs manage to play this season, and what that triggers in terms of a null and void season or a determination of positions based on a calculation of points. As well as that, we would need to set out what would happen in respect of declaring champions and those who could be relegated.
If we model the possible outcomes, then we all know where we stand. We still have time to do that. The further into the season we go, the harder it will be to reach a consensus.