Spartans seek their crowning moment against Albion Rovers: 'It is the smiles on their faces that will mean everything'
As is to be expected when there is such a momentous game on the horizon, there has been plenty of cause to ponder whether victory over Albion Rovers would count as the greatest moment in The Spartans' history.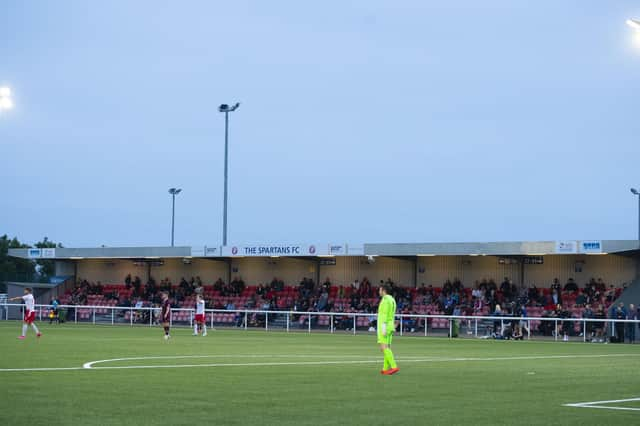 "Someone asked that this week and Dougie [Samuel, manager] gave a great answer," said chairman Craig Graham. "He said, no, it was when the academy opened because without those foundations, we might not be in this position. That is so true."
Formerly a club for ex-university and college footballers, things have evolved and the academy has produced players and fans in numbers, connecting with the community and generating the kind of support that saw over 2,000 fans turn out for last week's first leg of this Pyramid Play-off final and the semi-final meeting with Highland League side Brechin. They weren't record crowds but they were genuine fans, who have signed up for the journey, and not just well-meaning neutrals caught up in a fairytale.
With the tie poised at 1-1 after the first leg, Spartans and Albion Rovers will run out in front of a sell-out crowd at Cliftonhill on Saturday and while it may not represent Spartans' greatest day, history is on the line. A well-kent face in the latter stages of the Scottish Cup, the capital side have long been one of the non-league clubs with some clout. But patience has been a virtue as the pyramid system they fought so hard for has kept them waiting for a shot at the SFL.
"I think we probably under-estimated how much investment there would be at that time by other teams at our level," admits Graham, who saw rivals splashing the cash to recruit better and better players. "It was a level we had never seen before and it was more investment than clubs in League 2 could manage which is why we have seen the likes of Kelty and Cove do so well since they've gone up."
Regular leagues winners back when the glass ceiling kept ambitious clubs down, there has been only one Lowland League title since the system was altered to bestow champions with a shot at elevating themselves – albeit via a protracted play-off process. That came in season 2017/18, but their hopes were dashed as Cove Rangers won the two-legged head-to-head and then bettered Berwick Rangers to secure the coveted SPFL place. And the teams who have managed to scale the ladder have shown that the pyramid system is worthwhile. "Look at Bonnyrigg, they went up and were instantly the best supported team in the league. All the promoted teams have added so much to the SPFL," says Graham.
And, for all that Graham is the man who makes it all happen, it is the smiles on other faces that will bring him the most joy if the ambition is finally realised. "I heard Ralf Rangnick talking about coming to Manchester United," he adds. "He said that his previous club had won the league because 500 people had pulled it all together. That wasn't the case at Old Trafford. I thought about that and started writing down the names of people who have been part of getting us this far. I got to well over 200 and then ran out of time. It is the smiles on their faces that will mean everything."